Pluckers is an American sports bar and fast-food restaurant chain based in Texas, which is well-known among customers for its tasty buffalo wings. These are best served along with an ice-cold beer or soda.
This restaurant is chosen by people who enjoy eating, drinking, or just want to feel good and be happy. Pluckers created an image for itself of an exciting and fun place and this is why people keep coming back.
In order to get an idea about how much you should budget if you want to eat and drink at Pluckers, in the table below you will find their latest menu prices.
Food
Side
Prices

Traditional Wings

Wings
5 Pieces
$8.29
Wings
10 Pieces
$13.59
Wings
50 Pieces
$67.59
Wings
100 Pieces
$122.99
All Drums
5 Pieces
$8.79
All Drums
10 Pieces
$14.59
All Drums
50 Pieces
$72.59
All Flappers
5 Pieces
$8.79
All Flappers
10 Pieces
$14.59
All Flappers
50 Pieces
$72.59

Boneless Wings

Boneless Wing Basket
$16.59
Monster Boneless Wings Basket
$20.99
Naked Boneless Wings Basket
$14.59
Monster Naked Boneless Wings Basket
$20.99
Buffalo Bites Entree
$14.59
Boneless Wings
50 Pieces
$101.99

Wing Combos

Wing Combo
5 Pieces
$11.59
Wing Combo
10 Pieces
$15.29
Wing Combo
15 Pieces
$22.59
5 Wing & 3 Tender Combo
$18.29
All Flappers Combo
5 Pieces
$11.59
All Flappers Combo
10 Pieces
$16.29
All Flappers Combo
15 Pieces
$24.99
All Drums Combo
5 Pieces
$11.59
All Drums Combo
10 Pieces
$16.29
All Drums Combo
15 Pieces
$24.99
Boneless Wings
100 Pieces
$195.99

Pregame

Fried Pickles
$6.39
Chips & Queso
$8.29
Holy Macaroni
$9.59
Stuffed Jalepeños
$8.29
Appetizer Sampler
$17.99
Magic Mushrooms
$9.59
Buffalo Blues Appetizer
$9.29
Plucker Nacho
$9.99
Fried Cheese
$9.59
Pluckers Totchos
$11.59
Blue Cheese Potato Chips
$9.59
Pluckers Frachos
$11.59
Waffles 'n Cheese
Half
$5.99
Waffles 'n Cheese
Full
$9.59
Tater Chii Cheese Fries
$9.59

Burgers

The Bypass Burger
$12.59
Boring Burger
$12.29
Honey BBQ Burger
$12.29
Impossible Burger
$14.39
The Dirty Patty Melt
$11.59

Sandwiches

Buffalo Chicken Sandwich
$12.29
Chicken Bypass Sandwich
$12.29
Cheech & Chong
$12.29
The Larry Bird
$12.29
South Philly Cheesesteak
$12.29
Mom's Grilled Cheese
$8.99
Chicken Cheesesteak
$12.29
Sean's BLT
$12.29
Chicken Club
$12.29
Veggie Sandwich
$12.29

Salads

Buffalo Chicken Salad
$12.29
Grilled Chicken Garden Salad
$12.29
Honey BBQ Chicken Chop
$12.29
Traditional Chicken Caesar
$12.29
Southwest Caesar
$12.29
Caesar Salad
$8.59
Bleu Cheese Chicken Cobb
$12.29
Garden Salad
$8.59

The Sideline

Homemade Potato Chips
$3.99
Sweet Potato Fries
$4.59
Waffle Fries
Half
$3.99
Waffle Fries
Full
$6.99
Buffalo Fries
$4.89
Tater Tots
$3.99
Macaroni & Cheese
$4.59
Side Caesar Salad
$5.99
Side Garden Salad
$5.79
Side of Ranch
$0.99
Side of Housemade Bleu Cheese
$0.99

Desserts

Fried Oreos
$7.59
Fries Brownies
$7.59
Fried Twinkies
$7.59

Drinks

Coke
$2.49
Root Beer
$2.49
Diet Coke
$3.99
Coke Zero
$2.49
Fresh Brewed Sweet Tea
$2.49
Fresh Brewed Regular Tea
$2.49
Sprite
$2.49
Dr. Pepper
$2.49
Fresh Brewed Lemonade
$2.49
Fresh Brewed Strawberry Lemonade
$4.49
Brand History
The history of Pluckers starts back in 1991 with two University of Texas students, Mark Greenberg and Dave Paul, who were interested in building a business in the food industry, which would be specialized in chicken wings. They worked on this idea and studied the feasibility of a restaurant until they finally decided, together with Sean Greenberg, to open the first Pluckers Wing Bar in 1995, located in the Rio Grande.
You might also like our articles on the prices on the menus of Buffalo Wild Wings, Wingstop, or Walk-On's.
Pluckers have received, throughout time, all kinds of rewards for its great work and tasty food. Some of the recognitions and rewards include the Top 10 Wing Restaurants in the country offered in 2012 by USA Today and the recognition of being one of the Top 5 Sports Bars in North America offered by ESPN in 2013.
Nowadays, Pluckers has more than 5,000 employees and several locations all over the United States of America.
Our review
You don't have to worry about not finding a place at Pluckers because they have a large seating capacity. Plus, several large TV screens are installed in every location, where various sports channels are displayed. The whole place gives off a casual, relaxing vibe.
Pluckers guarantees that you will love the various offerings from their menu because everything is delicious and tastes like no other food you have tried before. Surely you will want to come back for more.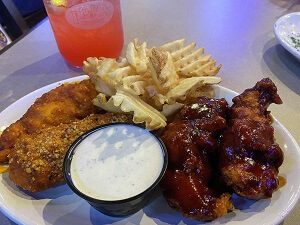 Some of the customers' favorites include the Boneless Wings, the Honey Barbecue Chicken, and the Grilled Chicken Garden Salad. Also, there are more than ten different types of sauces you can choose from such as the Spicy Ranch, the Buffalo Mild, and the Fire in the Hole.
If you are going to Pluckers expect to pay anywhere between $7 and $20 for an appetizer. You would have to choose between Blue Cheese Potato Chips, Fried Cheese, Fried Pickels, Stuffed Jalapenos, or Holy Macaroni, to name just a few.
Some of the salads offered by Pluckers include the Hone BBQ Chicken Chops Salad, the Blue Cheese Chicken Cobb, the Southwest Caesar Salad, and the Chicken Garden Salad. Each of these costs around $15.
Chicken wings are what made Pluckers famous. Be prepared to pay just around $10 for 5 pieces of wings to almost $200 for 100 pieces of boneless wings. Sandwiches cost anywhere between $10 and $15, while the sides are priced between $2 and $7. These would include homemade potato chips, side salads, waffle fries, sweet potato fries, side Caesar salad, or macaroni and cheese.
One of the great things about Pluckers is that you can even go to their locations alone and sit by the bar because the bartenders are very friendly and willing to start a conversation with you. So, you will feel like you are out with a good friend.
Pluckers FAQs
At what time does Pluckers open?
Most of the Pluckers restaurants open every day at 11:00 a.m. However, it depends on the day of the week and the location. It is recommended to check the schedule of the restaurant you are interested in on their official website.
At what time does Pluckers close?
In general, Pluckers restaurants close at 11:00 p.m. from Monday until Saturday. But this may vary from one location to another. So, you should verify this information on their official website.
Who owns Pluckers?
Pluckers Wing Bar is owned by David Paul, Sean Greenberg, and Mark Greenberg Jr.
Who founded Pluckers?
Pluckers have been founded by two University of Texas students, Mark Greenberg and Dave Paul together with Sean Greenberg.
Does Pluckers have a mobile app?
Yes, Pluckers have a mobile app that you can use to order your favorite food.
Does Pluckers have Apple pay?
Yes, Pluckers does have Apple pay and also accepts credit cards.
https://www.thepricer.org/wp-content/uploads/2022/07/pluckers-menu-prices.jpg
380
610
Alec Pow
https://www.thepricer.org/wp-content/uploads/2023/04/thepricerlogobig.png
Alec Pow
2022-07-18 10:40:37
2022-12-18 23:10:25
Pluckers Menu Prices