The PO (post office) box allows individuals and professionals to receive their mail in a specific location. These boxes are intended to keep letters and correspondence safe, in general, until the recipient decides to collect them.
How much does a USPS PO box cost?
The cost of a USPS PO depends mainly on the place where you are living and the size of the box.
Plan on spending, on average, $4 per month to rent a small PO box in a rural area and almost $40 per month to rent a large PO box in a metropolitan area like New York City. You can find out the exact price for renting a post office box in your city by searching on the USPS.gov website. These costs can get lower if you buy them months in advance.
In the table below you will find the average costs per month for renting a PO box in different areas in the United States.
| Geographical Location | XS Price | S Price | M Price | L Price | XL Price |
| --- | --- | --- | --- | --- | --- |
| Fairbanks, AK | N/A | $21 | $36 | $56 | N/A |
| Las Vegas, NV | $15 | $21 | $35 | $56 | N/A |
| Los Angeles, CA | $12 | $17 | $29 | $45 | N/A |
| Nampa, ID | $11 | $14 | $24 | $38 | N/A |
| Philadelphia, PA | $12 | $17 | $29 | $45 | $67 |
| Pittsburgh, PA | $11 | $13 | $20 | $36 | N/A |
| Raleigh, NC | $10 | $14 | $24 | $38 | $59 |
| Rogers, AR | $8 | $9 | $18 | $27 | $41 |
| San Diego, CA | $8 | $11 | $18 | $28 | N/A |
| San Francisco, CA | $12 | $17 | $29 | $45 | N/A |
| Sarasota, FL | $9 | $12 | $21 | $32 | $49 |
| Seattle, WA | $15 | $21 | $36 | N/A | N/A |
| Whittier, CA | $9 | $13 | $21 | $32 | $49 |
Sizes of USPS PO Boxes
The size of an extra-small box is 3" x 5.5" x 14.75" and can fit anywhere between 10 and 15 envelopes.
The size of a small box is 5" x 5.5" x 14.75" and can fit around five magazines or twenty envelopes.
The size of a medium box is 11" x 5.5" x 14.75" and can fit anywhere between 30 and 40 envelopes.
The size of a large box is 11" x 11" x 14.75" and can fit almost two and a half shoe boxes.
The size of an extra-large box, which is the largest, is 22.5" x 12" x 14.75" and can fit five or more shoe boxes.
What are the additional expenses?
When you rent a PO box, you will receive a key for it from the post office. In case you want an extra key, you will have to pay anywhere between $5 and $8, depending on the location of your post office.
Expect to pay a re-key fee in case you lose the key to your PO box.
You might also like our articles on the cost of a UPS PO Box, postage meter, or brick mailbox.
A lock replacement or late payment fee of around $25 may be applied as well.
Important things to consider

Some of the post offices may offer only three or four of the sizes presented above. It is recommended to call them beforehand to see what they have to offer, as these can vary.
You can choose to apply for a PO box in person or online. No matter what route you take, you will have to present two valid forms of identification and at least one must have a photo of you. Some forms of identification are your college I.D., driver's license, voter registration, insurance cards, passport, and others.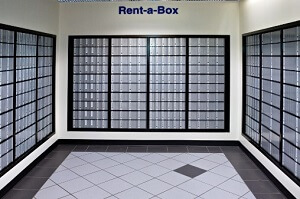 The post office can offer a refund, but there are certain rules and regulations. For instance, for a three months lease, you will get no refund, while for a one-year lease, you can get back 75% of your money within the first three months.
A PO box comes with many benefits, but also with some disadvantages. For instance, a PO box is not accepted as a valid address for many formal processes and documents. Also, you will have to drive to the post office daily if you have a PO box.
The mail that can be sent to the PO box is limited. For instance, UPS will deliver only to a valid street address and not to a PO box.
However, there are many advantages as well to having a PO box. One of these is the permanent address, which means that you can move your business or home address without informing everyone about your new location. Another advantage is that you can pick up your mail at any hour of the day, not having to wait to have it delivered to your house. Also, a PO box is very secure as you are the only one who has the key to access it. Moreover, today, most post offices offer to scan the outside of your box so you can see online if you have to pick up your mail or not.
Tips to for saving money
You will be able to save more money if you rent the PO box for a longer period of time. Usually, the post office will ask you to sign a contract for three months, six months, or one year.
Take into consideration renting a post office box in a less populated area, if you are able to drive the distance.
Also, compare the rates charged by other local places like mom-and-pop retailers and UPS stores. Sometimes you can find better deals at these places than at the post offices.
https://www.thepricer.org/wp-content/uploads/2023/04/USPA-po-box.jpg
380
610
Alec Pow
https://www.thepricer.org/wp-content/uploads/2023/04/thepricerlogobig.png
Alec Pow
2023-04-10 06:21:29
2023-04-05 05:17:21
PO Box Cost