Last Updated on December 22, 2022 | Written by CPA Alec Pow
First Published on December 14, 2022 | Content Reviewed by

CFA Alexander Popivker
Potbelly is an American fast-casual restaurant chain specialized in serving submarine sandwiches and milkshakes. Their menu includes a wide variety of sandwiches which all are served hot, soups, chili, potato chips, salads, cookies, smoothies, and shakes. Also, they serve skinnys, which are sub sandwiches under 350 calories, with thin-cut bread. During lunch hours, you can even listen to live music from local musicians at some locations.
The prices charged by Potbelly are similar to those you can find at other restaurants such as Jimmy John's, Quiznos, and Subway. But you can get a better idea about how much you should budget for dining at Potbelly by taking a look at the table below where you will find their latest menu prices.
FOOD
SIZE
PRICE

Sandwiches

A Wreck
Original
$5.75
A Wreck
Big
$7.36
Chicken Salad
Original
$5.52
Chicken Salad
Big
$6.90
Clubby
Original
$7.02
Clubby
Big
$8.34
Grilled Chicken
Original
$6.21
Grilled Chicken
Big
$7.59
Grilled Chicken Mediterranean
Original
$7.13
Grilled Chicken Mediterranean
Big
$8.51
Italian
Original
$5.75
Italian
Big
$7.36
Meatball
Original
$5.52
Meatball
Big
$6.90
Mediterranean
Original
$5.98
Mediterranean
Big
$7.36
PB & J
Original
$5.06
PB & J
Big
$6.33
Pizza Sandwich
Original
$5.75
Pizza Sandwich
Big
$7.36
Roast Beef
Original
$5.52
Roast Beef
Big
$6.90
Sicilian
Original
$7.02
Sicilian
Big
$8.34
Smoked Ham
Original
$5.52
Smoked Ham
Big
$6.90
Tuna Salad
Original
$5.52
Tuna Salad
Big
$6.90
Turkey Breast
Original
$5.52
Turkey Breast
Big
$6.90
Vegetarian
Original
$5.52
Vegetarian
Big
$6.90

Box O'Sandwiches

6 Minimum Orders

Full Belly (Sandwich, Side Salad, Chips & Cookie)
Each
$10.75
Perfect Belly (Sandwich, Chips & Cookie)
Each
$8.80
Basic Belly ((Sandwich & Chips)
Each
$7.36
Just Sandwich (Only Sandwich)
Each
$5.98

Skinny Pair

A Side of Soup & Your Favorite Skinny
$7.82

Flats

A Wreck
$5.98
Chicken Salad
$5.75
Clubby
$7.25
Grilled Chicken & Cheddar
$6.44
Grilled Chicken Mediterranean
$7.36
Italian
$5.98
Meatball
$5.75
Mediterranean
$6.21
Pizza
$5.98
Roast Beef
$5.75
Smoked Ham
$5.75
Toasty Turkey BLT
$7.02
Tuna Salad
$5.75
Vegetarian
$5.75

Salads

Chicken Mediterranean Salad
$8.45
Chicken Salad Salad
$7.42
Chickpea Veggie Salad
$7.42
Farmhouse Salad
$8.45
Farmhouse Salad (No Chicken)
$7.30
Uptown Salad
$8.45
Uptown Salad (No Chicken)
$7.30
Wreck Salad
$7.42

Bowl O'Salads

Farmhouse Salad
Group
$44.85
Farmhouse Salad (No Chicken)
Group
$42.55
Uptown Salad
Group
$44.85
Uptown Salad (No Chicken)
Group
$42.55

Soups & Chili

Broccoli Cheddar
Cup
$3.68
Broccoli Cheddar
Bowl
$5.18
Chicken Enchilada
Cup
$3.68
Chicken Enchilada
Bowl
$5.18
Chicken Noodle
Cup
$3.68
Chicken Noodle
Bowl
$5.18
Chili
Cup
$4.03
Chili
Bowl
$5.64
Garden Vegetable
Cup
$3.68
Garden Vegetable
Bowl
$5.18
Loaded Baked Potato
Cup
$3.68
Loaded Baked Potato
Bowl
$5.18
Sriracha Black Bean
Cup
$3.68
Sriracha Black Bean
Bowl
$5.18
Tomato
Cup
$3.68
Tomato
Bowl
$5.18

Soup For A Group

Bowl O' Mac & Cheese
Group
$43.70
Broccoli Cheddar
Group
$32.20
Chicken Enchilada
Group
$32.20
Chicken Noodle
Group
$32.20
Chili
Group
$39.10
Garden Vegetable
Group
$32.20
Loaded Baked Potato
Group
$32.20
Sriracha Black Bean
Group
$32.20
Tomato
Group
$32.20

Sides & Desserts

Bag Mini Cookies
12 Pc.
$4.49
Chips
$1.38
Chocolate Brownie Cookie
$1.44
Dream Bar
$1.73
Ice Cream Sandwich
$3.22
Mini Chocolate Cookies
2 Pack
$1.15
Oatmeal Chocolate Chip Cookie
$1.44
Pickle
$1.15
Side Salad
$1.96
Sugar Cookie
$1.44

Beverages

Arizona Tea
$2.13
Bottled Soda
20 oz.
$2.13
Bottled Water
16 oz.
$1.84
Bottled Water
25 oz.
$2.42
Crush
$1.84
G2
$2.30
IBC
$2.13
Izze Blackberry
$2.19
Izze Grapefruit
$2.19
Nantucket Nectar
$2.36
San Pellegrino
$2.42
San Pellegrino Rosa
$2.13
Sobe Fuji Apple
$2.42
Sobe Yum-Pom
$2.42
Soda
Can
$1.27

Shakes

Classic Shake
$3.34
Classic Smoothie
$3.34
Fruit Shake
$3.68
Fruit Smoothie
$3.68
Salted Caramel Shake or Smoothie
$3.68
Brand history
The story of Potbelly starts back in 1971 with Peter Hastings and his wife, who founded an antique shop, Hindsight, at 2264 North Lincoln Avenue in the Lincoln Park neighborhood of Chicago. At that time, they had absolutely no idea that this shop would turn into a restaurant chain.
In 1977, Hastings started to use the potbelly stove inside the store to cook toasted sandwiches and serve the customers. So, the shop was transformed into a restaurant called Potbelly Sandwich Works.
You might also like our articles on the prices you will find on the menus of Houlihan's, Biggby, or Yard House.
In 1996, the original store was purchased by Bryant Keil, who worked hard to expand the company but at the same time keep the "neighborhood sandwich shop" feel alive. In 1997 a second location was opened, after which the company grew to more than 300 stores in various states and the District of Columbia.
In 2005, Potbelly was on the "500 of America's fastest-growing private companies list" and the same year they opened their 200th location in Kentucky, and launched their first online ordering system.
In 2011 Potbelly expanded internationally by opening two locations in the United Arab Emirates and Dubai.
In 2013 the Potbelly company went public.
The first European location was opened in July 2015, in Westfield Stratford City, London. One year later, in October 2016 the first store was opened in Canada, Toronto and in December 2017 they opened their first store in Cyber City, Gurgaon, India.
Currently, there are opened more than 440 Potbelly locations all over the world.
Our review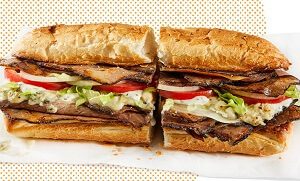 Potbelly is well-known for being efficient and fast, with a friendly staff. Also, they are famous for their antique stove and the local history present throughout the shop. With a relaxing atmosphere, well-prepared employees, and immaculate equipment, Potbelly is the right place to go for a good meal with your friends and family.
Their menu includes sandwiches, baked goods, malts, shakes, soups, and salads. You should be prepared to pay anywhere between $5 and $12 for a scrumptious homemade chili, grilled chicken sub sandwich, soup, or salad. The sandwich options include Turkey Breast, Tuna Salad, Grilled Chicken Mediterranean, Italian, Pizza Sandwich, Roast Beef, Vegetarian, Chicken Salad, Sicilian, Meatball, and others. As for the salad you can choose between Uptown Salad (with or without chicken), Chicken Mediterranean Salad, Wreck Salad, Farmhouse Salad (with or without chicken), Chicken Salad, and Chickpea Veggie Salad. Also, soups can be made of tomato, chili, garden vegetables, or chicken noodles.
Desserts are priced from $3 to $5 and include mini cookies, sugar cookies, chocolate brownie cookies, and mini chocolate cookies. Also, a shake such as Fruit Smoothie, Fruit Shake, Salted Caramel Smoothie, or Shake costs around $5.
Potbelly FAQs
At what time does Potbelly open?
Potbelly opens Monday through Sunday at 11:00 a.m. However, it may vary from one location to another. So, you should visit the company's official website to see which are the opening hours of the location you are interested in.
At what time does Potbelly close?
Potbelly closes Monday through Sunday at 09:00 p.m. But again, it depends on the location and the day of the week. So, you should verify this information on the restaurant's official website.
Why is this restaurant called Potbelly?
This company started as an antique shop and soon later transformed into a sandwich shop. Thus, the founder, Hastings, named it Potbelly in the honor of an old potbelly stove he used to prepare toasted sandwiches to serve to clients.
What does "skinny" means at Potbelly?
The skinny sandwiches served at Potbelly are the lighter version of some of their famous Originals. These are under 350 calories and have 1/3 less meat, cheese, and bread than the Originals.
Where does Potbelly originate from?
The first Potbelly was opened in the Lincoln Park neighborhood of Chicago.
https://www.thepricer.org/wp-content/uploads/2022/12/potbelly-menu-prices.jpg
380
610
Alec Pow
https://www.thepricer.org/wp-content/uploads/2023/04/thepricerlogobig.png
Alec Pow
2022-12-14 10:29:06
2022-12-22 16:10:19
Potbelly Menu Prices