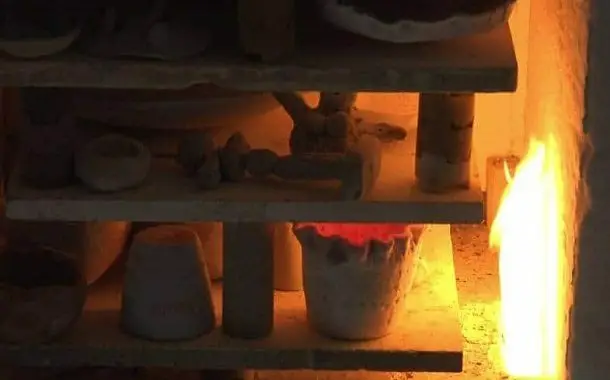 These kilns are ideal both for schools and art institutions, as well as for ceramic artists who want to burn their works at home, obtaining a perfect technical effect with low electricity consumption. They are also ideal for photoceramics.
How Much Does a Pottery Kiln Cost?
You can choose from a large variety of pottery kilns that are available on the market. Their costs are influenced by some factors such as the type, size, power, and the place you buy the kit from. In the table below you will find the average costs for different types of pottery kilns you can find at a local retailer or online.
type of Kiln
Description
Average Price
Raku Kiln
You will usually notice a crank on the top of the kiln, to help lift its body. This makes it easier to grab any of the pieces and pull them out without the use of tongs.
$750 to $2,750
Gas Kiln
These devices will be considerably more difficult to use and they are only recommended for people that don't have electricity around or when you're looking for a special kind of glaze that can only be made using gas.
$1,650 to $11,000+
Multi-Purpose Kiln
These kilns are usually connected to a 120 volts outlet and you can use them to fire small glass pieces, PMC clay, or to treat knives.
$950 to $3,500
Ceramic/Glass Kiln
As a mix between the two, The glass and ceramic kiln is a combination between the two and was designed for people that want to fire glass and ceramic items.
$950 to $3,500
Glass Kiln
These can a 120-volt version or larger, and round in size. The popular brands have electronic controllers on these models, which would allow you to program the kiln to fire whatever you want. You can, for instance, use the larger glass kilns to fire vases or plates.
120v: $650 to $1,350
240v: $1,500 to $2,300
Ceramic Kiln
Are available in small 120-volt versions or larger ones that are able to create and mold pottery. This is the best kiln for jewelry makers. They are also great for firing smaller items, one at a time.

Compact: $500 to $1,200
Small: $950 to $2,500
Medium: $2,200 to $4,500
Large: $2,750 to $5,800
High Capacity: $9,900 to $17,000
According to some online ads, the cost of a Skutt pottery kiln would be around $900 for an 8×6 FireBox and almost $1,800 for a 240-volt model, plus another $1,350 if you want to upgrade the element. The costs of the glass kilns made by the same manufacturer, Skutt, would start at $570 for a FireBox 8 and go up to $6,800 for a Scarab XL, which is 44 inches long, 45 inches wide, and 67 inches high.
According to the Soul Ceramics blog, the kilns offered by them cost anywhere between $350 and $4,500.
What are the extra costs?
Depending on the size of your kiln, there are situations when you will need an electrician to install a larger circuit that has more amps. Make sure you pay attention to the available number of amps because most people are limited to the amount of power they have. According to BigCeramicStore.com, most of the clients consider that they will be able to use a 240-volt kiln if they have a 240-volt circuit, but the reality is that the circuit may provide only 30 amps and this does not give enough power to use the kiln. Depending on the size of the kiln and the wiring from your house, expect to spend anywhere between $120 and more than $2,300 in order to increase the amperage. It is recommended to look online for multiple price offers from licensed, local electricians.
Once you purchase a kiln you will be able to buy furniture kits as well. The costs can start at around $35 for some posts and a shelf to more than $1,200 for different post assortment, multiple gloves, shelves, and cleaning equipment. The price of a furniture kit will be influenced by some factors such as the size and type of the shelves, their number, the posts, and the items included in the kit. If you want to budget, expect to pay anywhere between $5 and $10 for a post and $30 to $70 for a shelf.
Depending on the type of vent and its lengths, be prepared to pay another $130 to $550 for an extra vent. This will allow you to vent more than one kiln or extend the current setup.
You might also like our articles about the cost to replace a furnace ignitor, a wood pellet stove, or a chimney cap.
Also, depending on its type, either desk or wall mount, a controller may cost anywhere between $460 and more than $1,100.
Another common accessory that is usually bought is the rolling stand. This can cost anywhere between $260 and $550, depending on the number of sides.
Important things to consider
The majority of the kilns that are made for home usage will use an electronic controller, so you can program exactly how to burn the pottery. On the other hand, even though a kiln doesn't come with an electric controller, it will come with something that is known as a manual controller or kiln sitter. This will force you to turn the kiln up and down while you fire.
According to Soul Ceramic, you have to ask yourself some questions before purchasing a kiln.
What is the type of clay that I am going to fire?
Which is the type of glaze that I am going to use?
How many pieces will I create and what is their size?
Do I have enough space to store the kiln?
How much power do I have available?
The kilns may all look the same for the untrained eye and you should pay close attention to the description because there are many options you can choose from.
How can I save money?
You can find a slightly used kiln online on websites such as Craigslist or eBay. The price of such a kiln is 50% less than the price of a brand-new kiln. Even used it can still do its job very well.
https://www.thepricer.org/wp-content/uploads/2022/01/pottery-kilns-cost.jpg
380
610
Alec Pow
https://www.thepricer.org/wp-content/uploads/2023/04/thepricerlogobig.png
Alec Pow
2022-01-17 06:07:29
2022-01-16 01:28:01
Pottery Kiln Cost