How Much Does Qdoba Catering Cost?
Last Updated on September 21, 2023 | Written by CPA Alec Pow
First Published on October 26, 2021 | Content Reviewed by

CFA Alexander Popivker
Qdoba is the perfect solution for any catering needs, and their hot tacos or tortilla soup are loved by most people. Their large menu offers something to please everyone in your group with its variety of meats, flavors & styles.
The price of catering at Qdoba will vary depending on where you are located, how many people are in your group, and what kind of food service option is chosen for your event. The easiest way to find out more about the cost is by contacting them directly.
How much does Qdoba catering cost?
The Qdoba catering price is around $10 to $15 per person, making it a reasonable price. You can order catering in-store pickup or for delivery, but there will be a one-time delivery fee of $27 as long as it is within their travel area. The price will be influenced by some factors, including the catering package, the food type you choose, and if there are any hot bar add-ons, plus the place you are living.
If you plan on throwing a party or event and need individual meals catering.qdoba.com is higher than other fast food.
In the table below you will find some price estimates for different types of Qdoba catering packages. It is important to take into consideration that these costs will vary depending on the Qdoba restaurant location.
| Type of Catering | Price |
| --- | --- |
| All Box Lunches (grilled chicken, steak, and/or veggies) | $9.50 per person |
| Hot Naked Burrito Bar (20 person minimum) | $11 per person |
| Hot Nacho Bar (20 person minimum) | $11 per person |
| Hot Taco Bar (10 person minimum) | $11 per person |
According to a member of the Gardenweb.com forum, the cost of catering for 20 people was around $190.
Qdoba catering menu details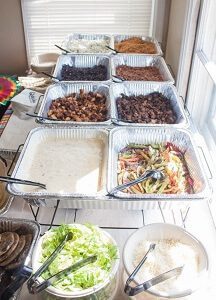 The taco bar is the perfect choice to enjoy a variety of meats and vegetables. The pork, steak, ground beef, chicken, and even potatoes are all made fresh daily. There will be plenty for everyone including salsas in many varieties, sour cream with chives or cilantro, guacamole, which can also include pickled red onions if you prefer less spice, lettuce, tomatoes & other veggies.
An ultimate nacho bar at Qdoba would likely feature a variety of fresh and flavorful ingredients allowing customers to customize their nachos to their liking. The base of any nacho dish, is likely to be freshly made and crispy. Choices often include handmade tortilla chips, corn taco shells, flour tortillas, fajita. Typically, nacho cheese or shredded cheese is available, melted to perfection.
At Qdoba catering you can choose between three types of salsa:
Pico de Gallo, which has a mild taste and is made from tomatoes, jalapeño chiles, lime juice, red onion, and cilantro;
Salsa Verde, which has a medium taste and is made from jalapeño chiles, tomatillos, cilantro, and garlic;
Tomato jalapeño, which is the spicy red salsa made from jalapeño chiles, roasted tomatoes, and cilantro.
The taco bar orders will include all three types of salsa presented above.
You might also like our articles about the cost of a quinceanera, a wedding at Monterey Bay Aquarium, or a wedding at the Rosecliff Mansion.
Qdoba hot bar is committed to ensuring that the food at your event is top-notch. They will send someone to the event site. They'll deliver and set up all of your dishes, pull out the food, and make sure everything stays fresh during the time people are eating. This employee then puts away what needs to be stored, and also cleans up after themselves so nothing's left behind. You can do all this job yourself by picking up the food and the needed equipment directly from the store. It all depends on the price you want to pay and the restaurant you are going to choose.
The catering food will be served in chafing dishes, a chafing stand, and heaters. You may keep the hot stand to use with your next Hot Taco Bar or return it for two complimentary Signature Burrito coupons from Qdoba Mexican Grill.
You and the guests will be able to see the meats, salsas, and other condiments for your meal choice with table tents, and you can build your own tacos.
All the serving tools such as napkins, plates, or matches will be included.
What are the extra costs for a hot bar?
You have to budget for the add-ons in case you want any of them. These are optional. In the table below are presented the Qdoba menu price estimates for some of them.
| Add-on | Average Price |
| --- | --- |
| 3-Cheese Queso (20 servings) | $25 |
| Tortilla Chips and Salsa (10 servings) | $18 |
| Black or Pinto Beans (20 servings) | $20 |
| Cilantro-lime rice or Seasoned Brown Rice (20 servings) | $20 |
| Salsa (6 servings) | $4 |
| Guacamole (6 servings) | $7 |
The costs of beverages will usually be around $7 for an iced tea or bulk lemonade and $3 for a soda bottle. The deserts have an extra cost too.
You will have to pay an extra fee in case you call them for an event and need catering service less than 24 hours in advance.
In the situation where the equipment or tools used for catering are lost or damaged, you will have to pay for replacement or repairs.
If you will need an employee to run the catering line for you, we recommend that you leave a tip, but this is not a must.
Important things to consider about the order
You'll want to make sure you call at least 24 hours in advance, if possible because in this way you will get the best prices for their products and services for the occasion. Also, they need a little bit of time to prepare your order.
How can I save money?
You can use the chafing stand to make your next hot taco bar or return it to Qdoba and get two complimentary Signature Burritos.
https://www.thepricer.org/wp-content/uploads/2021/10/Qdoba-catering-cost.jpg
380
610
Alec Pow
https://www.thepricer.org/wp-content/uploads/2023/04/thepricerlogobig.png
Alec Pow
2021-10-26 08:16:21
2023-09-21 12:21:39
How Much Does Qdoba Catering Cost?