Quantiferon TB Gold Test Cost
Tuberculosis is recognized as an infectious disease, but also one of the main causes of human morbidity, a disease that ranks among the top ten most common causes of death worldwide.
The Quantiferon TB Gold test is a blood test that helps diagnose infection with Mycobacterium tuberculosis, the bacteria that causes tuberculosis. Quantiferon TB Gold is an IGRA test for the detection and quantification of interferon-gamma (IFN-γ) release and is a modern alternative to the tuberculin skin test (TST, PPD, or Mantoux).
Unlike the TST, Quantiferon TB Gold is a controlled laboratory test that requires a single patient visit and is not affected by previous Bacillus Calmette-Guerin (BCG) vaccination.
How Much Does a Quantiferon TB Gold Test Cost?
There are some factors that will affect the cost of Quantiferon TB Gold blood test such as the laboratory you choose and whether you have health insurance. Expect to pay anywhere between $100 and $180 for such a test in case you are not covered by health insurance.
For example, if you would like to take this test at Accesalabs, you will have to pay around $160.
The Walkin Lab charges around $165 for the Quantiferon TB Gold blood test.
When is a Quantiferon TB Gold test recommended?
You might also like our articles on the cost of tuberculosis tests, pulmonary function tests, or titer tests.
Tests for TB, including the Quantiferon TB Gold test, are recommended when the patient notices certain symptoms that may be associated with tuberculosis, such as:
Prolonged cough for more than three weeks;
Unexplained weight loss;
Fatigue;
Prolonged and persistent cough;
Fever;
Night sweats;
Chills;
Loss of appetite;
Painful cough;
Difficult breathing;
Blood in sputum;
Chest pains.
The Quantiferon TB Gold test is also recommended if:
the patient has HIV infection or the immune system is not strong enough;
the patient lived in a country where many people have TB;
the patient has had physical contact with someone who has active TB disease;
the patient works or lives in a nursing home, clinic, hospital, prison, or homeless shelter.
Collection procedure
No patient preparation is required for sample collection. A venous blood sample is required, collected, in most cases, from the patient's arm.
What are the additional expenses?
In case you don't choose a local laboratory through an online option and prefer to go to your local doctor's office, you will have to pay the doctor's office visit fee. In general, this fee will be anywhere between $60 and more than $110, depending on your doctor's office and whether you are an existing or new patient.
Important things to consider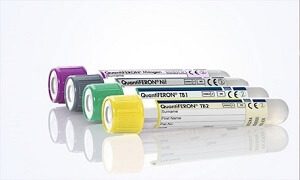 A 2008 study indicated that the test can be used in children over 2 years to diagnose latent TB with the same performance characteristics as in adults, but the US Center for Disease Control and Prevention recommends that children younger than 2 years do the TB skin test instead of the Quantiferon TB Gold blood test.
If a patient is diagnosed with tuberculosis following a Quantiferon TB Gold test, the specialist doctor will recommend the administration of treatment for a certain duration. The administration of a drug that fights tuberculosis can be done for a period of 9 months, and if more drugs are needed, the treatment is administered for at least 6 months.
Also, the immune system must be helped in such conditions, to fight the infection effectively and without the body suffering for a long time. Proper hygiene is essential, along with a nutrient-dense diet.
A positive Quantiferon test cannot diagnose the stage of the disease, but it does identify the presence of M. tuberculosis infection.
Interferences and limits
Quantiferon TB Gold blood test is a highly specific and sensitive test: a positive result is highly predictive of M. tuberculosis infection. However, like the TST and other IGRA tests, the Quantiferon TB Gold blood test cannot distinguish between active TB disease and latent TB infection and is intended for use in conjunction with risk assessment, chest radiography, and other medical evaluations and diagnostics.
An indeterminate result suggests the need for further investigation or repeat testing.
How can I save money?
In case you have health insurance, the costs of the Quantiferon TB Gold blood test may be covered by this. So, make sure you contact your health insurance provider and ask about it.
If the patient is immune-suppressed medical rebates are also available.
https://www.thepricer.org/wp-content/uploads/2022/09/Quantiferon-TB-Gold-test-cost.jpg
380
610
Alec Pow
https://www.thepricer.org/wp-content/uploads/2023/04/thepricerlogobig.png
Alec Pow
2022-09-28 06:14:48
2022-09-26 07:18:54
Quantiferon TB Gold Test Cost