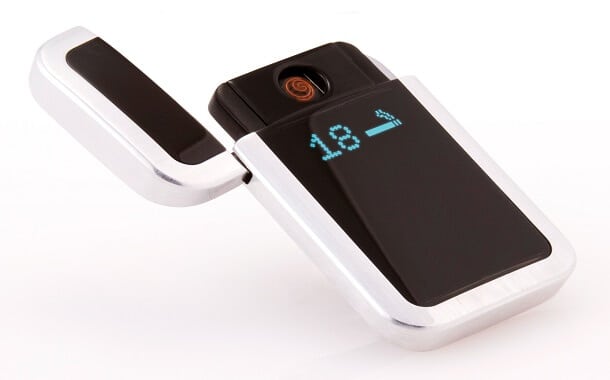 Quitbit is the first smart lighter and application that can help you quit smoking.
The Quitbit project was founded in 2013 by 2 students that graduated from Brown University and that were trying to quit or at least to reduce smoking.
The campaign was successfully launched on the Kickstarter platform in mid- 2014, and the preorders for the smart lighter started at the end of 2015.
As easy it is to start smoking as difficult it is to quit smoking, at least for most of us. This is the main reason for the whole industry that is created around all types of methods that help you quit smoking. There are even audio CDs, books, and many cigarette alternatives (electric cigarettes, chewing gum).
The Quitbit lighter helps you light your cigarette, but also facilitates the transition from a smoker to a non-smoker. Its "smart side" helps you monitor how many cigarettes did you smoke in one day and allows you to establish a maximum number of cigarettes you are allowed to smoke within 24 hours. After you passed the number of cigarettes allowed the Quitbit will stop working. The Quitbit's display shows you how many cigarettes did you smoke, when was the last time you smoked, and other interesting information. The cigarette lighting part is done electrically, through an element that turns red, similar to the cigarette lighter from the car.
You can buy the Quitbit lighter for just $129.
Don't worry about sharing your lighter or using it to relight your cigarette, because it has a built-in system that prevents false recording, meaning that within a minute it doesn't record multiple cigarette lightenings. Anyway, you can change your data from your phone application.
Its battery lasts about 1 week, around 100 lights and it takes about 2 hours to recharge.
The Quitbit is also TSA-approved, so you can take it onto the plane.
Because smartphones could not miss out on the equation, Quitbit communicates with your smartphone through Bluetooth. The application, besides allowing you to schedule various aspects of the lighter, can also provide you with statistics about how much money you saved since you reduced the number of cigarettes.
Looking For a Traditional Method To Quit Smoking? Check Out The Price of Acupuncture
The Quitbit Application should work on all the phones running Android 4.4.2.
The Quitbit co-founder claims that he managed to quit smoking by using his product, but the best part is that he saved money during the process. Among the Quitbit lighter's features, there is one that calculates the savings due to reducing cigarette consumption for users, so you will know every month how much you saved thanks to reducing or even better, quitting smoking.
Smoking Can Cause Cataracts, Among Many Other Diseases. Here's The Price of a Cataract Surgery
In case you quit smoking you can share it with a friend or you can keep it as a reminder to see how much money you managed to save.
Should the average working Joe get a Quitbit lighter?
If you're trying for a long time to quit smoking or you're thinking of leaving this bad habit behind, then Quitbit could be a great way to do it. Although $129 might seem a lot for a lighter, all its features will help you save a lot more in the long run.
https://www.thepricer.org/wp-content/uploads/2016/02/quitbit-cost.jpeg
380
610
Alec Pow
https://www.thepricer.org/wp-content/uploads/2023/04/thepricerlogobig.png
Alec Pow
2016-02-21 00:46:25
2021-07-28 11:38:34
Quitbit Cost