Rack and Pinion Repair Cost
Last Updated on September 19, 2023 | Written by CPA Alec Pow
First Published on September 16, 2021 | Content Reviewed by

CFA Alexander Popivker
The car's steering system must transmit the force and direction applied to the steering wheel to the two directory steering wheels. The part responsible for transmitting and amplifying this force is the steering box known to automotive engineers as the steering mechanism.
Steering boxes are classified according to the type of driver and driven element. The gearwheel, cylindrical screw or pinion are used as a driving element and can be used the rack, nut, or reel.
As the rack and pinion are responsible for powering your vehicle's steering, they can wear out after some time. If you feel that there may be a problem with how well your car steers now compared to when these parts were new, then it might mean that this system has sprung leaks in key areas.
How much does the typical rack and pinion replacement cost?
The cost to repair the rack and pinion for your car can range from $320 to $1,900. This price depends on the make/model of your car and how long it takes the mechanic to do the repair. Car owners should expect additional bills when they get this type of work done, like tire alignment or other necessary repairs, taking the final cost to anywhere between $550 and $2,000 depending on whether you are getting one service alone or more.
The cost of the car's parts can vary between $170 and $430, on average, depending on where you buy them from and the make and model of the car.
In the table below, you will find an estimate for some of the most popular car models.
| Make and Model | Cost |
| --- | --- |
| Dodge RAM | $550 to $1,200 |
| Buick Enclave | $750 to $1,200 |
| Ford Focus | $500 to $900 |
| Ford Explorer | $550 to $1,100 |
| Honda Civic | $700 to $1,200 |
| Honda Accord | $750 to $1,400 |
| Kia Sedona | $650 to $1,200 |
| Toyota Sienna | $500 to $1,200 |
| Toyota Corolla | $850 to $1,500 |
Rack and pinion replacement details
The mechanic will start by making sure the steering column is securely locked. To do this, they'll use a belt to keep it in place and then remove the front tires before removing the universal joint coupler from both wheels. The next step for this repair is to remove the power steering lines, tie rod ends, and rack assembly. The new components will be installed on top of these parts once they are removed completely. After the work is done, you'll get a new power steering fluid, and your tires will be realigned.
You might also like our articles about the cost of driveshaft balance, serpentine belt replacement, or power steering belt replacement.
This job should take between two to three hours on average.
What are the extra costs?
Replacing the bushings and sway bar may cost you an additional $170 to $210.
Some mechanical workshops are charging customers additional fees to repair their vehicles. Customers should be aware that they may have to pay a shop fee, local sales tax, and an extra cost for the actual fix due to exclusive deals between shops and parts suppliers.
If a wheel alignment has been done after a rack and pinion repair, its cost may be included in the bill or not. So, you should take into consideration this extra cost.
A power steering flush may be needed, and a mechanic's pricing policy often determines its cost. If not included in the original estimate, it can start at $60.
Important things to consider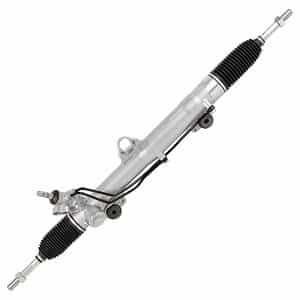 The steering might be hard to maneuver, and there may be unpleasant noises when turning the wheel. The car becomes harder to turn, so you feel a difference when changing direction. If you notice any of these signs, get it checked since your safety is at risk if these parts fail while driving on the road.
Replacing the rack and pinion can be costly. If the car you drive is an old one, consider whether it's worth fixing or if it would make more sense to purchase a newer model instead.
If you buy a part or use a mechanic, make sure they offer some kind of warranty. This way, if problems arise in the future, your issue will be resolved.
By asking the mechanic to show you the part after a job has been performed, you'll be able to see whether or not it's damaged. If there is any damage that seems obvious, then ask for an explanation of what happened and why they had no choice but to replace this particular piece.
How can I save money?
If you want to save money, it's best for you to check the rack and pinion regularly. This way, if a leak is found early enough, then repairs can be made that don't require buying a new rack and pinion.
Get quotes from at least three mechanics in your area to ensure you are getting the best prices possible. Dealerships may try to convince you that you also need some unnecessary services at the moment, like oil change, so stick with certified professionals instead.
A lot of mechanics recommend replacing a rack and pinion rather than repairing these parts. This is because they can take more time to complete the job, have an increased risk of the seals failing during installation, and it's often cheaper just to replace on top of all that.
https://www.thepricer.org/wp-content/uploads/2021/09/Rack-and-pinion-replacement-cost.jpg
380
610
Alec Pow
https://www.thepricer.org/wp-content/uploads/2023/04/thepricerlogobig.png
Alec Pow
2021-09-16 05:49:36
2023-09-19 19:04:14
Rack and Pinion Repair Cost