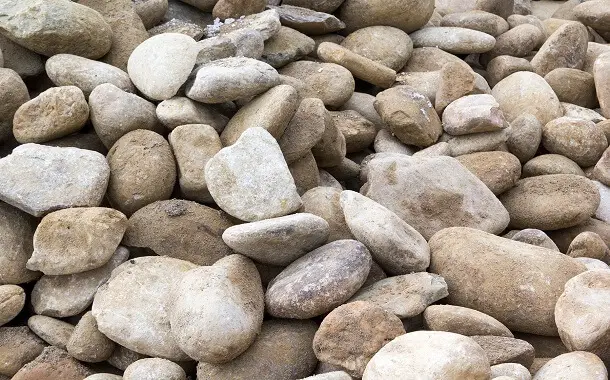 River rock is a key element in landscaping. It enhances the yard, walkways, flowers, and trees in the garden or in front of the house. Also, river rock is often used for arranging spaces in front of commercial or cultural establishments and urban public spaces (public gardens, parks, and other urban green spaces).
River rock is available in different sizes, in a wide range of colors (white, green, black, beige), and in different shapes.
How Much Does River Rock Cost?
The cost of River Rock is affected by several factors such as the retailer you choose, the place where you are living, and the size of the rock. If you were to buy from a local landscaping supply yard, you will have to pay anywhere between $40 and $70 per ton, without including the delivery fees and professional installation. If charged by the yard, the price would be anywhere between $250 and $270.
In case you are living in Arizona, you can find river rock at the Arizona Trucking and Materials company. They show a price list on their official website and according to it, the cost of the 6" to 12" salt river rock is $50 per ton.
If you need a smaller quantity, you can purchase river rocks by the bag from a local hardware retailer like Home Depot. Expect to pay $10 to $30 per 0.5 cubic feet. For example, a bag of Classic Stone 0.5 cubic feet large river rocks is sold at Lowe's for $6, while at Home Depot you will have to pay around $30 for a bag of Classic Stone 0.5 cubic feet medium-sized river rocks.
The costs are much lower for professional landscapers who buy from a local quarry. At the wholesale level, river rocks are sold for $8 to $25 per ton.
River rock – short presentation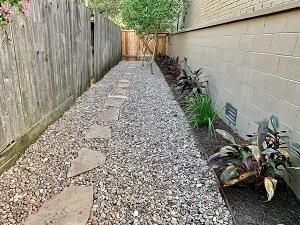 Typically, river rocks have a diameter larger than one inch, not including natural stones. If the river rock size is larger than average, then it can be considered a larger landscaping stone or a boulder, even though it is the same material.
Usually, river rocks are used as a ground cover, especially in the areas where mulch is used because they are much more effective than mulching materials.
You might also like our articles on the cost of crushed stone, class 5 gravel, or landscaping rocks.
In general, local landscaping suppliers sort the river rocks by size such as half an inch wide, one to three inches wide, and three to eight inches wide. At some suppliers, you can even find crushed river rocks. The prices will be the same even though most of the time the rocks will have a large width.
Besides the size, river rocks will be categorized by finish and grade. Regarding the finish, these can have a matte or polished look. And, when talking about quality, a higher grade means better quality.
What are the additional costs?
If you need the river rocks delivered to your door, in most cases, you will have to pay a delivery fee. But some suppliers may waive this cost if you buy a minimum quantity, in general, five tons or more. Depending on the distance that has to be traveled, most retailers would charge anywhere between $60 and $220 per delivery.
As a general rule of thumb, the installation costs of river rock should be two to three times the delivery costs, in case you need an installer. For instance, if you pay $260 for the rock's delivery, you will have to pay $520 to $770 for the professional installation.
Important things to consider
After finding out how deep you want your river rock to be and how large, you will know how much you need to purchase. For example, to cover a one-layer deep 60 square feet surface you will need one tone of three to six-inch rocks, while to cover a one-layer deep area of 90 square feet you will need one tone of one to three-inch river rocks.
River rocks will work best in place of grass, in patio space, or as a walkway. Also, it can be used around shrubs or plants instead of mulch, to prevent weed growth.
When buying river rocks, pay attention to those that are too small because these can look like gravel from a distance. Also, for a walkway, try to avoid the rocks which are too large because they may be difficult to walk on.
River rock is durable, resisting environmental aggressions, and does not need maintenance. In addition, it has a more than affordable price.
How can I save money?
In general, there is more than one landscaping supplier in your area. Ask for price quotes from multiple professionals, compare them, and choose the one that is the best for you.
https://www.thepricer.org/wp-content/uploads/2023/01/River-Rock-cost.jpg
380
610
Alec Pow
https://www.thepricer.org/wp-content/uploads/2023/04/thepricerlogobig.png
Alec Pow
2023-02-04 06:53:06
2023-01-31 07:24:03
River Rock Cost