Ruby Tuesday is a well-known American restaurant chain, that serves menu items such as burgers, chicken, salads, steak, pasta, and seafood. This restaurant is famous also for the happy hour specials and the free kid's meal offers available on Tuesdays. Clients are offered the possibility to place an online order and pick up their food for carry-out or they can place an order for delivery through Doordash and Grubhub.
In the table below you will find the latest Ruby Tuesday menu prices, so you can get an idea about how much you should budget if you want to dine in one of their locations.
Food
Size
Price

Appetizers

Bangin' Shrimp
$9.79
Four Way Sampler
$13.29
Tater Totchos
$7.99
Chicken Quesadilla
$8.39
Spinach Artichoke Dip
$8.39
Crispy Pickle Fries
$7.09
Shrimp Fondue
$8.79
Classic Sampler
$10.59
Cheddar Cheese Queso & Chips
$6.19
House-Baked Soft Pretzels
$7.09
Mozzarella Sticks
$7.09
Chicken Wings
$10.59
Crispy Buttermilk Chicken bites
$8.39

Ribs & Chops

Fall-Off-The-Bone Tender Baby-Back Ribs
Half-Rack
$14.99
Fall-Off-The-Bone Tender Baby-Back Ribs
Full-Rack
$19.39
Hickory Bourbon Pork Chop
$16.19
Ribs & Hand-Breaded Buttermilk Chicken Tenders
$18.19
Ribs & Rrispy Shrimp
$21.59
Triple Play
$19.39

Steaks

Bella Peppercorn Rib Eye
$20.19
Rib Eye
$19.39
Cajun Rib Eye
$23.49
Asiago Peppercorn Sirloin
6 oz.
$15.99
Asiago Peppercorn Sirloin
8 oz.
$16.59
Hickory Bourbon Bacon Sirloin
6 oz.
$14.19
Hickory Bourbon Bacon Sirloin
8 oz.
$16.59
Top Sirloin
6 oz.
$13.29
Top Sirloin
8 oz.
$15.69

Burgers & Sandwiches

Bacon Cheeseburger
$9.69
Classic Cheeseburger
$9.29
Classic Burger
$8.79
Mushroom & Swiss burger
$10.09
Smokehouse Burger
$12.49
Hickory Bourbon Bacon Burger
$10.09
Avocado Grilled Chicken Sandwich
$12.39
Cajun Chicken Sandwich
$9.69
Roast Beef Dip
$10.59
Crispy Chicken & Pimento Sandwich
$9.69
Crispy Chicken Sandwich
$9.29
Grilled Chicken Sandwich
$9.29
Avocado Turkey Burger
$10.59

Chicken

Chicken Parmesan
$16.39
Asiago Bacon Chicken
$16.79
Crispy Chicken & Biscuits
$14.19
Chicken Fresco
$15.89
Smoky Mountain Chicken
$16.29
Hickory Bourbon Chicken
$15.49
Hand-Breaded Buttermilk Chicken Tenders
$10.59

Pastas

Cajun chicken & shrimp pasta
$14.99
Chicken & Broccoli Pasta
$14.99
Crispy Chicken Mac 'n Cheese
$14.59
Parmesan Shrimp Pasta
$15.29

Make It a Combo

Top Sirloin
With Crispy Shrimp
$16.79
With Hickory Bourbon Chicken
$15.89
With Half-Rack of Ribs
$17.59
Asiago Peppercorn Sirloin
With Crispy Shrimp
$17.59
With Hickory Bourbon Chicken
$16.79
With Half-Rack of Ribs
$18.49
Hickory Bourbon Bacon Sirloin
With Crispy Shrimp
$17.59
With Hickory Bourbon Chicken
$16.79
With Half-Rack of Ribs
$18.49

Seafood

New Orleans Seafood
$16.79
Cajun Grilled Shrimp & Rice
$16.59
Blackened Tilapia
$14.19
Hickory Bourbon Salmon
$17.59
Grilled Salmon
$17.59
Crispy shrimp Platter
$15.69

Sides

Coleslaw
$3.59
Steamed Broccoli
$3.59
Mashed Potatoes
$3.59
Grilled Zucchini
$3.59
Green Beans
$3.59
Onion Rings
$3.59
French Fries
$3.59
Tater Tots
$3.59
Dirty Rice
$3.59
Rice
$3.59
Garden Salad
$3.59
Caesar Salad
$3.59
Sweet Potato
$3.59
Hushpuppies
$3.59
Baked Potato
$3.59
Loaded Baked Potato
$1.49 extra

Garden Fresh Salads

Grilled chicken Caesar Salad
$12.39
Crispy chicken Ranch Salad
$12.39
BBQ Chicken Cobb Salad
$12.39
Brand History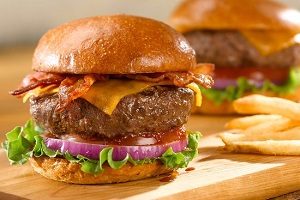 The history of Ruby Tuesday starts back in 1972 with Sandy Beall and a $10,000 endowment he received from his friend who was running several Pizza Huts. With this donation and another $10,000, Sandy Beall together with four of his University of Tennessee fraternity brothers opened the first Ruby Tuesday restaurant. It was located on the University of Knoxville campus.
In the next ten years, a new location was opened every nine months or so. So, by 1982 16 Ruby Tuesday restaurants were opened. The same year Morrison Inc. purchased the Ruby Tuesday chain with $15 million.
You might also like our articles about the prices you will find on the menus of Smashburger, Wahlburgers, or Burgerville.
In 1996 the company went public and in 1997 it started franchising. This decision led to the expansion of the company all over the United States and in other countries all around the world. Nowadays there are more than 200 Ruby Tuesday locations in states such as California, Arizona, New York, Georgia and Florida. Also, you can find Ruby Tuesday in countries like Trinidad, Canada, the United Kingdom, Chile, Saudi Arabia, Iceland, Romania, Kuwait, Panama, Guam, Hong Kong, Egypt, Honduras and El Salvador.
Our review
The Ruby Tuesday restaurant is guiding itself on the following principles: pride, passion and quality. They make sure they achieve the quality they aim for by serving food items that are made of the freshest ingredients. For instance, their burgers are made with 100% USDA choice of prime ground beef. The passion is achieved with the help of the employees who put passion in everything they do, from greeting the clients to preparing the food. The overall presentation of the restaurant makes sure pride is achieved.
You have a large variety of options you can choose from for the both lunch and dinner. The menu includes pastas, salads, burgers, seafood, ribs and chops, steaks, and chicken. It is highly recommended to try their steaks, ribs, and burgers. Be prepared to pay anywhere between $10 and $25 for an entrée and around $5 for a side item like fresh zucchini, French fries, fresh green beans, baked potatoes or onion rings. For another $3 you can get a premium side like fresh grilled asparagus, sweet potato fries, loaded cheese grits, baked mac and cheese, and loaded baked potatoes.
The price of appetizers is anywhere between $9 and $15. These are available for both lunch and dinner, and include southern style chicken tenders, queso and chips, Thai spring rolls and fire wings. As for the dessert, you can choose between the ultimate chocolate cake, the blondie of the New York cheesecake, and you would pay $5 to $10 for each.
In general, the food served at Ruby Tuesday is excellent and the clients keep coming back for the good meals and friendly atmosphere.
Ruby Tuesday FAQs
At what time does Ruby Tuesday open?
The Ruby Tuesday restaurant opens at 11:00 a.m. from Monday until Sunday. But you can verify their opening hours by visiting their official website.
At what time does Ruby Tuesday close?
The Ruby Tuesday restaurant closes at 11:00 p.m. from Monday until Thursday, at midnight on Friday and Saturday, and at 10:00 p.m. on Sunday.
Does Ruby Tuesday's menu include healthy options?
Yes, Ruby Tuesday's menu includes many healthy options such as the fit and trim options and the smart eating choices.
How can I make a reservation at Ruby Tuesday?
You can make a reservation at Ruby Tuesday by calling them or you can get on their website and make a reservation online.
Do any of the Ruby Tuesday recipes contain MSG?
Although Ruby Tuesday recipes do not include MSG as a separate ingredient, they can not assure you that the ingredients they use does not contain MSG.
What kind of oil does Ruby Tuesday use to prepare their food?
Ruby Tuesday does use trans fat-free soya bean oil to prepare their food.
Does Ruby Tuesday have a kid's menu?
Yes, the Ruby Tuesday restaurant has a menu for children ten years old and under. Some of the kid's meals include the Chicken tenders, Cheeseburger sliders, Cheese pizza, and Mini corn dogs.
https://www.thepricer.org/wp-content/uploads/2022/08/Ruby-tuesday-menu-prices.jpg
380
610
Alec Pow
https://www.thepricer.org/wp-content/uploads/2023/04/thepricerlogobig.png
Alec Pow
2022-08-10 10:16:22
2022-12-22 18:48:38
Ruby Tuesday Menu Prices