Segway was invented in 2001 by an American engineer named Dean Kamen, and many have said that it will revolutionize the way we travel. Reality has shown that the forecasts were too optimistic. Segway PT is manufactured at a factory in the US state of New Hampshire.
It has become popular among police and tourists in various cities but it has not been sold in the huge volumes expected by the most optimistic people. The original Segway generated only 1.5% of the company's sales.
How Much Does a Segway Cost?
The Segway cost is influenced by some factors such as its condition, model, and the place you buy it from.
Depending on the model, you will have to pay anywhere between $5,100 and $10,500 for a brand-new Segway. In the table below you will find the average prices for some of the brand-new models of Segway. Expect to pay half of these estimates for a used model, with 600 to 1,000 miles on it.
For example, Segway in Los Angeles has the miniPRO model for sale at around $800, while the i2SE model costs around $6,000 and for the x2 SE model you will have to pay almost $6,500.
| Type | Base starts at… (MSRP) |
| --- | --- |
| Segway miniPro (similar to a hoverboard) | $650 |
| Segway SE Turf | $7,000 |
| Segway SE Cargo | $7,300 |
| Segway x2 SE Adventure | $8,000 |
| Segway SE Commuter | $7,000 |
| Segway X2 SE Patroller | $7,000 |
| Segway I2 SE Patroller | $7,300 |
| Segway x2 SE Golf | $9,000+ |
| Segway Xt | $5,500+ |
| Segway I2 SE Personal Transporter | $6,500 |
Segway details
The Segway consists of a small low platform on which you climb, with a medium-sized wheel on the right and left, and a thin, high scooter-like handlebar with rods in the middle. Segway is held in static or dynamic balance by a computer and electric motors placed discreetly under the platform.
Gyroscopic sensors are used to detect the bends of the handlebars, through which commands are given. Thus, the computer finds the current position and speed at any given time, and then depending on the movements of the passenger, the computer calculates what specific commands should be given to the engines so that they restore balance automatically (without the intervention of the passenger).
The new model of Segway comes with rechargeable batteries and cables to charge those batteries, plus a wireless Info Key controller.
The autonomy of one battery charge is around 24 miles and the warranty is one year.
The weight of a Segway is around 120 pounds.
In the table below you will find different types of Segway models you can choose from.
The Type
Its Description
i2 Personal Transporter
The i2 can go for around 24 miles with a single battery charge to full and it is completely eco-friendly and versatile. You can use the i2 to move both forwards and backward, depending on the terrain. It can travel faster than 12.5 mph and it has a lot of features built-in, including a wireless controller and an alarm.
X2 SE
Personal Transporter
According to the official Segway website, the X2 SE is great for all outdoor situations, seeing that it is designed for wide-open areas like construction sites or farmlands. It is made to take on any type of terrain with the help of its ATV-style wheels.
One S1
This one is a self-balancing gadget that can basically work for anyone. It is electric, it has just one wheel and it is pretty different than all of the other models.
X2 Personal Transporter
This type of Segway is made to go 12 miles on each charge and it was built for law enforcement in particular. It has gliding lights so that its user can be seen while using it and it is optimized for comfort, with a very wide platform.
I2 Se Patroller
This type of Segway is made to go 24 miles on each charge and it also was built for law enforcement. It also has gliding lights so that its user can be seen while using it.
Segway Xt
The Xt model is great for pavement, dirt, and even different types of uneven terrains, it is overall better than the personal transporter. The Xt is great for people that want to travel outdoor because it was designed to protect its user from debris.
X2 Golf
The X2 model can move on uneven terrains and can also hold a golf bag. It was made especially for golf courses and is an interesting alternative to golf carts.
mini PRO
This Segway can be synced to your smartphone with the help of its state-of-the-art software, which creates a smooth ride. It might look like a toy, but it is far from one.
Ninebot
It has a Bluetooth remote control, just like the mini PRO but is a hands-free balancing scooter.
What are the extra costs?
If you want to enhance your experience while riding a Segway, the company has a wide variety of accessories for sale. Expect to pay around $155 for upgraded comfort mats, almost $165 for a handlebar bag, $22 for an Info key protector, $180 for LED highlights, $82 for a parking stand and $22 for a LED taillight.
Also, you will have to buy a new battery when the old one reaches the maximum number of allowable charges and runs out.
You might also like our articles about the cost of golf carts, rollerblades, or CycleBar classes.
As with any other type of vehicle, this will also need replacement parts and repairs.
How to use a Segway?
To drive it, climb on a small low platform between the 2 medium-sized wheels holding on to a handlebar at an optimal height like a scooter. Segway will take care of your balance (so you normally can't fall off of it like from a bicycle) and keep you straight as you move smoothly (as if you were sliding) no matter what the environment (on the ground or on the road).
In order to start and move forward, the passenger only has to bend the handlebars slightly forward; to turn, the handlebar has to be tilt slightly to the right or left (like a joystick). Top speed is about 12.5 mile per hour.
The slowing down is achieved by pulling the handlebars back (towards yourself), without the need for actual bicycle brakes.
Important things to consider
There are certain weight restrictions for Segways and, in general, the maximum is 275 pounds.
Some cities have banned Segways after accidents caused by some people who lost their balance, fell, and got injured. Segway was not easy to use for everyone who tried it, and the initial price was too high.
In 2003, then-US President George W. Bush fell off a Segway, and in 2015 a Segway cameraman hit athlete Usain Bolt. There were fatal accidents as well: the head of Segway, Jimi Heselden, died in September 2010 after falling from s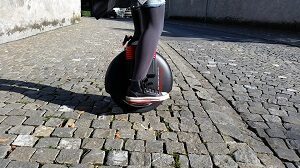 ome rocks while driving such a motor vehicle.
Segway was bought in 2015 by the Chinese from Ninebot who launched various models, including electric scooters and hoverboards.
The original Segway was taken out of production in mid-July 2020, with sales of the nice two-wheeled vehicle being very low.
How can I save money?
Take into consideration purchasing a used Segway if you want to save money on this type of vehicle.
https://www.thepricer.org/wp-content/uploads/2022/01/segway-cost.jpg
380
610
Alec Pow
https://www.thepricer.org/wp-content/uploads/2023/04/thepricerlogobig.png
Alec Pow
2022-01-25 09:34:59
2022-01-23 01:59:48
Segway Cost