How Much Does ShelfGenie® Cost?
ShelfGenie®, as its name says, is a company specialized in designing slide-out shelves to meet the organizational and storage needs of a home or company.
ShelfGenie®, through its franchisees, offers home improvement services and builds custom designs and installs pull-out shelving solutions for the existing cabinets in storage areas, garages, new kitchens, bathrooms, pantries, or any other places where there are cabinets and shelves.
This company is known as the only nationwide franchise that designs, builds, and installs customized pull-out shelving solutions for existing closets and wardrobes.
How Much Does ShelfGenie® Cost?
The ShelfGenie® installation cost is influenced by many factors such as the local franchise, the objective of the work, the geographical location, and the type of shelving options that are going to be installed. According to our online research, with so many design options to choose from and a large number of factors to take into account, it is recommended to budget anywhere between $295 and $400 per pull out shelf. These estimates include the professional labor and material costs.
According to a Washington Post article, the average cost of a Glide-Out would be anywhere between $295 and $350. John Johnson, the lead designer and the owner of ShelfGenie's location in Washington D.C. and Northern Virginia said in this article that these prices include a warranty along with the cost of parts and labor.
You might also like our articles about the cost of plywood, mahogany wood, or marine-grade plywood.
A member of the Houzz.com forum said that he had to pay around $5,300 to transform a nine-foot-high pantry room. Also, another member of the same forum said that he had to pay around $3,200 to replace twelve existing drawer glide sets and install three new glide-out trays.
According to a member of the Apartment Therapy forum, the cost to upgrade all the cabinets of his company was $3,300.
From a Yelp review for a Seattle, Washington location we found out that the cost for individual pull out shelves is around $420.
Details on ShelfGenie® Kitchen Cabinets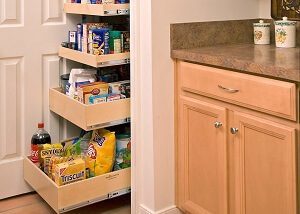 The first step of this entire process of designing and installing new pullout shelves is to meet with a registered ShelfGenie designer from a local ShelfGenie franchise. She or he will evaluate the existing space, will talk with you about your storage needs and how many cabinets are utilized, and will make an inventory of the existing items.
After that, she or he will establish different areas which fit the setup of the room. Once this is done, she or he will make a completely customized plan that enhances the usable storage by up to 50% and improves access.
This plan can be implemented all at once or in stages, depending on the customer's needs. A certified installer will take cabinet measurements to the millimeter for the custom glide-out shelves in order to ensure a custom fit. The next step is to build the shelves and deliver them in four to six weeks.
When these are built the installer will call the customer and set up a meeting in order to install the new shelves. The installation would take a few hours.
ShelGenie company offers different types of glide-out shelves which are custom-made from 9-ply eco-friendly Baltic birch and scratch-resistant Melamine bottoms, professional-grade hardware, and heavy-duty steel rails. In order to increase their durability, the shelves are finished with a UV-protected moisture-resistant coating. Moreover, these are designed to be smoothly moved in and out with a single touch of a finger.
The glide-out shelves come with a lifetime guarantee on parts and labor and can store up to 100 pounds. All of these custom cabinets are made at the company's factory in the United States and then delivered and installed by its certified installers.
Important things to consider
ShelGenies designers offer consultation and create a custom plan for you free of charge.
The most common solution offered by Shelf Genie includes the two-tiered glide-out shelves known as risers and the blind corner solutions, that are installed around drainpipes and underneath sinks, the glide-out tray bins, the glide-out trash bins, the spice racks, and Lazy Susans.
Most of the ShelfGenie designers undergo professional training regarding cabinet organization. Also, according to the company, most of them are interior designers or professional organizers. Moreover, they can offer assistance and professional advice regarding the arrangement of the storage solutions and accessories so every storage space is used properly.
You can find the ShelGenie franchise in most of the suburbs and major cities of the United States and Canada. You can search for a location near you on their official website.
How can I save money?
If you are thinking about pulling out the shelves from your cabinets, ShelfGenie is just one of the many home improvement options you can choose from. According to a post on The Kitchn website, there are many other companies that you should consider, that operate just like ShelfGenie, such as IKEA, The Container Store, Home Depot, Simple Human, Organizer.com, Rev-A-Shelf, or Shelves That Slide.
https://www.thepricer.org/wp-content/uploads/2022/02/ShelfGenie-cost.jpg
380
610
Alec Pow
https://www.thepricer.org/wp-content/uploads/2023/04/thepricerlogobig.png
Alec Pow
2022-02-23 08:48:43
2023-05-05 09:09:36
How Much Does ShelfGenie® Cost?