Shoney's Buffet Menu Prices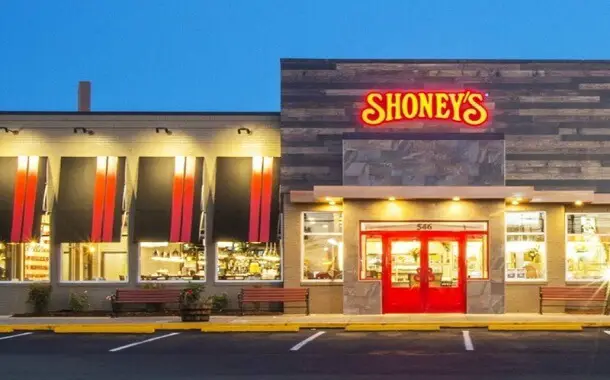 Shoney's is an American restaurant chain based in Nashville, Tennessee, easily recognized by its distinctive red signs. This eatery is specialized in offering traditional American-style food like hamburgers, sandwiches, chicken, salads, fish, steaks, and desserts. The strawberry pie and the hot fudge cake are some of its most iconic menu items. Also, at the beginning of the 1980s, they became known for their breakfast bar.
This restaurant prides itself on offering only fresh food, prepared with high-quality ingredients, that has never been frozen. In order to get an idea about how much you should budget for enjoying one of their meals, the table below will give you the latest Shoney's menu prices.
Food
Size
Price

Starters

Hand Breaded Chicken Strips
$9.19
Jumbo Wings (1)
$1.44
Jumbo Wings (8)
$11.49
Our Famous Onion Rings
$6.31
Shoney's Sliders
$9.19
Spinach & Artichoke Dip With Dixie Chips
$7.46

Entrees

Baked Spaghetti
$11.49
Bourbon Beef Tips
$14.94
Chicken & Shrimp Combo
$11.49
Chicken Stir-Fry
$12.64
Country Fried Steak
$12.06
Crispy Fish Filet's
$11.49
Crispy Pile O Shrimp
$13.79
Grilled Chicken Dinner
$12.64
Half O Pound
$12.64
High Range Ribeye
$20.69
Shrimp Stir- Fry
$13.79
Steak & Shrimp Combo
$11.49
Steakhouse Sirloin
8oz
$18.39
Swiss Mushroom Chicken
$14.94
Teriyaki Glazed Salmon
$14.94
Vegetable Stir-Fry
$10.34

Entree Salads

Caesar Salad
$9.19
Chef Salad
$12.64
Cobb Salad
$10.34
Garden Salad
$9.19
Garden Salad (Add Beef Patty)
$3.45
Garden Salad (Add Chicken)
$5.18
Garden Salad (Add Salmon)
$6.89
Garden Salad (Add Shrimp)
$5.74
Garden Salad (Add Steak)
$8.04
Southern Crispy Chicken Salad
$12.64

Breakfast Entrees

All Star Breakfast
$9.19
Biscuits & Gravy
$5.74
Breakfast Sandwich
$8.61
Country Fried Steak Breakfast
$10.34
Create Your Own Omelet
$10.34
Pancake Breakfast
$8.04
Philly Steak & Cheese Omelet
$10.34
Shoney's Steak Breakfast
$16.09
Slim Jim Omelet
$9.19
Veggie Omelet
$9.19

Burgers

All American Burger
$10.34
BBQ Bacon Burger
$10.91
Mushroom Swiss Burger
$10.91
Shoney's Double Decker Burger
$13.79

Sandwiches

Chicken Philly
$11.49
Grilled Chicken Sandwich
$10.34
Philly Cheese Steak Sandwich
$12.06
Shoney's Fish Sandwich
$10.34
Slim Jim
$10.34
Spicy Chicken Sandwich
$10.91
Steak Sandwich
$12.06
Turkey Club
$11.49
Vegetarian Club
$9.19

Side Dishes

Baked Potato
$2.86
Broccoli Cheese Potato
$4.59
Dixie Tater Chips
$2.86
French Fries
$2.86
Fruit
$2.86
Green Beans
$2.86
Mac & Cheese
$2.86
Mashed Potatoes
$2.86
Onion Rings
$2.86
Rice Pilaf
$2.86
Side Salad
$2.86
Slaw
$2.86
Soup
$2.86
Steamed Broccoli
$2.86
Steamed Vegetables
$2.86

Kids Entrees

2 Cheese Burger Sliders
$6.89
3 Chicken Strips
$6.89
Crispy Shrimp
$6.89
Grilled Cheese
$6.89
Mac & Cheese
$6.89
Spaghetti
$6.89

Kids Breakfast Menu

French Toast Stick Breakfast
$5.74
Jr All Star Breakfast
$5.74
Jr Pancake Breakfast
$5.74
Pancake Breakfast sandwich
$5.74

Kids Beverages

Jr Apple Juice
$1.83
Jr Chocolate Milk
$1.83
Jr Coke
$1.83
Jr Diet Coke
$1.83
Jr Fruit Punch
$1.83
Jr Hot Chocolate
$1.83
Jr Lemonade
$1.83
Jr Mello Yello
$1.83
Jr Milk
$1.83
Jr Orange Juice
$1.83
Jr Pibb Extra
$1.83
Jr Root Beer
$1.83
Jr Sprite
$1.83
Jr Unsweet Tea
$1.83
Sweet Tea
$1.83

Desserts

Banana Split Sundae
$6.89
Christy's Apple Pie
$6.89
Cookie Skillet
$6.89
Fudge Cake Shake
$5.74
Hot Fudge Cake
$6.89
Hot Fudge Sundae
$6.89
Pecan Pie Slice
$6.89
Pecan Pie Whole
$34.5
Strawberry Pie Shake
$5.74
Strawberry Pie Slice
$6.89
Strawberry Pie Whole
$19.54
Strawberry Sundae
$6.89
Vanilla Bean Shake
$5.74

Beverages

Apple Juice
$4.59
Berry Pom Lemonade
$3.09
Coke
$3.09
Diet Coke
$3.09
Fresh Roasted Coffee
$3.09
Fresh Roasted Decaf Coffee
$3.09
Fruit Punch
$3.09
Hot Chocolate
$3.09
Mango Lemonade
$3.09
Mango Smoothie
$4.59
Mello Yellow
$3.09
Mr Pibb
$3.09
Orange Juice
$5.74
Pomegranate Berry Smoothie
$4.59
Sprite
$3.09
Strawberry Banana Lemonade
$3.09
Strawberry Banana Smoothie
$4.59
Strawberry Lemonade
$3.09
Unsweet Tea
$3.09
Brand history
Shoney's was founded in 1947 by Alex Schoenbaum. He opened his first restaurant in Charleston, West Virginia, next to his father's bowling area. It was named Parkette Drive-in and after five years, after meeting with Big Boy founder Bob Wian, the name was changed to Big Boy Restaurants, just to be renamed after another three years to Shoney's.
In 1977, after thirty years of operation as a Big Boy franchise, Shoney's gave up the affiliation and changed the iconic Big Boy mascot with their own Shoney bear. The family-friendly eatery expanded constantly as Shoney's, launching dozens of new locations across the United States.
You might also like our articles about the prices you will find on the menus of East of Chicago, Margaritaville, or Sizzler.
In 2007 the Shoney's business was purchased by the entrepreneur David Davoudpour, who instilled a new purpose, passion, and energy. Focusing on innovation, giving back to communities, and simplicity, David transformed Shoney's into a model of excellence.
Currently, there are more than 90 Shoney's locations across 15 U.S. states including Alabama, West Virginia, Florida, Virginia, Florida, Tennessee, Georgia, South Carolina, Kentucky, Pennsylvania, Louisiana, Oklahoma, Missouri, Ohio, and North Carolina.
Our review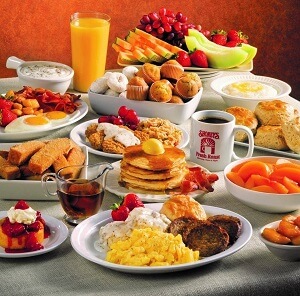 Shoney's menu includes a wide variety of American favorites such as burgers, chicken, fish, pancakes, sandwiches, and others. However, when it comes to breakfast this restaurant is one of the best choices. Some of the delicious breakfast items include Breakfast sandwiches, that cost around $8 each; Pancake Breakfast which costs $7, Biscuit & Gravy, which is $5; Veggie Omelet, priced at $8; Shoney's steak Breakfast, which costs $14; Country fried steak breakfast, that cost $9.
Starters include the Jumbo Wings, their famous onion rings, the Hand Breaded Chicken Strips, and the Spinach & Artichoke Dip with Dixie Chips. These food items are priced from $6 to $10 each.
When talking about the Shoney's salads you don't have so many options as there is only the Garden Salad, the Chef Salad, the Southern Crispy Chicken Salad, and the Cobb Salad. Expect to pay less than $11 for one of these salads.
Sandwiches are priced from $8 to $12, while for a burger you will have to get $10 to $14 out of your pocket. You will be able to choose between the BBQ Bacon Burger, All American Burger, Mushroom Swiss Burger, and Shoney's Double Decker Burger.
As for dessert, you should budget anywhere between $5 and $30, depending on the ordered size. For instance, a pecan pie slice cost around $6, while for a whole pie, you will have to pay $30.
Shoney's FAQs
At what time does Shoney's open?
Most Shoney's restaurants open at 06:00 a.m. Monday through Friday and at 07:00 a.m. on Saturday and Sunday. However, it may vary by location. So, you should visit the restaurant's official website to see which are the opening hours of the location you are interested in.
At what time does Shoney's close?
Usually, Shoney's closes at 09:00 p.m. Sunday through Thursday, and at 10:00 p.m. Friday through Saturday. But again, it depends on the location and the day of the week.
Does Shoney's serve breakfast every day?
Yes, you can order breakfast at Shoney's every day from 06:00 a.m. to 11:00 a.m. Though, at some locations, they serve breakfast starting at 07:00 a.m.
Which are some of the most appreciated treats served at Shoney's?
Some of the most delicious and famous treats served by Shoney's are the Philly steak, Christy's apple crisp, cheese omelet, veggie omelets, pancakes, all-star breakfast, and others.
When was Shoney's founded?
Shoney's was founded 76 years ago, in 1947 by Alex Schoenbaum.
How many Shoney's restaurants are there?
There are 94 Shoney's restaurants in the United States.
Who owns Shoney's?
Shoney's is owned and operated by the entrepreneur David Davoudpour.
https://www.thepricer.org/wp-content/uploads/2023/05/Shoneys-menu-prices.jpg
380
610
Alec Pow
https://www.thepricer.org/wp-content/uploads/2023/04/thepricerlogobig.png
Alec Pow
2023-05-09 10:01:33
2023-05-19 07:00:16
Shoney's Buffet Menu Prices