How Much Does Shower Valve Replacement Cost?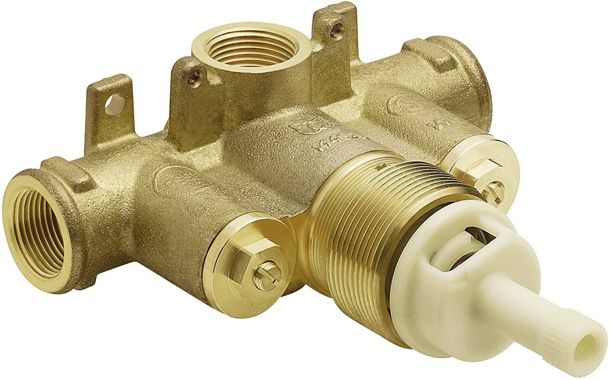 Your shower has several different valves and handles. They are made to use either stems or cartridges as well as 0-rings or washers as a way of controlling the flow of hot and cold water. This is how they give you the perfect water temperature.
A shower valve replacement, which involves replacing just some of these internal parts, is one of the most common shower valve repairs. It is considered a DIY option of easy to moderate difficulty and will usually be done from the shower side.
A very common bathroom remodeling cost that is usually unplanned is when the entire assembly has to be replaced due to the valve being broken beyond repair.
This isn't done from within the shower. Instead, this is something you have to do from behind the assembly itself. If you don't have an access panel through which you can see the whole assembly and plumbing, the repair might get pretty invasive.
In the case of most showers, you will only deal with one handle. There are only a handful of showers that have two handles, in which case it might happen that both valves will need replacement or repair. These parts are usually called tub valves and tub shower valves by professional plumbers.
When getting an estimate for the shower valve replacement, this should include the labor cost, retail prices, as well as other factors.
The prices presented in this article were pulled from a combination of physical in-store research and online retail website browsing.
How Much Does Shower Valve Replacement Cost?
The average cost of shower valve replacement is anywhere between $175 and $700. This price will depend on several factors including the amount of work needed for the replacement as well as the particular type of valve you have. Thermostatic valves will usually cost more to have replaced.
For valves that are situated in areas that are very hard to reach, if the plumbing work is more complex than usual, or if the valve is hidden behind a wall where access is limited, the final cost might be higher.
The average homeowner shouldn't pay more than $400 if they need a plumber just to replace the stem and internal parts. The cost will get higher, to about $550 per installation if you need to replace a shower valve completely. This cost would include the needed labor, the disposal of the old parts, as well as the cost of the new shower valve.
You might also like our articles about the cost of bath fitters, tape and mud drywall, and galvanized pipes replacement.
If you're going for a DIY job, expect to spend about $160. If you choose to work with a specialist, then the total cost to replace a shower valve will get higher, to about $600. Expect to pay anywhere between $160 and $600 to have the part installed.
Factors influencing the cost to replace a shower valve
Whether you Have a Home Warranty – You will find a plan that covers routine plumbing repairs like shower valve replacements at most home warranty companies. For example, at American Home Shield, you can get a warranty plan that will cover everything from tubs and shower diverter valves to valves for your showers, faucets, and even shower heads.
Your location – All across the country, there are different averages for hourly rates when it comes to plumbers depending on the cost of living. For example, you might spend half the price for a repair done in the rural parts of Oklahoma, than for the same job in a place like suburban Boston.
Whether you hire a plumber – A big part of the repair cost will be for the labor, regardless of the plumber or handyman you employ. This is why you will likely spend half of the price or even less if you go for a DIY repair, as long as you know what you are doing.
Costs related to Parts – The retail prices will likely vary quite a bit, depending on the type of shower valve and the brand making it.
Accessibility – You will be charged a lot less if you have a shower valve with an access panel, as the whole job will take a lot less. You will also get a bill that won't include any drywall repairs or the installation of an access panel.
Repair vs Replace – The cost will be considerably higher if you need the entire assembly replaced than if you only have to replace the stem, cartridge, or other internal parts.
Size of the Company You Hire – It isn't uncommon for small companies and single proprietors to offer lower costs than large companies, as they have lower overheads. Although, a big chain with many ongoing projects will also be able to work for a smaller profit margin than a smaller company.
If your drywall has to be cut and then patched or even fully replaced after the shower valve replacement, then you know you're dealing with the worst-case scenario. The final cost will usually be somewhere between $600 and $1,300 and will involve replacing the shower valve assembly by a plumber. The drywall work won't usually be included in the price.
Keep in mind: If you need to cut out a section of the drywall when you repair a shower valve, don't just fix it. Add an access panel instead, so that any future repairs will go a lot smoother and be a lot cheaper.
How do you know you will need to replace your shower valve?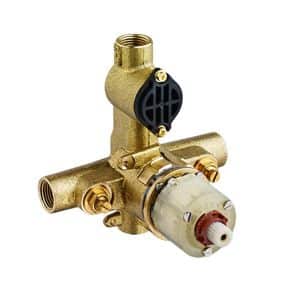 The most common signs of a worn-out valve:
Pressure fluctuates when you shower, especially if someone else is using water somewhere else around the house
You can never seem to be able to balance water temperature
Even if the shower handle is closed as tight as possible, the valve may still drip or leak.
Cost of Shower Valve Installation Supplies
Most online retailers and hardware and home improvement stores will likely have tub and shower valves in stock. If you're going for a DIY project, then you can simply remove the broken part and take it to the store. Or if you're shopping online, you can check the part for a serial number so that you're sure you're getting the proper replacement part. Keep in mind that these parts will likely be specific to the brand.
Below you will find price ranges for the most popular brands that sell, complete valve assemblies, cartridges, and repair kits for shower cartridge refurbishing.
Shower Valve Assemblies from popular brands – $25 – $300+. There are also assemblies that cost more than $500, made by high-end brands like Rohl, Grohe, or Kohler.
Shower Valve Repair Kit that comes with springs, washers, O-rings, and plastic body – $10 – $50
Danco Shower Valve Cartridges – $8 – $125
Pfister Shower Valve Cartridges –$35 – $100
Delta Shower Valve Cartridges – $55 – $100
Kohler Shower Valve Cartridges – $45 – $130
Permits, Related Costs, and Installation Time
Install Time Schedule
Below, you will find time estimates for your project depending on whether you need a repair or a full replacement, If the job takes less than one hour, most plumbers and handymen will still charge a 1-hour minimum fee.
Shower Valve Repair – 20 – 60 Minutes

Shower Valve Replacement –2 – 3.5 Hours

Labor Rates
Most handyman services are able to repair your average tub and shower valve successfully, although most homeowners will still call a plumber.
Although it will cost more to call a plumber, if you need a full tub shower valve assembly replacement, you recommend that you go on this route to get things done properly.
Handyman Hourly Rates – $75 – $100

Licensed Plumber Hourly Rates –$100 – $200

Permits and Inspection Cost
Although you won't need a permit to repair the shower valve, when it comes to installing a new valve, you should check your local plumbing code. If you need a permit, you will likely spend somewhere around $260 for the inspection and the permit.
https://www.thepricer.org/wp-content/uploads/2021/03/shower-valve-replacement-cost.jpg
380
610
Alec Pow
https://www.thepricer.org/wp-content/uploads/2023/04/thepricerlogobig.png
Alec Pow
2021-03-29 07:02:02
2023-05-18 12:50:41
How Much Does Shower Valve Replacement Cost?