Caught in diverse bodies of water across the globe, shrimps are normally found at the surface of their environment. Known to be high in protein and calcium, they can be eaten raw or fried, as well as thrown into one of 1000 recipes on the internet for a delicious meal.
How much does shrimp cost?
Since shrimp can vary anywhere between $6 and as much as $25 per pound, the cost will depend on a number of factors. The Fisherman's Cove offers fresh Louisiana shrimp for close to $7 per pound plus shipping; inside a one-pound bag, you are guaranteed 9 or more shrimps. Costco sells 21/25 tail-on frozen bags of this delicious product at around 18 bucks.
| Type of Shrimp | Average Cost (per pound) |
| --- | --- |
| Canned | $1 per can |
| Extra jumbo raw | $8 to $11 |
| Fresh wild-caught at the fish market | $13 to $20 |
| Fresh cooked or uncooked | $15 to $25 |
| Frozen extra small with tail off | $5 to $9 |
| Frozen jumbo, with the shelled, peeled | $10 to $19 |
| Headless with shell on Tiger shrimp | $17 to $24 |
| Raw extra large white | $9 to $15 |
| Raw large Gulf Brown | $9 to $16 |
| Red Argentine | $8 to $17 |
| Rock | $22 to $28 |
| Texas gulf shrimp | $9 to $12 |
Shrimp details
You might also like our articles about the cost of crab legs, king crabs, or eating at Golden Corral.
At major grocery stores, you can buy frozen or raw shrimp. Frozen shrimp is pre-cooked and comes in 1 to 2 lb packages with or without the tail on it. Raw varieties are available too; they come in 12 oz bags that typically contain about 15 pieces of fresh shrimp per bag. Some larger sizes may even have 21.
Markets have a seafood counter where you can either find fresh or previously frozen fish from across the world, but most of them will be the same frozen fish you were able to purchase in the freezer aisle. Some shrimps may come from an aquaculture farm while others could come from a local fishery that's nearby. If shopping for bags of shrimp, make sure to pay attention to what type is being sold. Some labels say "16/20" which means that there are 16-20 shrimps per pound, while some labels say U10, which means that there are fewer than 10 shrimp pieces in each pound.
A shrimp's size is usually depicted by the measurements small, medium, large and jumbo. As you go up in size, fewer pieces will be found inside the bag. For instance, with "small" shrimps your bag could have 50 to 80 pieces per pound, while colossal ones will only fit about 10 in a one-pound bag.
Common types of shrimp
There are five different types of shrimp that can be found at the local store. These include brown, white, pink, tiger, and rock but there is more to know about these shrimps than just their names.
Brown shrimp

Brown shrimp is known for its purple-like color on its tail and it primarily comes from the Gulf of Mexico and parts of the Atlantic coast since it likes warmer waters.
White shrimp
White shrimp are sweeter and a bit more tender than brown, with a light greenish tail. It will usually be found on the Gulf coasts along the US as well as imported from Mexico, Ecuador, China, and Thailand.
Pink shrimp
Pink shrimp are the tastiest of all, according to some chefs. Lighter on taste and texture than other varieties of shrimp, they're a favorite among foodies who love their mild flavor. This type is also noted for its blue tail. This particular shrimp, although it is called pink, can vary in color from white to grayish-blue based on where it was caught.
Tiger shrimp
Tiger shrimp are most commonly found in Asia and can grow up to 12 inches long. They're known for their "shrimpy" flavor are known for being the most common type of farmed shrimp on the market today.
Rock shrimp
Rock shrimp are found in the deep waters off of America's Atlantic coast. Equipped with a rock-like shell, from afar they can often be mistaken for lobsters and according to some, they will taste similar to a lobster as well.
Any extra costs to consider?
The best way to devein shrimp is with a plastic deveiner that can cost anywhere from $10-$30. However, there are cheaper options such as using your fingers or a paring knife. If getting it from an online fish market, be prepared for shipping fees that will be considerable, seeing that it is considered a high sensitivity shipment.
Tips to keep in mind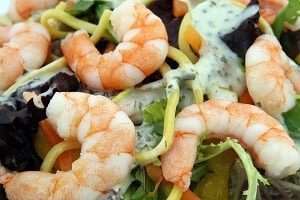 In order to get the freshest shrimp, there are a few things to keep in mind. For starters, smell and feel it before you buy! Fresh shrimp should not have an ammonia-like odor or sticky skin; if either of these signs persists then this is often indicative of decay and that means avoid buying those shrimps.
How can you tell the freshness of your shrimp? Serious Eats says to check for clear, clean heads and a lack of black spots. If they're frozen, take a peek in the packaging window – if there's freezer burn present then it may not be as delicious as youțd want it to be.
When you're purchasing shrimp, it's best to buy them frozen and control the dethawing process. This is because most shops will get the same bags of products and let them thaw on shelves, which could lead to the shrimp getting bad even before it reaches your home. It may also be tempting to purchase live fresh shrimp from a tank or ocean, but if you opt for the fresh route, just make sure you eat it as soon as possible, to make sure it doesn't go bad.
Pay close attention to the ingredient list and be sure you're buying only shrimp. Manufacturers often add additives, like preservatives or other ingredients, in order to increase their shelf life so make sure it is just "shrimp" on that list.
Is there any way to save some money?
When bought without its shell, shrimp will often lose half of its body weight, which will lead to increasing costs. If you have the time to peel shrimp before consuming it,then this will usually be the cheapest route to go on.
https://www.thepricer.org/wp-content/uploads/2021/05/shrimp-cost.jpg
380
610
Alec Pow
https://www.thepricer.org/wp-content/uploads/2023/04/thepricerlogobig.png
Alec Pow
2021-05-07 06:44:34
2021-05-07 08:47:02
Shrimp Cost