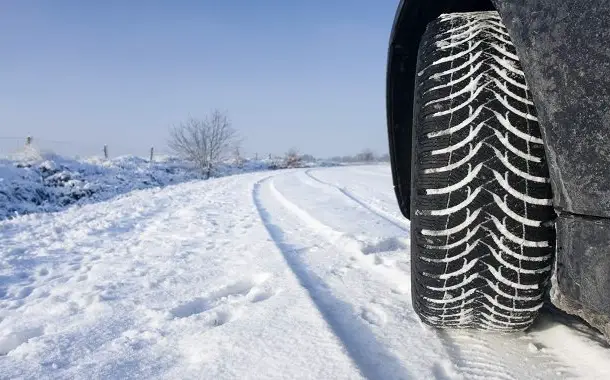 Summer tire performance decreases dramatically at temperatures below 7° C and it affects the car's optimal control in winter.
Winter tires are designed to ensure increased safety on all types of pavements regardless of weather conditions.
Unlike summer tires, winter tires are made of a material that maintains its elasticity at low temperatures. This prevents the tire's strengthening and thus provides a better road-holding, reducing the risk of side slipping or hydroplaning in difficult climatic conditions.
Winter tires have the reed number five times greater than the summer tires have. They play the role of spikes, offering passengers maximum safety by improving adherence and reducing the braking distance in winter.
You might also like our articles about the cost of run-flat tires, tire installation, and tire valve stem replacement.
The Michelin experts' tests show that vehicle equipment with suitable winter tires reduces the braking distance on snow by 31 meters compared to summer tires. These performances contribute both winter tire composition and reeds, wherewith they are provided.
The entire car safety equipment such as emergency brake assist, path control, or side slip systems work better in winter if the vehicle is equipped with winter tires.
Winter tires are of three types depending on quality, type, and size:
Low cost – Studless: from $60 to $550 and more;   
Average cost – Studded: from $75 to $550 and more;        
High cost – Winter Performance: from $100 to $600 and more.
Typical costs:
If you want studless winter tires, with biting edges and which in the cold season remain flexible thanks to the soft rubber from their composition, you will pay somewhere between $60 and $550 for each. For a studless car the average price for a winter tire is about $100 to $150 and for a set a four the price is somewhere between $250 and $600; for a light truck or an SUV expect to pay about $200 to $400 per winter tire or $600 to $1,200 for a set of four.
The studded tires are for prolonged use in cold weather and heavy snow, have built-in some sort of metal teeth to bite into ice and cost somewhere between $75 and $550 and more each winter tire.
Winter performance tires are recommended for sports cars because they are safe at high speeds, in cold weather, on any type of pavement, and usually cost between $100 and $600 each or between $300 and $2,000 per set.
Additional costs:
The above prices do not include a round of rims, so you either use a round of rims for both your summer and winter wheels and pay around $40 to $80 for re-mounting and re-balancing or you buy another set of rims for $120 to $500.
Regarding the winter tires, always remember:
Set the winter tires along with the advent of the cold season.
Set the winter tires on all four wheels of the car.
Check the winter tire condition before the reassembly.
Winter tires can be used during summer when the tread depth drops below 4 mm, but after one summer it will no longer be indicated for winter use.
Should the average working Joe get winter tires for his car?
Especially if you use your car to travel or go to work, you should change your tires by season, to ensure the safety of your entire family. It might seem like a big expense, but it will be a lot more expensive to repair a car in case of an accident.
https://www.thepricer.org/wp-content/uploads/2014/12/Snow-tires.jpg
380
615
Alec Pow
https://www.thepricer.org/wp-content/uploads/2023/04/thepricerlogobig.png
Alec Pow
2014-12-22 02:23:30
2021-05-17 07:00:33
Snow Tires Cost