Spoiler Installation Cost
Aerodynamics is a science that sometimes matters more than engine engineering. You can have a sensational engine, but if the car taken as a whole does not have a coefficient as small as possible (that Cx), it will be like an old hollow Volvo hitting the air like a wall.
Few people know that the purpose of spoilers is to break and divert air so that it does not get under the car, hence the name – to spoil the air. Once air gets under the car, it becomes much harder to keep the car on the road and maneuver it. Turbulence affects the car's performance.
How Much Does Spoiler Installation Cost?
Expect to pay on average around $260 for a spoiler installation. The painting expenses should be included in this price, and these are around $160, along with the labor costs which are around $100. Though, the labor costs can start at around $25 and go up to more than $920, depending on the contractor you choose, the process of installation, and how much time it takes.
You might also like our articles on the cost the installation of a supercharger, Flowmaster exhaust system, or twin-turbo engine.
However, the average price of a spoiler installation is around $550, including the spoiler itself. This average price is available for most cars but you should expect to spend much more for an exotic or luxury vehicle.
In general, new spoilers come with a primer coat and are ready to be painted. It will cost you more if you were to purchase one from an individual or from a salvage garden because before painting it you will have to sand, prime, and sometimes even repair it.
So, the cost of spoiler installation starts at around $60 and can go up to more than $1,100.
How much does a spoiler cost?
The cost of the spoiler itself will depend on some factors such as the make and model of the vehicle, the brand, and the place you buy it from.
Obviously, you will have to spend much more for a high-end vehicle than you will have to pay for a low-end car. For example, the parts of luxury cars come with a higher price tag. If you want to save money on this car part you can seek an individual who is parting out his car or you can go to a salvage yard.
You may be able to find a spoiler at a yard like this for around $15, while for a high-end spoiler you will have to pay thousands of dollars. However, the average cost of a spoiler itself is around $110.
How much does it cost to paint a spoiler?
There are people who attach the spoiler to their cars without painting it. Of course, this does not affect the performance of the car, but it does affect its appearance.
The amount of money you are going to spend for painting a spoiler will depend on the color you prefer and where you paint it. Expect to pay around $110 for this.
However, you can spend even less if you have a friend or family member who does automobile painting and/or auto bodywork.
Check out this video about spray painting a spoiler.

Can I find an aftermarket spoiler?
As with any other vehicle part, you will be able to find an aftermarket spoiler for your car. For example, you can purchase a spoiler for around $60 from the Car Parts website.
After you bought the spoiler, you will have to find someone to install it. This process starts with searching several dealerships or auto body shops where you can have your spoiler installed.
Can I install a spoiler at a dealership?
In general, spoilers arrive at the dealership's lots already installed. Though, there are some dealerships that will install them. But you have to request this before the purchase.
You will have to ask for this feature as a special order.
Can I paint a spoiler by myself?
First you need to buy the necessary materials: solutions for plastic parts, paint, colorless varnish, solvent and a sandpaper set. It is desirable that the varnish, primer and paint have the same base, for example, acrylic, to make sure that there will be no compatibility issues.
All painting work must be done outdoors or at least on the balcony. And the steps are as follows:
Degrease the spoiler with solvent.
Sand the entire surface so that it becomes matte (this should be done "dry" without using water, as recommended by some painters).
Spray the primer evenly over the surface of the spoiler and allow it to dry slightly (about 15 minutes, but it all depends on the type of primer, so read the instructions carefully).
Now you can start spraying the paint. This should be done "crosswise" – that is, spray immediately horizontally, pause for 10 minutes and only then apply the paint vertically. The paint should be sprayed from a distance, keeping the spray at an angle, and you should not direct the flow to the same place for a long time.
Well, the last step is to apply a colorless varnish.
Types of spoilers
The spoilers are of several types, depending on the place where they are fixed to the car body.
Front spoiler. This type of spoiler is attached to the front of the body, under the bumper. Its role is to improve the flow of air around the car, reduce air resistance and create improved driving conditions from an aerodynamic point of view. It is usually made of light metal or plastic.
Rear spoiler. Like the front spoiler, it has the same role: improving the car's aerodynamics. It is installed under the rear bumper and is, rather, an aesthetic accessory, because it balances the overall image of the car and gives a sporty touch to even the heaviest cars, in terms of appearance.
The roof spoiler. This part is usually attached to the back of a car roof. It is designed to fit the upper section of the rear window and is installed directly above the window. Many car models are equipped with such spoilers from the factory, and they also include position lights for aesthetic reasons.
Trunk spoiler. It is the most common model, whether it is for race cars or passenger cars. It is located in the upper part of the trunk of a vehicle. Its role is to improve the stability of the car and the aerodynamics at high speed. Many cars still come from the factory with spoilers on the trunk.
The most common spoiler materials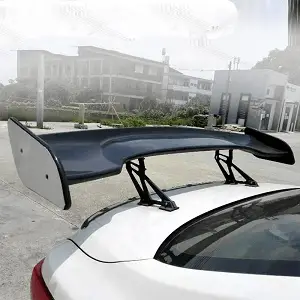 Here are the main materials from which these parts are made, as well as the advantages of each one:
Silicone. More recently, many car accessory manufacturers use organic polymers with silicon. The main benefit of this material is its plasticity. Silicone has very high thermal characteristics and offers a longer product life.
ABS plastic. Most car parts and equipment manufacturers produce spoilers from a mixture of ABS plastic and various other substances, in order to provide increased resistance to this otherwise inexpensive material. Plastic is known for its fragility, a major disadvantage that increases with the age of the product.
Carbon fiber. It is a light and durable material, but also expensive at the same time. On the other hand, it cannot be widely used in the production of auto parts because it requires a high volume of manual labor.
Fiberglass. It is a material frequently used by car parts manufacturers, due to its low cost, but also because it is durable and functional. This type of spoiler is made of fiberglass cloth, combined with a heat-resistant resin, such as epoxy.
What you need to know when choosing a spoiler
In order to choose an efficient spoiler that offers not only aesthetic advantages, but also contributes to the performance of the car, the chosen models must be tested in a wind tunnel. Otherwise, these parts remain just accessories that beautify the car, but can even bring disservice on the go, because none of them have a positive impact on acceleration on the right road. The spoilers are designed to improve stability and cornering efficiency at high speeds.
https://www.thepricer.org/wp-content/uploads/2022/04/spoiler-installation-cost.jpg
380
610
Alec Pow
https://www.thepricer.org/wp-content/uploads/2023/04/thepricerlogobig.png
Alec Pow
2022-04-27 08:07:07
2022-04-25 20:52:42
Spoiler Installation Cost