St. Patrick's Cathedral Wedding Cost
The Catholic St. Patrick's Cathedral was built in 1858 but opened a few years later in 1879. It is located in Manhattan, New York City, on 50th Street and Fifth Avenue, right across the street from the Rockefeller Center.
These days St. Patrick's Cathedral is a prominent landmark of New York City, a place where loving couples have the chance to get married.
How much does it cost to get married at St. Patrick's Cathedral?
It is said that the cost to get married at the St. Patrick's Cathedral is around $2,100. This is considered a "donation" and includes a time slot for your ceremony, but also the wedding organist and singer. However, according to many online reports, even this information was not confirmed by the church, and some say that you will have to hire a singer and organist, without exception. As this is a donation, if you would like, you can offer much more.
St. Patrick's Cathedral details
The Gothic-inspired St. Patrick's Cathedral is based on an impressive Latin cross, with the main nave oriented from east to west and the transverse one, from north to south. The church itself is 120 meters long and 53 meters wide, but it also has 2200 seats, being one of the most spacious and richly decorated churches in the city. It is almost impossible not to compare this cathedral, after all, this monument, with the European ones, especially as St. Patrick's Cathedral in New York has been put to the test of time.
You might also like our articles about the cost of a wedding at a courthouse, Pelican Hill, or Biltmore Estate.
For example, the construction of the cathedral began in 1858, but work was stopped due to the outbreak of the American Civil War (1861-1865). Fortunately, the construction work was resumed in 1865, and much later, the cathedral was consecrated in 1879. Inevitably, the construction underwent a series of improvements over time, consisting of construction work by adding towers from the west, of the house, the official residence of the archbishop, as well as the Chapel of the Virgin.
In view of all this, it is easy to say that this remarkable white marble cathedral is, without a doubt, one of the most beautiful and impressive sanctuaries built in the 19th century. The building is, if you will, the result of a very, very special, extraordinary vision that Archbishop Hughes had. St. Patrick's Cathedral also reflects the extremely important role that the Catholic Church has played in the culture and history of New York.
Important things to consider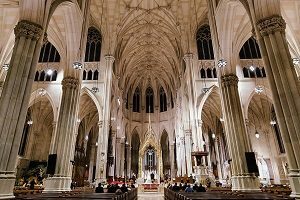 If you want to get married at St. Patrick's Cathedral you will have to go through an initial interview which has to be held at least one year before your wedding date, according to the official website of the church. The first thing you have to do to start this process is to contact the priest on duty by following the cathedral's website.  According to an online source, if you want to get married there you don't have to belong to the parish, but to be considered you will have to live in a certain area. AMNY says that you have to be a parishioner who lives in the Archdiocese of New York. This condition is available also for baptism.
You will receive a little booklet from the priest who handles your wedding where you can read exactly what you can do or not do on your wedding day. According to a member of an online forum, some things are not allowed. For example, any outside microphones are completely forbidden because these can interfere with the church. Runners or throwing flowers are also forbidden. However, flowers are allowed if you leave them there after the ceremony. Make sure you read this booklet carefully in order to know what you can do and what you are not allowed to do.
During your wedding day, tourists are allowed and probably will be present in the church. Though, according to a member of the Weddingbee online forum, for a recent wedding, they were quiet and even clapped when the ceremony was over.
According to the couples who got married at St. Patrick's cathedral you will not be allowed to take photos in front of the church on your wedding day and also you will not be allowed to have a receiving line because you may block the entrance this way.
AMNY website notes that the St. Patrick's cathedral keeps a detailed record of every couple who said "Yes, I do!" there.
https://www.thepricer.org/wp-content/uploads/2022/03/St-Patricks-Cathedral-wedding-cost.jpg
380
610
Alec Pow
https://www.thepricer.org/wp-content/uploads/2023/04/thepricerlogobig.png
Alec Pow
2022-03-30 06:00:47
2022-03-28 21:37:23
St. Patrick's Cathedral Wedding Cost