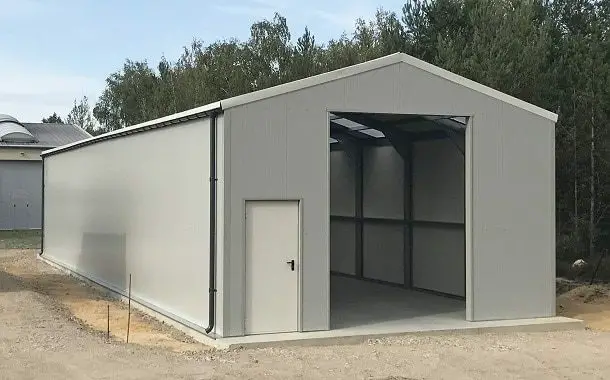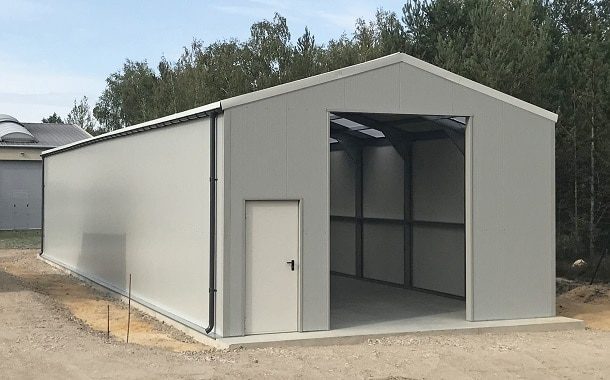 Steel Buildings Sample Costs
Below are some examples of costs for Steel Buildings which will help you get an idea of just how much you will have to spend on such a project.
Pre-engineered Steel Buildings have an average price of $18 per Sq ft.
12 x 6 Horse barns will cost about $2,400.
10x10x10 Steel Storage Buildings have an average price of $7,000 to $9,000.
A 30 × 50 Building or Workshop will have a typical expense of $16,000.
A 50 × 100 Steel Building will have a typical price of $19,500.
Big 60 × 80 Insulated Steel Buildings that have windows will have an average cost of $41,000.
The principle behind steel structures and buildings is to give up the wood building and construction completely in favor of strong, steel that lasts longer. Steel structures will also come pre-engineered and all set to be put together, providing a much easier and less labor extensive building and construction procedure than wood.
Let's Compare Steel Building Costs By Leading Businesses
Each business offers different size and standard building alternatives, so keep this in mind when you compare the expense of steel structures. There are lots of alternatives out there to pick from when searching for a business to make your steel building.
A comparison of a few of the leading steel building suppliers will aid you to compare your building alternatives and average prices.
Olympia Steel Buildings
Olympia Steel Buildings provides alternatives from standard structures to huge commercial complexes. The cost depends upon the size and type of building. You can personalize the structure to fit any size requirements.
Olympia provides a 40-year guarantee on all its structures. They concentrate on personalized building choices. They are also BBB certified, which is a plus.
Morton Buildings
Morton Buildings provides alternatives for strong developed domestic, farm, industrial, and community buildings. They have a big range of sizes and modification choices to pick from. Sizes vary from 24 × 30 to 100 × 80 for their standard structures.
You might also like our articles about the cost to build a house, rent an office trailer, or a porta-potty.
The costs can range from $29,000 to $74,000 for their smaller sized structures like garages. For domestic houses, the cost will start at $124,000 and go up depending on your needs.
They provide a maximum of 50 years service warranty for their structures. Morton Structures is also BBB certified.
Mueller Inc
Mueller also provides structures for any requirement. Their packages start with a basic series with sizes varying from 24 × 24 to 40 × 60. Mueller is BBB certified.
The cost for a basic series set starts at just $4,500. Depending upon the size and personalization alternatives, the cost can increase to $20,000. The package choices for house structures vary from $30,000 to $43,000 before any personalization.
Mueller provides up to a 30-year service warranty on their building. They also provide a minimum of a five-year service warranty on paint and other customized alternatives.
Freedom Steel
Freedom Steel provides everything from adjustable structures for storage to industrial usage structures. Storage buildings range from 32 × 42 to 60 × 85. The industrial and domestic choices can reach 72 × 200 depending upon your requirements.
The standard smaller sized structures start at a price of $14,000 to $33,000 for the standard pre-made buildings. Other alternatives depend upon custom-made alternatives. Freedom Steel provides a 25-year service warranty on their structures. Freedom Steel is also BBB recognized.
VersaTube
VersaTube provides garage, carport, or barn structures. Sizes vary from a 12 × 10 carport size to 36 × 72 barn sizes. VersaTube is BBB certified.
The costs start at $1,000 for a traditional carport design and increase to $5,000 for bigger ones. For barn structures, the costs vary from $1,200 to as much as $26,000. This company also provides a 20-year frame guarantee.
MBMI Metal Buildings
MBMI provides buildings for any structure requirements. Their sizes vary from 10 × 15 for a standard storage shed to 150 × 250 for business structures.
The smaller structures will have a price that starts at $7,000. For bigger structures, the cost increases to $228,000 for a pre-customized structure.
MBMI will offer a 40-year service warranty for their structures. They are BBB accredited.
Guide To Purchasing Metal Buildings
If you're seeking to develop a brand-new structure, among the very first questions to ask yourself is what building material to utilize. Numerous companies are switching to steel structures when it comes time to start a brand-new building job.
Steel is among the most durable structure materials readily available. It's also among the easiest products to utilize due to the fact that you can buy a premade structure to minimize construction time. When talking about a building construction job, these are essential factors to consider.
Obviously, the full expense of your project is also a crucial factor to consider. The expense of acquiring a steel structure will depend upon numerous aspects, however, it might be more affordable than building with other materials.
When comparing steel building prices, you should understand that costs are just estimative.
The price of steel buildings might differ depending upon the price of steel at the given time. There are some standard average costs you can take into consideration though.
Why Go for a Steel Building?
While numerous building projects utilize wood structures, there are lots of advantages to going for steel over wood. A few of the advantages of steel structures are obvious than others.
Steel Structures Will Save You Time
When constructing with steel, you can buy a pre-made structure to save the time it would take to build it from scratch. With the standard building already in place, all you need to do is personalize the structure to your taste or requirements. This means that your job can take one month or less to be ready.
Steel Structures Hold Better
Among the most common threats to a structure is a natural catastrophe. With a steel structure, you get a building that can withhold to a lot of these types of issues. Also, unlike wood buildings, steel will not rot or breakdown.
Steel Structures Save You Cash
The toughness of steel means less upkeep with time to have your building running efficiently. Steel structures also save cash in other ways as well.
Since steel is fire-proof, insurance coverage premiums will cost less with a steel structure. The energy-saving capability of steel structures is also a crucial factor to consider. With time you can save money on energy expenses.
Steel Buildings are Easy to Upgrade
With a steel structure, you can quickly expand if needed. Adding additional doors or windows is also a lot easier with a steel structure. A steel building is also easy to move or even replace all together if needed.
Steel Buildings are Eco-Friendly
The production of steel buildings needs less waste material to make. You can also recycle the steel from a structure no longer in use. Both of these factors are much better for the environment.
A steel building does not need the same treatments as a wood structure, making this another point in favor of steel. There's no requirement for harmful chemicals to keep a steel structure functional.
Just how much Does a Steel Building Cost?
The cost of a steel structure will depend upon lots of aspects. When comparing the expense of steel buildings, you will need to understand your requirements for the building to get an exact quote. Let's check them out:
Types Of Steel Buildings
One factor to consider when figuring out the expense is the kind of building you will need. Steel structures can be found in lots of shapes and the type you require depends on what the building is utilized for.
The most typical structures are I-beam, C-channel, and tube structures. Each kind of structure has various functions, so understanding the usage of each is very important.
Tube structures are the most inexpensive, however, they're restricted in use so keep this in mind. Tube structures are mostly for carports, though Quonset huts can fall under this classification.
A Quonset hut has less functional area per square foot and needs spray insulation. A tube frame price ranges from $9,000 to $24,000 depending upon the needed size.
You can utilize an I-beam structure for any structure you want to build. These are the most durable and personalizable structures readily available for your building needs.
You can get this building in sizes varying from 20 × 20 and up to 200 × 400. Rates for the I-beam structure vary from $9,000 and up, depending upon your requirements.
The C-channel choice will be great for a garage or storage system. These structures vary in size comparable to the I-beam structure. They can be found at prices from $7,900 and up.
Steel structures are terrific for a carport, garage, barn, or storage system. They're also very useful as garages, hobby stores, or any industrial structure requirements.
Standard Structure Rates
While costs differ based upon the project itself, there are some standard structure expenses that can aid you to figure out a starting price.
Remember that personalization will greatly affect these costs. The typical expense of building a steel structure is $16 to $20 per square foot, however, with personalization, this can cost as much as $40 per square foot.
If you start with a standard 5,000 square foot structure, the rate is somewhat closer to $9.50 per square foot. Bigger structures usually cost less per square foot, so this expense drops as you go up to structures of over 5,000 square feet.
To put this in some perspective, a 30 × 40 structure will cost around $11,000 before you do any adjustments. With standard buildings, you should get a price more easily than with personalized additions.
For example, a standard garage structure will have a price that starts at around $9,000. This cost increases with size and modifications. A church structure will usually run $15 to $40 per square foot depending upon your size and modification requirements.
Elements that Affect Steel Building Costs
When comparing expenses, There are a few elements that impact the general pricing of steel buildings. Along with the size and type of structure you go for, you have to consider the fact that your building has regulative and custom requirements.
Know and Follow the Laws of Your Area
When starting a building job, it is essential to know and follow the codes that regulate how and where you can build your structure.
Each state, county, and city have their own policies for structures. The zoning laws will also depend on whether the structure is a business or property building.
Check out your regional zoning laws before you even start so you can keep your structure within guidelines. These codes and zoning laws will impact the kind of structure you can get. They also impact the prices for your structure as these laws might impact how the building is made.
Personalization for Your Steel Building
Typical costs for steel buildings will not take personalization into factor to consider. The standard structures have a set appearance, however, you might have to change this to fit your requirements. Some personalizations that will affect the final costs are:
Number and placement of doors
Number and placement of windows
Siding alternatives
Color you pick
Insulation requirements
For the most dependable quote on your structure project, be sure you have these and any other adjustment requirements readily available. Any modifications you make throughout the building process will change the price you're being quoted.
The General Price of Steel
The cost of steel will change pretty frequently. This will have a noticeable impact on the cost of your building project. An estimated cost needs to stand throughout the structure project, however, keep this factor in mind. Do not count on rates from previous years when considering your material choices.
Other Metal Structure Purchasing Considerations.
When buying a steel structure ensure you know all the specs you need for the structure up-front. The more pre-assembly done, the quicker the building and construction project will go.
Ensure you also research assembly alternatives altogether.
Will you need to do the assembly on-site yourself, or do they provide building assistance?
Also, check out their assistance policy to know what other help they provide in the set-up procedure.
The service warranty is another crucial factor to consider.
Service warranties can vary from 20 to 50 years depending upon the business. The service warranties will also cover various upkeep requirements, so research the warranty policies completely before you give it a go.
Check out their bundle choices in full as well. Make certain you understand what comes with the sets and what materials you may be required to supply.
The majority of respectable businesses will supply all the products and materials required to put together on-site, however, check out the plans before signing a contract.
Check out their personalization alternatives too. These factors will also influence the cost of the standard structures and it is essential to understand their pricing options.
Do not get fooled by concealed expenses for additions you do not know won't be included in the standard price.
Keep in mind that from 5,000 square feet and up, a lot of businesses provide rate drops on their cost per square foot. Make sure you know and understand their discount rate alternatives so you can get the very best cost for your requirements.
Making the Steel Structure Cost Comparison Easier
If you're not exactly sure what to search for when comparing the steel building expense options, do not stress about it. There are options to make the comparison procedure much easier.
When comparing your choices, it's is pretty useful to compare based upon your place, size requirements, modification needs, and structure tyes in one big comparison.
What to search for in a Steel Building
When purchasing a steel structure, choose a product that is pre-engineered to make assembly as easy as possible. The more work is done before the building gets to you, the lower your assembly expenses and efforts will be. In addition, search for a business that has extremely high standards and pre-shipping evaluations added into its production process. This guarantees you that your parts will be the right size and crafted properly when your order gets to you.
Analyze the warranty thoroughly on steel structures. The very best producers will stand behind their products with an extraordinary degree of dedication, some offering warranties on specific components of the structure that last as much as 50 years. Manufacturers who show they want to stand behind their product speak to the quality of their structures.
Checking out the support that the business provides its clients is also a critical part of the selection procedure. A great business will have a logistics department that can assist you to schedule prompt shipment of your structures in order to complete the project according to your due dates. Great client assistance that is readily available to respond to any concerns you may have is also very important.
Lastly, the very best businesses offer an overall packaged solution. Their structures come with everything that you require to finish construction included in your order. This is superior to businesses that will only offer elements of structures, as these need a lot more engineering knowledge and care in order to create a strong and dependable structure. Makers who provide total packaged services offer products that need extremely little extra thought or design and come prepared to put up as quickly as they come off the truck.
https://www.thepricer.org/wp-content/uploads/2020/10/steel-building-cost.jpg
380
610
Alec Pow
https://www.thepricer.org/wp-content/uploads/2023/04/thepricerlogobig.png
Alec Pow
2020-10-21 12:35:03
2022-03-13 23:01:56
Steel Buildings Cost