How Much Does it Cost to Stock a Pond?
A pond is a great addition to any yard because it provides relaxation and fun for the whole family. Whether you already have one in your backyard or are thinking about digging one, stocking it with freshwater fish can be an option worth considering if that's what you want out of this relaxing activity.
How Much Does it Cost to Stock a Pond with Fish?
The cost of stocking a pond with fish is anywhere between $800 and $15,000, depending on the company you choose to work with and the type and size of the fish you're getting. It also depends on how much you purchase at once and whether it is a one-time expense or a recurring cost. There are many types of fish you can choose from, and our table below may help guide your decision.
| Type of Fish | Average Price |
| --- | --- |
| Channel Catfish | $0.50 each |
| Black Crappie | $1 each |
| Fathead Minnows | $12 per pound |
| Coppernose Bluegill | $0.50 each |
| Hybrid Bluegill | $0.50 each |
| Grass Carp | $6 each |
| Koi fish | $10 each |
| Hybrid Striped Bass | $2 to $4 each |
| Redear Bream | $0.60 each |
| Largemouth Bass (3-4 inches) | $1.50 to $3.50 each |
| Yellow Perch | $1.50 to $3 each |
| Walleyes | $3 each |
Note: When searching for suppliers, many ask that you make a minimum order of 25-50 before they confirm the price.
At Dunn's Fish Farm, fathead minnows cost $11.95 per pound, and 6 to 8 inches largemouth bass can be bought for a price of $320 per 100 fish. Refer to the list published on their website before planning on buying fish to make sure you have the right prices.
Fish pond stocking cost
Pond size
Average cost
Package includes
¼ acre
$170 – $500
1 – 2 triploid grass carp
1 – 5 lbs. fathead minnows
100 – 125 prey fish (one type or a combination of bluegill, hybrid bluegill, and redear sunfish)
15 – 25 channel catfish
20 – 25 largemouth bass
½ acre
$400 – $700
200 – 250+ prey fish (bluegill, hybrid bluegill, or redear)
25 – 50 channel catfish
40 – 50+ largemouth bass
2 – 10 lbs. fathead minnows
2 – 4 triploid grass carp
¾ acre
$500 – $1,000
300 – 650 prey fish (bluegill, hybrid bluegill, or redear)
50 – 75 channel catfish
60 – 75 largemouth bass
4 – 20 lbs. fathead minnows
3 – 6 triploid grass carp
1 acre
$800 – $1,500
5 – 20+ lbs. fathead minnows
5 – 8 triploid grass carp
50 – 100 channel catfish
50 – 100 largemouth bass
500 – 1,000 prey fish (bluegill, hybrid bluegill, or redear sunfish)
2 acres
$1,600 – $3,000
1,000 – 2,000 prey fish (bluegill, hybrid bluegill, or redear sunfish)
10 – 16 triploid grass carp
10 – 40+ lbs. fathead minnows
100 – 200 channel catfish
100 – 200 largemouth bass
3 acres
$2,400 – $4,500
1,500 – 3,000 prey fish (bluegill, hybrid bluegill, or redear sunfish)
15 – 24 triploid grass carp
15 – 60+ lbs. fathead minnows
150 – 300 channel catfish
150 – 300 largemouth bass
Prices of bass for pond stocking
It will cost you somewhere between $1 and $17 per fish to stock a pond with bass. This will depend on the size of fish you're getting.
If you want to add adult bass to a new pond, then 5 to 6 per acre will suffice. For bass fingerlings, on the other hand, you should consider adding around 50 or even 100 per surface acre. Be careful not to add too many bass as this can result in stunting.
Price to stock a pond with bass
| Bass length | Updated Average price |
| --- | --- |
| Over 12″ | $14.95 – $19.55 |
| 10″ – 12″ | $10.35 – $13.80 |
| 8″ – 10″ | $5.52 – $11.16 |
| 6″ – 8″ | $3.57 – $6.10 |
| 4″ – 6″ | $2.19 – $4.03 |
| 2″ – 4″ | $1.04 – $1.84 |
According to experts, you should stock your pond at a 10:1 ratio of prey to predator for the best results. The number of fish of each species will depend on factors like:
Whether or not you have a fertilized pond
Whether or not the fish are being fed
Fish size
Species combination
Location
When possible, get in touch with a fish biologist around you, as they will be equipped with the knowledge to create the perfect combination and quantity of species of fish for your particular pond depending on its purpose, location, and size.
Price for stocking minnows in a pond
The price of minnow stocking for a pond is somewhere between $10 and $15 per pound. You will likely find between 200 and 300 minnows in each pound.
There are retailers that sell minnows in batches of 1,000 or more fish, with prices of $0.02 to $0.15 per fish.
You will likely need around 100 pounds of minnows per acre if you have a pond that is already established with a predator like bass. In this case, it will be cheaper to just go for bluegill instead of minnows.
Fathead minnows can be stocked in the spring. You should add 5 to 20+ pounds per surface acre if you want to establish a new forage base for the pond.
Bluegill stocking prices
The cost of stocking a pond with bluegill is between $0.40 and $7.00 per fish. This depends on the length of the fish. You will likely need 500 to 1,000 bluegill per acre, but this will depend on what other fish you have, their types, and their numbers.
Standard bluegills will need a considerable predator population like catfish or bass as they are prolific breeders. If you fail to add enough predators, you'll risk overpopulation. If you want to foster a healthy bass population, then stock enough bluegill sunfish.
Hybrid bluegill is a cross between a female green sunfish and male bluegill. These fish grow larger than standard bluegills and are also more aggressive. As they reproduce at a lower rate, hybrid bluegills will usually need periodic restocking.
Stocking a fish pond cost factors
Factors that affect the cost include:
State assistance – Depending on your state, you might be entitled to one of the fish stocking programs. Before you go right to the spending part, make sure you go to local authorities to check pond qualification requirements.
Season – The availability of different species of fish varies by location and season. There are quite a few species that can become stressed when kept in extreme temperatures. This is why fisheries will only choose to carry them during the milder months so that they can withstand the transportation stress.
Pond condition ­– Before restocking, existing ponds will likely need a professional to assess their current habitability and remove wild fish that might have got inside.
Permits – In most areas, you will need a permit if you want to build a fish pond. Along with pond building regulations, you will also have to consider water management restrictions and fishing permit requirements, and these will vary by state.
Bagging fees – When preparing the fish for transport, fisheries charge anywhere between $1.20 and $3 per bag to fish with oxygen.
Minimum order – At most fish stocking companies you will be facing a minimum stock delivery order of $800 to $2,200.
Location/delivery fees – Fish stock delivery is charged $2 to $6 per mile at most fisheries.
Type of pond, its size & depth – To create a sustainable and balanced habitat, the larger the pond and its body of water, the more fish you will need to have inside it. The size and depth of the pond will also affect the species that it can sustain. You will need a pond that stays at least 3′ to 4′ deep all around the year if you want to stock largemouth bass.
Fish size & type – Depending on the species and size of the fish, the prices will differ. Getting minnows or other small foraging fish shouldn't cost more than $0.03 per fish. Largemouth bass of 10″ or more, on the other hand, will likely cost $10 or more.
Extra costs related to fish stocking
If you don't purchase the minimum required quantity when an online provider is going to ship your fish, or when it's a long-distance delivery to where you live, there may be an additional fee. This can be $3-$5 per mile, depending on how many fishes are delivered.
Bagging charges can get expensive, ranging from $1.75 to $2.50 per bag.
You might also like our articles about the cost to build a small pond, to get lionfish, or to obtain a fishing license.
There are different requirements depending on what state you live in. Check with your local government to learn more about the permits that might be required for stocking a pond.
Stocking the fish is only part of the equation if you don't have a pond already. The price of a farm pond varies, but starting from scratch can cost anywhere from $3,500 – $6,000 per acre. If you don't have one already, this includes permits and building the dam. Fish will cost you around $600 per acre for baby bass, plus at least $15,500 if the area has to be excavated, according to Field & Stream Magazine. Overall, your final expense might be over $26,000 when considering all your amenities.
Important things about pond stocking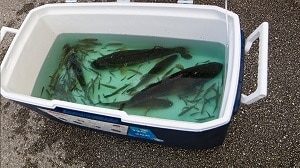 At most fish farms, we found that they offer largemouth bass and bluegills. They might also offer catfish, minnows, carp, and koi as well. However, crappie is also a common addition to the mix of species you will find in a backyard pond.
Depending on the species, availability will vary. Some are available year-round, while others may be seasonal.  For example, the bass is typically only in season during winter months when the water temperature drops below 50 degrees Fahrenheit.
Make sure you stock your garden pond at the right temperature and Ph levels if you want healthy fish. The best time to stock minnows, bluegill, and catfish is in November through April, while bass should be bought during June or July.
If you're looking for optimal results, the pond's Ph levels should be closer to 7 or 8, and the ideal temperature is 60 degrees Fahrenheit or lower.
Do not start feeding the fish until the water temperature reaches and is maintained at least 47 degrees Fahrenheit. This is to ensure their safety.
If the water drops below 47 degrees Fahrenheit, then the fish can no longer digest the food. Food stays in their intestines and produces toxins, and can even cause intestinal blockages.
However, when you start feeding the fish, start gradually, 2-3 times a week, and increase as the temperature increases. When the water reaches 60 degrees Fahrenheit, then you can feed them once a day.
The stocking can be made in monoculture (only with one type of fish) or polyculture (with more species). Monoculture can be simple (fishes of the same age) or mixed (fishes of different ages). In order to make better use of the trophic resources in the water basins, many fish farmers choose to carry out polycultures with either peaceful or predatory species.
It is recommended that you contact a reputable fish farm to figure out the right pond and lake stocking rates for your needs. This will depend on things like what size of fish are desired, how they're being transported, as well as if there are any existing species in your water system.
How can I save money?
With most suppliers, the more you purchase at once, the more money you will be able to save.
https://www.thepricer.org/wp-content/uploads/2021/09/pond-stocking-cost.jpg
380
610
Alec Pow
https://www.thepricer.org/wp-content/uploads/2023/04/thepricerlogobig.png
Alec Pow
2021-09-15 06:58:41
2023-07-01 22:50:53
How Much Does it Cost to Stock a Pond?