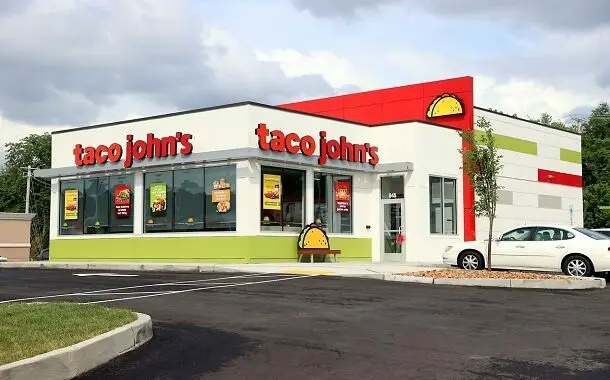 Taco John's is an American fast-food restaurant chain specialized in serving Mexican-inspired dishes that they name West-Mex. As they serve mainly Mexican-inspired food items, their menu includes many options such as quesadillas, tacos, rolls, burritos, and nachos. But they also have some American-based dishes you can choose from such as taco burgers and boneless chicken wings.
Most people say that Taco John's prices are affordable as you can purchase a full meal with a small portion of Potato Oles and a small drink for around $7. You can get a better idea of how much you would spend at Taco John's by looking through the table below.
Food
Size
Price

Fish Tacos

Fish Taco – Combo
$6.89
Fish Taco
$2.49

EZ Combos

Includes Small Drink & Small Potato Oles

2 Crispy Beef Tacos – Combo
$5.39
Crispy Beef Taco
$1.59
Super Burrito – Combo
$6.19
Super Burrito
$3.79
2 Softshell Beef Tacos – Combo
$6.19
Softshell Beef Taco
$1.89
2 Softshell Chicken Tacos – Combo
$6.59
Softshell Chicken Taco
$2.49
Taco Bravo – Combo
$5.39
Taco Bravo
$2.79
Beef Burrito – Combo
$6.39
Beef Burrito
$3.89
Crunchy Chicken Burrito – Combo
$6.89
Crunchy Chicken Burrito
$4.39
Grilled Chicken Burrito – Combo
$6.89
Grilled Chicken Burrito
$4.39
Cheesy Quesadilla Melt – Combo
$5.39
Cheesy Quesadilla Melt
$2.99
Chicken Quesadilla Melt – Combo
$6.69
Chicken Quesadilla Melt
$4.49
Meat & Potato Burrito and Softshell Taco – Combo
$7.09
Stuffed Grilled Taco – Combo
$5.79
Stuffed Grilled Taco
$3.19
Specialties
Super Nachos
Regular
$5.39
Super Nachos
Small
$3.99
Super Potato Oles
Regular
$5.39
Super Potato Oles
Small
$3.99
Mexi Rolls
6 Pc.
$5.59
Mexi Rolls
4 Pc.
$3.99
Mexi Rolls
2 Pc.
$2.39
Crunchy Chicken Taco
$5.59
Chicken Taco Salad
$5.59
Taco Salad
$5.19
Combination Burrito
$2.69
Crunchy Chicken
$4.29
Beefy Burrito
$2.99
Bean Burrito
$1.69
Taco Burger
$2.49

Baja Boneless Wings

Flavors – Bold Buffalo, Sweet Chipotle BBQ, Honey Habanero or Ghost Pepper

Baja Boneless Wings
One Pound
$9.89
Baja Boneless Wings
Half Pound
$5.89
Baja Boneless Wings
Small
$4.79

Mex & Match Pack

12 Beef Tacos & A Pound of Potato Oles
$17.59
6 Meat & Potato Breakfast Burritos and 12 Mexican Donut Bites
$17.59

Six-Pack & A Pound

6 Beef Tacos & A Pound of Potato Oles
$10.59

Kids' Meals

Includes Drink, Potato Oles & Treat

Crunchy Chicken
$2.99
Cheesy Quesadilla
$2.99
Beef Crispy or Softshell Taco
$2.99

Desserts

Mexican Donut Bites
$1.79
Churro
$1.69

Beverages

Fountain Drink
Large
$2.39
Fountain Drink
Medium
$1.99
Fountain Drink
Small
$1.79
Milk
$1.69

Sides

Potato Oles
Large
$2.59
Potato Oles
Medium
$2.39
Potato Oles
Small
$1.89
Refried Beans
$1.89
Side Salad
$1.89
Chips & Nacho Cheese
$1.89

Add Ons

Chips & Queso
$2.89
Guacamole
$1.29
Sour Cream
$1.29
Nacho Cheese
$1.29
Brand History
Taco John's was founded by Harold W. Holmes and James Woodson in 1969 in Cheyenne, Wyoming. They bought the previous restaurant named "Taco House" which was founded one year before by John Turner. The name of the restaurant was changed to "Taco John's" in the honor of the founder.
You might also like our articles on the prices found on the menus of Taco Bell, El Pollo Loco, or Chili's.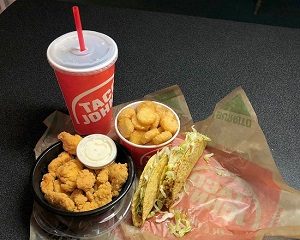 Taco John's brand has expanded and new locations were opened during the 1970s. In 1975 the 100th Taco John's restaurant was opened in Scottsbluff, Nebraska. This business has grown so much that in 1985 upgraded its Cheyenne headquarters.
In order to describe their service attitude and food items, Taco John's has adopted and trademarked the term "West-Mex". They define "West-Mex" food as having bold, fresh flavors, including their salsas, sauces, spices, and the well-known potato Oles.
The company continued to be successful during the 1990s. For instance, their Iowa-based restaurant was the first that in 1994 made more than $1 million in sales.
Taco John's started a new form of expansion in 2004, which involved partnerships with other restaurants such as Steak Escape, Arby's, and Good Times Burgers & Frozen Custard.
Nowadays, there are more than 380 Taco John's locations all over the United States of America, but the main served areas are Mountain West and Midwest.
Our review
The smell of taco meat will immediately tease your senses when entering the restaurant. Unfortunately, these tacos are a little too greasy because of the oil used in their preparation.
Taco John's signature dish is top-notch and every other food gets flavor and taste with their nacho cheese sauce. Also, you should not miss their nachos, chicken quesadilla, tacos, and potato Oles. Moreover, you can get a good deal on these items and many more during the happy hour, which is from 02:00 p.m. to 05:00 p.m.
As this is a quick-fix West-Mex fast food chain, you will not have to wait too long for your order. Also, the staff is very helpful and patient with the clients, especially with the first-timers in the eatery.
Taco John's FAQs
At what time does Taco John's open?
Most of the Taco John's restaurants open every day at 06:00 a.m. However, it depends on the day of the week and the location. You should check the schedule of the location you are interested in on their official website.
At what time does Taco John's close?
In general, Taco John's closes every day at 10:00 p.m. But it may vary from one location to another. So, you should visit their official website to verify this information.
In what state is are there the most Taco John's locations?
Minnesota is the state with the greatest number of Taco John's restaurants in the United States, with 57 locations, which represent 15% of all Taco John's restaurants.
What is Taco John's meat made of?
The meat from Taco John's is 100% American beef.
What does Taco John's put in their tacos?
Taco John's tacos are very delicious and are prepared with 100% American beef (or chicken), cheddar cheese, their signature mild sauce, fresh lettuce, and a warm, soft flour tortilla.
Who invented Taco John's?
Taco John's was first opened by John Turner under the name of "Taco House".
Is Taco John's only available in Wyoming?
No, Taco John's is not available only in Wyoming. It has locations in another 24 states in America.
How many Taco John's locations are there?
There are more than 380 Taco John's restaurants all over the United States.
Does Taco John's have nachos?
Yes, Taco John's serves many Mexican food specialties, including nachos, tacos, burritos, and enchilada.
Where are the headquarters of Taco John's?
Taco John's headquarters are in Cheyenne, Wyoming, United States.
https://www.thepricer.org/wp-content/uploads/2022/07/Taco-Johns-menu-prices.jpg
380
610
Alec Pow
https://www.thepricer.org/wp-content/uploads/2023/04/thepricerlogobig.png
Alec Pow
2022-08-01 10:52:08
2022-08-01 10:52:27
Taco John's Menu Prices