The Capital Grille Menu Prices
The Capital Grille is an upscale fine-dining restaurant chain from America, with locations in Mexico City, the district of Columbia, and another twenty-five states. The restaurant is specialized in serving fresh seafood and dry-aged steaks. Their menu also includes a wide variety of entrees, including salads, poultry, and soups. The Capital Grille has an award-winning wine list as well.
The restaurant is famous for its steaks that are custom-aged in-house for 18 to 24 days. After that, they are cut by the in-house butcher by hand. Customers also love the fresh seafood dishes.
The Capital Grille offers a lunch and dinner menu, but also a separate menu for dessert and for the bar. In the table below you will find the latest The Capital Grille menu prices.
FOOD
PRICE

Appetizers and Soups

Clam Chowder (cup)
$10.99
Clam Chowder (bowl)
$13.49
French Onion Soup (cup)
$9.19
French Onion Soup (bowl)
$11.99
Shrimp Cocktail (5)
$17.49
Pan-Fried Calamari with Hot Cherry Peppers
$16.49

Entrees

Bone-In Dry Ages Sirloin Steak (14oz)
$29.79
Filet Mignon (8oz)
$30.79
Seared Citrus Glazed Salmon
$21.79
Sushi-Grade Sesame Seared Tuna with Gingered Rice
$32.79
Chilean Sea Bass with Heirloom Tomatoes and Saffron Tomato Broth
$29.9
Seared Halibut with Roasted Artichoke, Potatoes, Corn and Mustard Vinaigrette
$28.99
Sliced Filed Mignon with Cipollini Onions and Wild Mushrooms
$33.99

Plates 18

Clam Chowder
 
Arugula, Watermelon Salad with Feta
 
Field Greens Salad
 

Sandwiches

The Grille's Signature Cheeseburger
$19.49
Lobster and Crab Burger with House Tartar Sauce
$21.99
Ribeye Steak Sandwich with Caramelized Onions and Havarti
$21.99

Salads

Wedge with Bleu Cheese and Applewood Smoked Bacon
$13.99
Maine Lobster Salad
$21.99
Fresh Mozzarella, Tomato, Basil with 15-Year Ages Balsamic
$14.99
Mediterranean Salad with Marinated Chicken
$17.99
Caesar Salad with Roasted Chicken Breast and a Parmesan Tuile
$18.99
Chopped Salad with Chilled Shrimp
$20.49
Seared Salmon with Avocado, Mango and Tomato Salad
$18.99
The Capital Grille "Cobb" Salad with Sliced Tenderloin
$21.49

Glass of Red

Arrowood, Sonoma, Cabernet Sauvignon, 2011
$23.99
Justin, Paso Robles, Cabernet Sauvignon, 2011
$14.99
H3, Horse Heaven Hills, WA, Cabernet Sauvignon, 2010
$14.99
Louis Martini, Sonoma, Cabernet Sauvignon, 2011
$10.49
Belle Glos, Meiomi, Sonoma/Monterey/Santa Barbara, Pinot Noir, 2012
$16.99
Mark West, California, Pinot Noir, 2012
$9.19
Cryptic, California, Zin/Cab/Petite Sirah, 2011
$12.49
Chateau Ste. Michelle Columbia Valley, Merlot, 2011
$12.49
Catena, Vista Flores, Mendoza, Malbec, 2010
$11.39
Edmeades, Mendocino, Zinfandel, 2010
$11.39
Ferarri-Carano, Siena, Sonoma, Sangiovese/Malbec, 2010
$10.49
Colby, California, Cab/Zin/Shiraz/Merlot/Pettite Sirah, 2011
$9.19

Glass of White

Hess Collection, Napa, Chardonnay, 2011
$14.49
Greg Norman, Eden, Australia, Chardonnay, 2012
$12.19
Indaba, South Africa, Chardonnay, 2012
$9.19
La Cana, Rias Baixas, Albarino, 2012
$13.39
SeaGlass, Santa Barbara, Sauvignon Blanc, 2011
$11.29
Kim Crawford, Marlborough, NZ, Sauvignon Blanc, 2012
$10.29
Terrazze Della Luna, Trentino, Pinot Grigio, 2012
$11.39
Santa Julia, Mendoza, Argentina, Pinot Grigio, 2012
$9.19
Ponzi Oregon, Pinot Gris, 2012
$11.39
Selbach, Mosel, Riesling, Qba, 2011
$10.39
Montevina, Amador, County, White Zinfandel, 2012
$6.99

Refreshments

Housemade Grapefruit Soda
$4.19
Fresh Squeezed Mint Lemonade
$4.19
Fresh Brewed Iced Tea, Carafe of Simple Syrup
$4.19
Brand History
The Capital Grille was founded by Edward P. Ned Grace in 1990 when he opened the first location in Providence, Rhode Island. This upscale restaurant was quite a surprise at that time because it was not fitting in the run-down surroundings of the downtown Providence area. Also, the economy was going through a slight recession during that period. However, time has proven that Mr. Grace's dream and vision were worth all the effort.
You might also like our articles on the menu prices of Bonefish Grill, Chipotle Mexican Grill, or Nusr-Et.
By 1996 new locations were opened in Boston and Washington D.C., and in 1997 another four restaurants were also opened. Nowadays you can find at least one The Capital Grille restaurant in various states of America, including Washington, Arizona, Wisconsin, Colorado, Virginia, Florida, Tennessee, Illinois, Rhode Island, Georgia, New Jersey, Maryland, New York, Michigan, Ohio, Connecticut, Pennsylvania, Indiana, North Carolina, Minnesota, District of Columbia, Missouri, Massachusetts, Nevada, California, and Texas.
The Capital Grille chain was sold to Longhorn Steak, Inc. and in 2007 was purchased by Darden Restaurants. Today it operates under the Specialty Restaurant Group division of Darden Restaurants company.
Over time, The Capital Grille has got many awards such as the Certification of Recognition, 2012 Washington Wine; the Best Plate, 2012, Uncorked; the 2012 Traveler's Choice Award, TripAdvisor; the Best of Award Excellence, 2010 and 2012, Wine Spectator and many more.
Our review
The Capital Grille restaurant is very popular among steak lovers, but also among those who want to dine in a pleasant atmosphere with dim lighting and very pleasant, helpful, and attentive servers.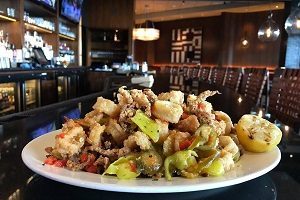 As it is an upscale restaurant, it is highly recommended to make a reservation beforehand, especially on the Friday and Saturday evenings. So, you will not have to wait too much for a free table. In general, dinner is served at 5 p.m. every evening and lunch is served until 4 p.m. from Monday until Friday. However, it may vary from one location to another as there are locations where lunch is served on weekends as well.
The Capital Grille menu prices are pretty high as this is a high-end restaurant. Also, these may vary slightly from one location to another. You should expect to pay anywhere between $14 and $20 for a salad, $18 to $100 for an appetizer, and $10 to $14 for a soup. The steaks cost anywhere between $47 and $55, while for the seafood entrees, you will have to pay $37 to $45.
The Capital Grille menu is adapted to everyone's needs and there are options for vegetarians and for those who are on a gluten-free diet.
Plan on spending anywhere between $10 and $18 for a side dish. These include Brussels sprouts, mac'n'cheese, mashed potatoes, parmesan truffle fries, roasted cauliflower with curry oil, and au gratin potatoes. Besides the salads and soups, the lunch menu also includes burgers that cost $19 to $24 and seafood and steak which cost $20 to $35. For a dessert, you will have to pay $11 to $15 and you can choose between handcrafted ice cream, cheesecake, coconut cream pie, chocolate cake, or apple cobbler. Their Bar menu includes cocktails that cost $15 to $18 and appetizers priced from $12 to $22.
Even though The Capital Grille menu prices seem to be too high, the portions are large and the food is very tasty. The customers' favorites are the signature porcini rubbed bone-in rib eye with 15-year aged balsamic, the seared tenderloin with butter-poached lobster tails, the seared citrus-glazed salmon, the Chilean sea bass, and the cheesecake. So, this is a restaurant that has something for everyone's taste.
The Capital Grille FAQs
Who owns The Capital Grille?
The Capital Grille is owned by Darden Restaurants.
What should I wear at The Capital Grille?
The official dress code of The Capital Grille is business casual.
How many The Capital Grille locations are there?
There are more than 60 The Capital Grille locations.
At what time does The Capital Grille open?
The Capital Grille opens at 11:30 a.m. every day, but it depends on the location. So, you should check this information on their official website.
At what time does The Capital Grille Close?
The Capital Grille closes at 09:00 p.m. from Monday until Saturday. However, it may vary from one location to another. It is recommended to verify the operating hours of the restaurant you are interested in by looking on their official website.
https://www.thepricer.org/wp-content/uploads/2022/06/the-capital-grille-menu-prices.jpg
380
610
Alec Pow
https://www.thepricer.org/wp-content/uploads/2023/04/thepricerlogobig.png
Alec Pow
2022-06-05 10:42:38
2022-12-12 00:02:28
The Capital Grille Menu Prices