How Much Does a Boutonniere Cost?
Boutonnieres are usually worn by men and are a type of floral decoration that is made of just one bud or flower. Boutonnieres are part of the formal wear and are usually kept for special occasions, being very common at homecoming dances, funerals, and weddings.
Although nowadays they are mostly seen at special events, several years back they were worn regularly by gentlemen.
You'd usually place a boutonniere either pinned on a man's lapel or on his buttonhole. The type of flower used to create the boutonniere will likely influence its cost the most. As for the costs of flowers, these differ depending on how rare it is, whether it is in season or not, and whether it grows in your area or has to be imported.
The most common flowers to be used as boutonnieres are carnations, lilies, roses, tulips, daisies, orchids, and fiddle fern heads. The shop from where you buy your boutonniere, as well as the flower combination and how complex it is, will also influence its price.
There are also boutonnieres that are made entirely of artificial flowers. The costs of a synthetic boutonniere can be higher or smaller than the price of one made of fresh flowers, depending on the products used, as well as whether the boutonniere is handmade or comes from a factory.
How Much Does A Boutonniere Cost?
The Boutonniere cost is somewhere between $2 and $40. A factory-made artificial boutonniere will likely cost just $2 while getting a handmade boutonniere or one made from exotic or rare flowers or having high-quality, expensive materials in it will usually cost as much as $40.
Most flower shops that want to cut down on the cost of a boutonniere will offer promotional packages for both boutonnieres and corsages or have bulk sale offers for special events like weddings.
Average Costs of Boutonnieres
A fresh flower boutonniere will have an average price range of about $10 to $15. When it comes to fresh flower boutonnieres that come in very basic designs, these will be priced closer to $7, especially those having a simple, common flower. As for a boutonniere having seasonal or exotic flowers, these are priced closer to $25. As for synthetic flower boutonnieres, these are priced lower at $5 to $10.
Boutonnieres For Wedding Events
The wedding boutonniere is usually worn by participating males, like the father of the groom, the father of the bride-to-be, as well as the groomsmen, the best man, and even the groom.
The wedding boutonnieres will usually be made from whatever flowers the bride-to-be's bridal bouquet is made with. Most people choose to buy wedding flower boutonnieres from the same shop where they buy the bridal flowers.
Even so, they can also be bought from the store where you're buying or renting the suits or tuxedos for the event.
The cost of Wedding boutonnieres is $10 each, but these costs can differ depending on whether the flowers used are synthetic or fresh and the exact type of flowers used.
You might be able to snatch a discount on the price of a bigger order if you're willing to buy both the wedding boutonnieres and the bridal flowers from the same shop or local florist.
Also read our articles about the cost of corsages, wedding tiaras, and wedding cakes.
Boutonniere For Senior Proms
When it comes to senior prom dates, it falls on the woman to purchase her boutonniere. Even so, nowadays it happens more often that the man buys both the boutonniere and the corsage.
A boutonniere designed for senior prom will usually be made of just one carnation or rose, sometimes having just a small fern or baby breath. Look for flower stores that have corsage-boutonniere packages at a discounted rate.
Ultimately, the boutonniere price will differ depending on the shop and the kind of flower you're using, but you will likely spend between $5 and $10.
Rose Boutonniere Cost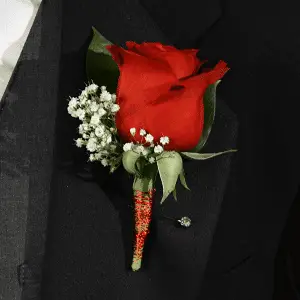 Many boutonnieres are made using a rose as the main flower. Most boutonniere shops sell rose boutonnieres, which usually have a decent price. This is because roses are available all around the year. Rose boutonnieres are also pretty customizable, as they come in a very wide range of colors, although their use is for very formal events.
Rose boutonnieres work great for birthday parties and wedding parties, as roses are associated with love of all kinds. As they can be found pretty easily, rose boutonnieres are usually priced at $5 to $15 each.
Even so, if you want a more fancy type of rose boutonniere or one that comes with two or more roses, then expect to spend more than $20 – $30. Roses will usually open in warm weather conditions, which isn't great for a boutonniere. This is why you should use them mostly in summer events.
Where To Purchase A Boutonniere
You can buy boutonniere from one of the many shops that sell event niche items. These can include online boutiques, craft shops, event shops, men's wear stores, and flower shops.
They can also be purchased through wedding planners. Most flower stores will have a wide range of fresh flower boutonnieres to pick from or a brochure with the models that can be made. You should consider buying the boutonniere three days or more before you plan to use it.
Fancy or exotic flower boutonnieres will cost the most, $20 to $30 or more, while simple boutonniere designs shouldn't cost more than $5. Ultimately, the boutonniere price will differ from one flower store to another.
If you want to buy synthetic boutonnieres from a bridal store, keep in mind that they usually have just a small number of choices that would match the bridal bouquet. Instead, most of them offer you the possibility to order the needed fresh flowers to make a custom boutonniere.
Although the prices of boutonnieres will differ based on the bridal shop you're going to, they are usually more expensive than average. When it comes to boutonnieres bought from men's wear shops, these might be at a highly discounted rate or even free as long as you buy or rent a tuxedo or suit from them.
You can also buy artificial flower boutonnieres from either craft shops or event stores at a pretty cheap price. These are good for people looking to buy them in bulk or those on really tight budgets, as they are known to be low-quality but cheap.
Boutonnieres can be purchased from online niche stores as well. The ones you can buy online are within a very large range of prices, from the cheaper ones offered on discounts to custom-made ones. The cost of boutonnieres that are purchased online is increased by shipping and handling charges.
Silk Boutonniere Cost
Most of the time, silk boutonnieres will be cheaper than fresh flower ones. Their costs can range from $2 to $20. You can get a poor-quality silk boutonniere from most event shops for as low as $2 to $5; If you buy them in bulk, this price can get even lower.
Customized silk ones can be bought from some craft shops, wedding party stores, and other specialized shops. Custom-made boutonnieres cost $10 to $20.
You can also make them at home; homemade silk boutonnieres will cost about $5 – $10. They are very hassle-free and will last for several years so they can be worn again at several events. Nevertheless, silk boutonnieres, particularly the lower quality ones, do not have the fresh appeal or scent that real flower ones have.
Calla Lily Boutonniere Cost
Calla lilies are also known as Arum lilies. Calla lily boutonnieres are more pricey than the more used rose boutonnieres. When in season, The cost for such a boutonniere will be similar to the orchid ones. When not in season, these boutonnieres normally cost a little more.
When in season, The Calla Lily boutonniere price varieties from $10 to $25. These rates increase when the flower is not in season; the cost increase differs per shop and the availability of the flower.
Calla lilies are also very hard to ship and get damaged quickly, which can also increase their costs. These flowers do not last very well in the winter season and will not make the very best boutonnieres for colder season events; nevertheless, they take much better to heat than a lot of the other boutonniere flowers.
Orchid Boutonniere Cost
Orchid boutonnieres cost more than those made with the more common flowers such as roses or carnations. Orchid boutonniere prices are normally similar to that of the Calla lily ones. There are numerous kinds of orchids that are utilized to make boutonnieres; this type of boutonniere's cost differs depending upon what kind of orchid is utilized.
The prices are anywhere from $10 – $25. Orchids will be hard to ship and are frequently damaged and bruised in shipping; this increases the orchid boutonniere's price. Orchids do not take well to winter and are not the very best option for winter occasions; nevertheless, they are great in hotter weather and are an exceptional option for summer wedding events or other warm-weather events.
Synthetic Boutonniere Costs
Synthetic boutonniere costs vary from $2 to $20, depending upon their quality, if they are mass made or custom-made, how simple or fancy they are, and where they are purchased from. Synthetic boutonnieres can be acquired wholesale online or at numerous event shops for an extremely low cost. They are made from silk or plastic flowers. The more pricey synthetic boutonnieres tend to look more genuine than the cheaper ones.
https://www.thepricer.org/wp-content/uploads/2020/09/boutonniere-cost.jpg
380
610
Alec Pow
https://www.thepricer.org/wp-content/uploads/2023/04/thepricerlogobig.png
Alec Pow
2020-09-14 07:43:00
2023-06-14 09:08:52
How Much Does a Boutonniere Cost?