The Cost of a Hospital Bed
A hospital bed should provide the support and comfort that you, or another sick person, might need, while also providing some of the conveniences that a caretaker might need.
How much does a hospital bed cost?
A hospital bed will usually have a price that varies from under $500 to considerably more than $5,500. The cost will ultimately depend on factors like where you get it from, the accessories that will come with it, weight-bearing capabilities, dimensions, and the type and model of the bed.
If you're going for a simple manual hospital bed, that comes with only the basic features and works with the help of a hand crack that is situated close to the head or the foot of the bed, depending on its model, then you shouldn't spend more than $1,500.
When it comes to semi-electric beds, these have a foot and a head that can be adjusted electronically, but you will still have to manually adjust the height of the bed itself. As for their price, these beds are known to cost anywhere between $1,200 and $3,000, and sometimes even more.
And finally, there is, of course, the fully electric hospital bed that will be able to make all of the needed adjustments electronically, without the need for manual intervention, aside from pushing buttons. This bed will be the most expensive one, with a price of anywhere between $2,300 and $5,500, depending on the types of accessories you need.
| | |
| --- | --- |
| Type of Hospital Bed | Average Price |
| Semi-Electric Bed | $1,200 to $3,000 |
| Manual | $500 to $1,500 |
| Fully Electric | $2,300 to $5,500 |
| Deluxe Hospital Beds | $2,500 to $9,000 |
| Bariatric Hospital Bed | $1,800 to $4,800 |
The Modern Healthcare website states that a hospital will pay considerably more than a home user for a hospital bed. In fact, some recent studies pointed out that hospital beds have prices that actually surpass the $15,500 mark, with ICU beds being among the most expensive, reaching impressive prices of $22,000 to $35,000, and bariatric beds even surpassing the $45,000 mark. Stryker, Hill-Rom, and Linet are among the most important brands in this area.
You might also like our articles on the cost of ankle surgery, ER visits, and Ambulance rides.
Amazon also offers hospital beds and their prices vary quite a bit. Even the highest-rated types of hospital beds will have prices between $80 for the Amazon Choice and as much as $1,500+  for the more expensive models.
Hospital beds overview
Hospital beds you would find in most healthcare centers will either be semi-electric or fully electric. Most of them will be made with a heavy-duty frame and will feature side bed rails. They will also have an average weight capacity of around 400 pounds, but there are models that can cater to people of bigger weights, and those are the bariatric beds. The beds made for people over 400 pounds will usually be fully electric and will have prices that can easily be two or even three times higher than those for standard models.
PayingforSeniorCare.com noted that standard beds will feature a length of 84 inches, with a width of 38 inches. For people that go outside these numbers, you should know that extension kits are available, to extend the hospital bed by around four inches. This should make it perfect for people that are taller than six feet. There are also full-size hospital beds, and these are 80 inches in length and about 54 inches in width. Queen-size beds on the other hand will come at sizes of 80 inches long by 60 inches wide.
Most hospital beds will have a wheel system so that they can be taken from one room to another, but these wheels can also be locked for most models so that the bed can also stay fixed in place.
To make sure that a patient won't fall from their bed, hospital beds come with side rails, which are usually two per side. The bottom rail is meant to cover the area from the lower leg to the hip, while the top rail is made in such a way that it covers the patient's hip area to the shoulder area. To make sure the patient can easily get in and out of bed, these side rails can be lowered.
What are the extra costs?
Hospital beds in general will need a bed sheet that isn't made for your average bedroom bed. This is because these sheets will have an oblong size due to the bed's length, which is bigger than usual. You will spend roughly $55 for a standard set of hospital bed sheets of decent quality.
You can also get mattress pads. These are made especially for hospital beds as a way of preventing sores caused by body pressure and adding comfort. A mattress pad designed specifically for a hospital bed will have a price between $120 and $350, depending on its type and quality.
These beds can also be equipped with trapeze bars. These bars are designed to offer assistance for a patient when getting into the bed and helping him switch positions. Expect these bars to be priced between $15 and $50.
You can also buy electronic and manual rails depending on your needs, and these cost between $130 and $500.
For patients that need IVs while in bed, IV poles can be installed, these being priced between $75 and $100.
You can also buy other add-ons which are optional, including call cords, bedpans, and bed trays.
How can I save money?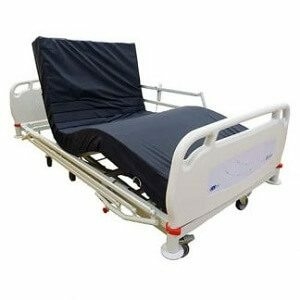 If the medical bed is deemed a medical necessity, it might be covered in part by private insurance or even Medicare.  One example is Medicare Part B, which is known to cover hospital beds as long as they are prescribed at home by your doctor, being added to the category of durable medical equipment. Keep in mind that there are some requirements to qualify for this. Among the most important requirements is for you to show that a normal bed will make it impossible for you to change positions and/or your medical condition makes it impossible for you to sleep in beds that are lower than 30 degrees, for example. There are also states that offer you assistance that is unrelated to Medicaid to make it easier for you to get a hospital bed if you are a low-income or aging resident.
Although Medicaid, just like Medicare, is able to cover hospital beds in general, this will vary depending on the state where you are living. Go over Medicaid documentation to learn more about this, as each state develops its own state plan.
You can always try to rent a hospital bed, manual, semi-electric, or electric if you only plan to use it for a limited amount of time. Most of the time, you won't spend more than $300 to $600 per month to rent a hospital bed for your home, without the setup fee. If you also need to have someone set it up for you, then you should add a fixed fee of $60 to $100.
Another option you can consider is second-hand hospital beds. These are usually priced way below new ones. Marketplaces like Craigslist and eBay as well as local medical supply companies are also some places you look.
If you fall within certain conditions, there are some local non-profit charities that might also be able to help you with a loan for a hospital bed.
If you don't have a lot of money to spend but then surely the manual bed will be the best option for you.
https://www.thepricer.org/wp-content/uploads/2022/12/hospital-bed-cost.jpg
380
610
Alec Pow
https://www.thepricer.org/wp-content/uploads/2023/04/thepricerlogobig.png
Alec Pow
2022-12-21 08:59:12
2022-12-20 13:11:24
The Cost of a Hospital Bed