The Cost of a Whole House Generator Installation
Electricity has become essential for modern life, and the interruption of the supply of electricity can cause problems and create discomfort. That's why a power generator has become essential, especially for rural homes, where power outages are more frequent and fixing problems can take longer. A power generator is also very useful for holiday homes located in isolated areas and for equipping motorhomes.
How much do a whole house generator and its installation cost?
You should be prepared to spend around $7,000 for installing an entire home backup power generator. This average cost includes a 7.5 to 10 kW (kilowatts) generator which runs on natural gas, the installation of a natural gas line to fuel the generator and offer the necessary wattage to power your house, as well as the electrical connections that include an automatic power transfer switch, plus an auto-start functionality in case the power goes out.
The average costs for whole house generator installation
Typical cost average: $7,800 to $18,400
Average contractor-installed cost for 7.5 to 10 kW: $7,000
Average contractor-installed cost for 18 to 20 kW: $11,500
Average DIY cost: $800 (portable, not hard-wired)
Factors affecting the cost
When talking about installing a whole house generator, the greatest expense will be the cost of the generator, but there are some other factors that will affect the overall costs.
The distance from the electrical panel to the installed unit: the longer the distance between the panel and the generator, the more materials and time will be needed, so the final costs will be higher.
Home's size and what you plan to power: you will need a generator with power that starts at around 6 kW (6,000 watts) to provide power to your entire house, while for the residential models the generator should have the power of 100 kW (100,000 watts). However, there are only a few houses that need generators larger than 30 kW. A rule of thumb is that 3 to 5 watts are necessary per square foot for essential electricity, while whole-house electricity will need 6 to 14 watts per square foot, depending on the number of your electrical appliances. These would include a second freezer or refrigerator, a sum pump, grow lights, an air conditioner, a sauna, a home security system, a jetted tub, an electric dryer, and an electric water heater.
Whether the unit has a transfer switch or you have to add one: when there is a loss of power from the grid the transfer switch sees this and automatically starts the standby generator. In the majority of the states, it is mandatory to connect a generator to your breaker panel.
Whether you need to install a pad: when the generator is installed on concrete already in place, like a patio, the costs will be lower. The costs will get higher if you hire a contractor to install a pad or if you choose to do it yourself. Most of the homeowners choose to install the generator in the garage because there is already a concrete floor, plus the unit will be protected against bad weather conditions.
You might also like our articles on the cost of GenerLink, burying power lines, and GFI outlet installation.
Anti-theft equipment (optional): in high-crime areas homeowners choose to install a cage around their generator to keep the unit safe from thieves.
A large propane tank or/and extra propane (optional): in case your generator uses propane, you will need to install a tank with 500-gallon capacity or more. Most propane sellers offer their customers the tank for free. Though minimum propane purchases are applied. On the other hand, if your house is equipped with natural gas, you can also install a new gas line to the generator and not use propane.
Cost of generator, installation supplies and accessories
Generator up to 15kW (total power for houses up to 2,500 square feet/essential power for houses up to 5,000 square feet): $1,900 to $5,000
Generator from 15kW to 30Kw (total power for houses of up to 5,000 square feet/essential power for houses larger than 5,000 square feet): $3,500 to $13,000
Generator larger than 30kW (total power for houses larger than 5,000 square feet): $9,800 to $24,500
Security cage for your generator and hardware (optional): $380 to $700
Transfer switch, in case this is not included in the price of the generator: $290 to $680
Current cost range of propane: $1.95 to $3.25 per gallon
Concrete pad installed by a handyman or DIY: $45 to $320
New propane tanks, 320-1,000 gallons (optional): $1,000 to $2,600
Refurbished propane tanks, 320-1,000 gallons (optional): $670 to $1,800
Inspection, Permits and Associated Costs
Inspection and Permits Cost
The average cost of a permit required for installing an entire home generator and to have it inspected in order to make sure that is safely and properly wired will be anywhere between $160 and $280.
Electrician labor costs
Be prepared to pay anywhere between $65 and $110 per hour for an electrical contractor in order to install a whole house generator. Also, a gas line must be installed and for this you will need to hire a plumber. They will charge you the same amount of money per hour.
The backup generator installation cost will be anywhere between $1,800 and $3,200.
Needed time for installing a home backup power generator
Planning the installation: up to one hour
Installation and wiring of the generator: six to ten hours
Installation of a gas line: three to five hours
What should I consider before buying and installing a power generator?
When you need a power source in areas where it is not present, generators are the ideal solution. In any case, before purchasing a power generator, you must consider the following:
Type of generator for the house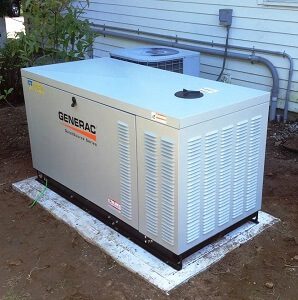 The first step in choosing the best power generator for your home is choosing the type of generator. You need to determine if you need a stable power source that can provide energy for several days without interruption, or if you need an emergency generator, which is cheaper, but can provide electricity for a limited period of time.
The power of the generator
The second step in choosing the right electric generator for your home is to determine which electrical appliances you will power; how many you will use simultaneously and what power is needed to power them. For the exact determination of the required power, ask for the advice of an authorized electrician. The generator power must be 30% higher than the power you need.
Automation of the power generator
Power outages are unplanned, so it is more convenient for the power generator to start when the power supply is interrupted. For this you need a power generator with electric start and automation that starts the generator when the electric current is interrupted and stops it when the electricity supply is restored.
The fuel used by the power generator
Diesel generators have a lower fuel consumption, are more reliable, the operation of the generators is more stable and they can work for a longer time without interruption, being ideal as a stable source of energy. If you need a power generator for limited periods of time, gasoline generators are more suitable due to the lower purchase price.
The manufacturer of the motor and alternator of the power generator
The brands of the engine and alternator with which a generator is equipped are important in the long term for easier servicing. If you want to use the power generator intensively, for a longer time, choose an electric generator with an engine supplied by an established manufacturer: Kohler, Honda, Volvo, Perkins, Yanmar, etc. to ensure that you will easily find spare parts. Famous manufacturers of alternators are Stamford, Mecc, Marelli, Linz, Alte, etc.
Costs comparation from leading resources
Fixr: $15,000, 18KW Generator, Installed
BobVilla: $10,000 to $20,000, Average Cost Installed
HomeAdvisor: $4,760, Average Installation Cost
All Time Power: $12,250 to $27,150, Installed
HomeGuide: $6,000 to $11,000, Installed Cost
Buckeye Power Systems: $8,000 to $12,000, 20KW Air Cooled Generator, Installed
https://www.thepricer.org/wp-content/uploads/2022/08/Whole-House-Generator-installation-cost.jpg
380
610
Alec Pow
https://www.thepricer.org/wp-content/uploads/2023/04/thepricerlogobig.png
Alec Pow
2022-08-29 06:18:21
2022-08-29 06:18:45
The Cost of a Whole House Generator Installation