How Much Does Apoquel Cost?
Last Updated on November 17, 2023 | Written by CPA Alec Pow
First Published on December 6, 2022 | Content Reviewed by

CFA Alexander Popivker
Apoquel is a drug indicated for the treatment of pruritus (itching) associated with allergic dermatitis in dogs and clinical manifestations of atopic dermatitis. The active substance is oclacitinib.
Apoquel is the first Janus Kinase (JAK) inhibitor approved for veterinary use. It ensures rapid and sustained alleviation of itching and improvement of skin lesions, without generating the adverse effects associated with commonly used treatments, such as glucocorticoids.
Itching in dogs is among the most common reasons pet owners visit the vet, affecting approximately one in six dogs. Almost half of the dogs that exhibit itching have an allergic skin disease for which Apoquel tablets for dogs would be indicated.
How Much Does Apoquel Cost?
The cost of Apoquel is affected by several factors such as the place you buy it from and the strength of the medicine.
For example, the cost of an Apoquel tablet starts at around $4 at the 1800 Pet Meds store. The price of a 16 mg tablet is $6, a 5.4 tablet costs $5 and for a 3.6 mg tablet, you will have to pay $4. These prices are available after the 15% coupon code is applied.
No matter how strong is the dosage, Pet Smart sells Apoquel at $3.75 per tablet.
Apoquel in allergies – pharmacy overview
Apoquel has a unique and innovative mode of action, as its action is targeted at the specific pathogenic pathways of pruritus (itching) and inflammation, which differentiates it from glucocorticoids. It is especially effective in controlling the symptoms of itch and inflammation due to allergic dermatitis, and control of atopic dermatitis. There are various allergies, including environmental allergens, flea allergies, and food allergies.
Apoquel is less likely to cause unwanted side effects, as the drug acts quickly (proven antipruritic efficacy and starts relieving allergic dog itch within 4 hours) to reduce pruritus, unlike cyclosporine, which achieves pruritus control after a month of administration.
One of the advantages of Apoquel is its relatively fast onset of action. It can provide relief from the allergic itch within a few hours of administration, which can significantly improve a dog's comfort.
Apoquel is primarily prescribed for allergic dermatitis, including atopic dermatitis in dogs, flea allergy dermatitis, and food allergies. It is used for the short-term relief of itching and can also be used as a maintenance medication for dogs with skin serious infections.
You might also like our articles about the cost of Cytopoint injections, DHLP vaccinations, or general vaccinations for dogs.
Each film-coated Apoquel tablet contains 3.6 mg oclacitinib, 5.4 mg oclacitinib, or 16 mg oclacitinib. The white to off-white film-coated tablets are oblong, with a scored line on both sides and marked with the letters "AQ" and "S", "M" or "L" on both sides. The letters "S", "M" and "L" refer to the different strengths of the tablets: "S" is on the 3.6 mg tablets, "M" is on the 5.4 mg tablets, and "L" is on the 16 mg tablets.
Apoquel is a medicine available only on the basis of a prescription issued by a veterinarian. Apoquel tablets, in concentrations of 0.18 mg to 0.27 mg/lb, are administered orally, twice a day, for 14 days, and then once a day for maintenance therapy, if treatment is necessary in the medium-long term, such as in the case of dogs with seasonal skin allergies and atopic dermatitis. See the dosage chart below for the number of tablets needed to reach the recommended dosage.
Apoquel is a product developed by Zoetis, a leading animal health company. Apoquel is classified as an immunomodulatory medication rather than a systemic immunosuppressive agent. Apoquel works by specifically inhibiting certain enzymes called Janus kinases (JAKs) that are involved in the inflammatory and allergic response. By blocking these enzymes, Apoquel helps reduce itching and inflammation.
While the medication is considered safe and effective, dogs treated with Apoquel should be monitored for any side effects or changes in their health. Dogs receiving this medication can have common side effects such as gastrointestinal upset or an increased susceptibility to certain infections.
Apoquel can be taken with or without food. During treatment with Apoquel, the underlying causes of allergic dermatitis should be diagnosed and managed. Apoquel has been used in combination with other medications, including antibiotics, antiparasitics, and anti-inflammatories commonly given to dogs with skin conditions.
Apoquel dosage chart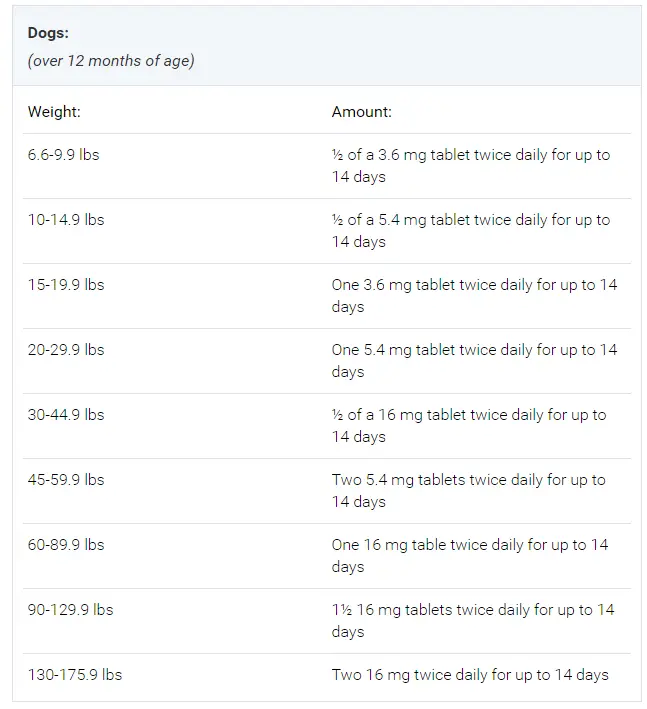 What are the additional expenses?
Apoquel can be combined with most common therapies such as allergen immunotherapy, inoculations, NSAIDs, and antibiotics. However, when combating chronic, year-round allergies it is crucial to consider allergy shots (immune-serum injections) and allergy testing.
Considerations about the Oclacitinib tablets
The safety of Apoquel in pregnant, or lactating dogs has not been established, so it should be used with caution in such cases. Apoquel use in breeding dogs should also be done carefully.
Apoquel is not approved for use in dogs less than 12 months of age and less than 6.6 lb body weight, or in dogs with a known hypersensitivity to oclacitinib.
Do not use in dogs with signs of immune suppression, such as hyperadrenocorticism, or with signs of progressive malignant neoplasia, as the active substance has not been evaluated in these cases.
Oclacitinib modulates the immune system and may increase susceptibility to infections and exacerbate neoplastic conditions. Dogs administered Apoquel should therefore be monitored for the development of infections and neoplasia.
When treating pruritus associated with allergic dermatitis with oclacitinib, investigate and treat any underlying causes (e.g., flea allergy dermatitis, contact dermatitis, food hypersensitivity).
Also, in case of allergic dermatitis or atopic dermatitis, it is recommended to investigate and treat complicating factors, such as bacterial, fungal, or parasitic infections/infestations (for example fleas or scabies).
Apoquel must not be thrown into wastewater or household waste. Ask your veterinarian for information on how to dispose of medications that are no longer needed. These measures contribute to environmental protection.
How can I save money?
Look for coupon codes if you buy Apoquel from an online pharmacy because these are readily available.
When you purchase Apoquel, inquire with the retailer or pharmacy about their autoship options, as you can get a discount.
The best price for Apoquel is ideally sourced directly from the manufacturer or their approved distributor.
https://www.thepricer.org/wp-content/uploads/2022/12/apoquel-cost.jpg
380
610
Alec Pow
https://www.thepricer.org/wp-content/uploads/2023/04/thepricerlogobig.png
Alec Pow
2022-12-06 06:30:31
2023-11-17 13:52:12
How Much Does Apoquel Cost?