The Cost of Archery Lessons
The bow, used on the battlefield or in hunting a few centuries ago, became an Olympic sport relatively recently. Archery is an increasingly popular leisure activity, because it satisfies the need to exercise in nature and appeals to people's competitive spirit.
How Much do Archery Lessons Cost?
If you want to take archery lessons, you should expect to pay anywhere between $15 and $35 per hour for group classes or anywhere between $55 and $90 per hour for private lessons.
If you are living in Texas, you can go to Great Southwest Gun to take archery lessons. They charge around $25 for their intro class, plus another $20 for each extra course. If you want to take intermediate courses, you will also have to pay around $25 for the first course and $20 for every additional lesson. In case you want to have a personal instructor to teach you how to shoot with a bow, you will have to pay anywhere between $30 and $60 per hour, depending on the experience of the student and the teacher.
The Standford Archery center charges around $55 per hour for one-on-one archery lessons and almost $80 per hour if there are two people involved. The cost would increase to $85 per hour for one and $110 per hour for two, if you want to train with Standford's head coach.
Be prepared to spend anywhere between $120 and $350 for an archery camp that lasts one week. There are camps designed for both children and adults. Each lesson will take one hour and the classes will be held four to seven days of the week.
For instance, the AZ Archery Club offers a four day per week youth camp at the price of $340.
Cost factors
Size
There are archery lessons for large groups, small groups, and individuals. The cost per individual will get lower if there are more persons in that group.
Skill level
You might also like our articles on the cost of horse riding lessons, Brazilian Jiu Jitsu classes, or kickboxing classes.
The skill level of both the student and the teacher can greatly influence the cost. The archery lessons will be cheaper if the teacher has experience in teaching only children. On the other hand, the lessons will be more expensive if the student is at a high level and the teacher has experience in teaching archery.
Length
In general, an archery lesson may take 30, 45 or 60 minutes. It will cost more if takes longer.
Archery lessons – short presentation
The archery range is aimed at both beginners and advanced, children and adults. The shooting session begins with an explanation of the safety measures as well as an explanation of the shooting rules. An instructor will always be present to help you and take you step by step with what you need to do to improve your shooting efficiency.
There are recurve bows used with strengths between 20 and 24 lbs. so that any person, regardless of physical strength, will be able to have fun in the archery range.
What are the additional expenses?
It is recommended to purchase some additional safety accessories like an arm guard, a sling, a stabilizer bar and a sight, and a bow.
Some archery centers offer the bow for the introductory class, but you will have to buy your own bow set for the following lessons. The majority of the bows cost anywhere between $60 and $220, depending on the brand, size, and poundage. Also, you can rent them for $15 to $25.
Important things to consider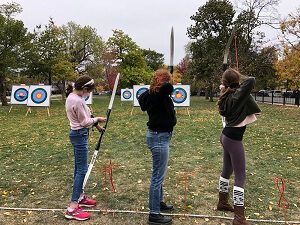 Considering that it is an activity where you will have moments of happiness and pride, as well as failures, archery will build a strong character. When you manage to aim for the middle you will feel fulfilled, and when you miss completely you'll get filled with despair or you can try to figure out why you failed and how you can do better next time.
There are no restrictions on who can try, be it children, women or men. Experience or height does not play an essential role and you do not need an enviable physical condition (of course, it will help, but not very much). All you need is a bow and arrows, strong hands and determination.
People with disabilities can be as good as those in perfect physical condition and health, there are many athletes who participate in the Paralympic Olympics, where they have results similar to those in regular competitions.
How can I save money?
There are archery centers that offer an introductory class for free so you can get an idea about this sport.
Take into consideration purchasing more archery lessons at once. You may be able to save more if you buy your lessons in bulk.
You can get the cheapest possible price if you take your classes together with a group of people. In general, one-on-one classes are the most expensive.
https://www.thepricer.org/wp-content/uploads/2022/09/Archery-lessons-cost.jpg
380
610
Alec Pow
https://www.thepricer.org/wp-content/uploads/2023/04/thepricerlogobig.png
Alec Pow
2022-10-03 06:18:15
2022-09-29 05:47:16
The Cost of Archery Lessons