Cereals. You hear this word around you so often when it comes to healthy eating that it seems like it's always been around. You can find them in different shapes and flavors on the shelves of all stores, you eat them for breakfast and even for lunch or dinner, when you don't feel like cooking.
In addition to being wonderfully tasty, in their natural form, i.e. whole, cereals are an excellent source of complex carbohydrates, proteins, fats, fiber, B vitamins, but also E, folate, and minerals (iron, magnesium, phosphorus, zinc).
How much does a box of cereal cost?
The cost of a box of cereal will be affected by some factors such as the store you buy it from, the brand, and the size of the box (if it is a family size or smaller box). However, you should expect to pay anywhere between $2.5 and $8 per box. In the table below you will find the average costs of different types of cereals.
| | |
| --- | --- |
| Type of Cereal | Price Range |
| Special K | $3.50 to $6 |
| Shredded Wheat | $3 to $5 |
| Rice Krispies | $3.50 to $6 |
| Reese's Peanut Butter Cups | $4 to $6 |
| Raisin Bran | $4 to $6 |
| Lucky Charms | $4.50 to $7 |
| Life | $3.50 to $6 |
| Kashi | $3.50 to $7 |
| Honey Nut Cheerios | $3.50 to $6 |
| Honey Bunches of Oats | $4.50 to $7 |
| Grape Nuts | $4.50 to $7 |
| Fruity Pebbles | $4 to $6 |
| Fruit Loops | $4 to $6 |
| Frosted Mini-Wheats | $4 to $6 |
| Frosted Flakes | $2.50 to $5 |
| Fiber One | $4.50 to $7 |
| Crispix | $3.50 to $6 |
| Corn Flakes | $3.50 to $6 |
| Cinnamon Toast Crunch | $4.50 to $7 |
| Chex | $3.50 to $6 |
| Cheerios | $3.50 to $6 |
| Cap'n Crunch | $3.50 to $6 |
| Banana Nut Crunch | $3.50 to $6 |
| Apple Jacks | $3.50 to $6 |
According to Iowa State University, a cup of brand toasted oat cereal is around $0.20 for an 18-ounce box, while for a 14-ounce box the cost per cup would be almost $0.25. On the other hand, a generic store brand equivalent would be around $0.15 per cup.
You might also like our articles on the cost of almond milk, peanut butter, or honey.
At Walmart, you can find a large variety of cereals and an 18-ounce box of most of the name-brand cereals you are familiar with would cost anywhere between $4 and $9.
A member of the Christian Teen Forum said that the average cost of a box of cereal is anywhere between $3 and $7.
Cereal overview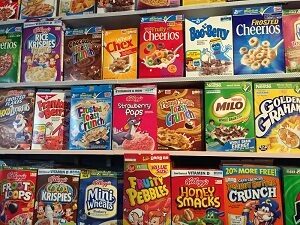 Cereals from commerce are usually processed by mixing the seeds with water and flavoring agents, dried, then ground into small granules to be easily digestible.
The most used cereals are wheat, corn, barley, rice, oats, rye, buckwheat, and millet. Depending on the recipe used, there are several types of cereal:
Cornflakes. Contains sugar, malt syrup, salt, and water.
Whole grains. Although they are steamed and dried with special processes, they contain sugar to make them crispier.
Expanded grains. In their case, the raw material is flour, but they also contain a large amount of sugar and fat.
Cereal mix. Granola cereals contain a mix of buckwheat, millet, corn, flakes and rice flour, soy flour, potato starch, salt, and sugar.
Important things to consider
To help you decide on whether a particular product is a healthy cereal that deserves a place in the pantry, or if it's better to leave it on the shelf, consider these criteria when choosing healthy cereals:
The grain must be whole (for example, 'whole wheat', not just 'wheat').
The protein content should be at least 3 grams per serving.
The zinc content should be 25 to 40 percent of the recommended daily dose.
Vitamins and minerals should be 25 to 40 percent of the recommended daily dose.
The iron content should be 25 to 40 percent of the recommended daily dose.
The carbohydrate/sugar ratio should be no more than 4: 1. This means that if the line "Total carbohydrates" says 24 grams, "sugars" should be 6 grams or less. This tells us that most of the carbs come from grains and fiber, not added sugars. On the other hand, cereals with 28 grams of carbohydrates and 15 grams of sugars would fall into the "junk food" category.
Whole grains support the proper functioning of the metabolism, give a long-lasting feeling of satiety, and feed the body with minerals. The iron in them is well absorbed in the process of digestion and is assimilated almost completely.
Benefits of cereals consumption
The main benefits of eating cereals are found in:
ensuring a convenient source of energy even for organisms in difficulty;
cereal consumption is easily accessible to any social category, cereals being a cheap and healthy food;
the nutritional components are balanced for most cereal types, corresponding to the profile of the diets recommended by specialists;
most cereal types have the ability to function as regulators of human health, even having established uses in curing certain diseases.
How can I save money?
Keep an eye out for sales. Cereals are almost every time on sale and if you are lucky enough it may be even your favorite brand. It would be always a good deal to purchase a box of cereals for less than $3.
Also, look out for coupons on the company's official website and social media website, or in the local newspapers.
Try to purchase store-branded cereal equivalent because it costs 30% to 50% less than the name brands.
Another way to save money on cereal is to buy in bulk from a warehouse store. The more you buy, the more you may be able to save.
In general, you may be able to save more if the box of cereal is larger. Look for the price per ounce and calculate which box size is more advantageous.
https://www.thepricer.org/wp-content/uploads/2022/06/cereal-cost.jpg
380
610
Alec Pow
https://www.thepricer.org/wp-content/uploads/2023/04/thepricerlogobig.png
Alec Pow
2022-06-20 05:14:10
2022-06-09 05:50:30
The Cost of Cereal