The word parasailing comes from parasail, which is a special parachute used for this type of activity. It is a water sport for which no special physical condition is required. Basically, you are tied with many seat belts just like on a zip line and pulled towards the parachute that rises up to about 1,200 feet, in an oblique line, in the opposite direction to the motorboat. There are several options for flying with a parasail, which differ depending on the power of the boat. You can choose to fly alone or with another person or even two.
How Much Does Parasailing Cost?
Each individual will pay, on average, anywhere between $30 and $160 for a parasailing session. Every session takes about 8 to 15 minutes and there are situations when three people can ride at a time.
For instance, at Perdiokey Parasail up to three persons can ride at the same time, and they can be taken at a height anywhere from 400 to 800 feet. The costs start at around $60 and go up to $200.
If you go parasailing in Destin, Florida, you can choose the Parasail Destin company, which has prices ranging from $30 to $65 per ride. There, three persons can ride at a time as well and the height is up to 800 feet.
In the table below you will find the average price for parasailing in some of the most common tourist destinations.
| City | Price Range |
| --- | --- |
| Cape May, NJ | $75 |
| Cape Cod, MA | $120 |
| Cocoa Beach, FL | $100 for double or $155 for triple |
| Clearwater Beach, FL | $75 for 800 feet or $95 for 1000 feet |
| Marco Island, FL | $85 |
| Ft. Myers Beach, FL | $55 to $100 per person, depending on length. |
| Myrtle Beach, SC | $75 to $100 |
| Marina Del Rey, CA | $100 to $120 per person |
| Panama City Beach< FL | $55, $80, and $95 for up to four miles. |
| Ocean City, NJ | $85 for 12 minutes |
| Walt Disney World | $240 for 2 |
| Virginia Beach, VA | $100 |
| Pensacola Beach, FL | $110 |
What are the extra costs?
If you don't have so much courage to go up in the air and prefer to stay on the boat and watch your friends parasail, you will have to pay a fee of $7 to $25.
Most of the parasailing companies will take pictures of you while parasailing, but it will cost anywhere between $25 and $50. You can also get high-definition videos. But, you can get a discount if you combine both of these.
Parasailing details
Parasailing can be of two types: terrestrial or aquatic. In the terrestrial one, a jeep is usually used to tow the parachute, and in the aquatic one a powerful motorized boat.
You might also like our articles about the cost of skydiving, hot air balloons, or bungee jumping.
Parasailing can be done individually or in pairs. You can start from the land, the individual or individuals having to walk a few steps before being raised up in the air, or from a special platform, where he/she/they sit. Landing can be done in the water, or again on the special platform of the boat.
Parasailing is the chance to fly like a bird, to reach the clouds, at altitudes of 500 to 800 feet, but also to admire the surrounding landscapes, all without making special efforts necessary in other sports at altitude.
Important things to consider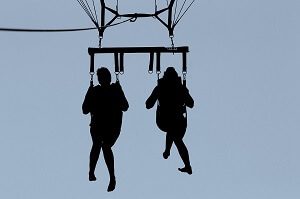 Make sure you choose a professional and serious company. It must be insured and certified by the US Coast Guard.
Don't forget to check the weather conditions for that day. Even if you made a reservation a few weeks before, strong winds and dark clouds are pretty obvious signs that you should reschedule your parasailing day.
Check the equipment to make sure it is of very good quality and safe.
Don't take valuables with you because they can be easily lost.
Wear a swimsuit or very thin and light clothes, because you may come in contact with water quite a lot.
Technically there is no age limit for parasailing, but parasailing companies stipulate a weight limit. It depends on each operator and the weight of the passengers, but when there are more people riding, their total weight must not exceed 330 to 350 pounds. Also, the minimum weight should be 130 pounds. Adults will always have to fly with their children.
How can I save money?
The majority of the companies, if not all of them, are offering discounts for groups, so try to convince your friends to go parasailing.
In order to find the best deal in town, check for offers and coupons that might be offered in tourist areas. Also, you should check the Groupon or Living Social websites for daily deals.
In case you find a parasailing company that you like check its official website page or Facebook page to find any active discounts.
The first price you are given when talking to a parasailing company isn't always the lowest. Negotiate until you get the right price.
https://www.thepricer.org/wp-content/uploads/2021/11/parasailing-cost.jpg
380
610
Alec Pow
https://www.thepricer.org/wp-content/uploads/2023/04/thepricerlogobig.png
Alec Pow
2021-11-28 13:17:01
2022-12-25 09:01:34
The Cost of Parasailing