How Much Does Salmon Cost?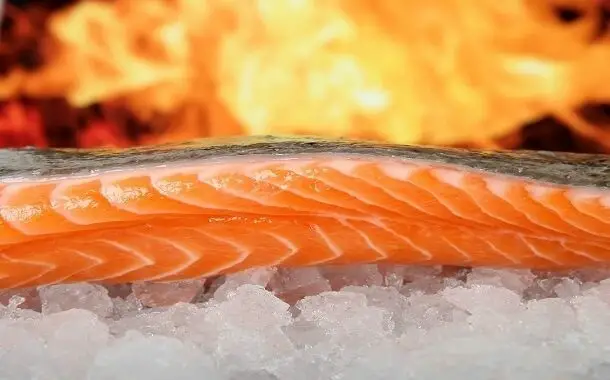 Salmon is actually a generic name for several species of fish in the Salmonid family, native to the Pacific and Atlantic oceans, but also in the tributary rivers that flow into them. Among the other species of fish in the same family, related to salmon, is trout.
Salmon is a fish rich in healthy fats and a good source of protein. Protein plays a number of important roles in the body, including helping the body heal after an injury, maintaining bone health, and maintaining muscle mass during weight loss and the aging process.
How Much Does Salmon Cost per Pound?
The average price of fresh filleted salmon is around $28 per pound, while frozen salmon will set you back almost $7 per pound. Expect to pay a higher amount for wild salmon. The cost of Salmon is influenced by many factors including the time of the year, the type of salmon, where you buy it from, and the processing method.
For instance, among the best salmon types is Sockeye or Coho salmon which is considered more expensive than Alaskan Salmon. Also, a certain period of time can influence the cost too. For example, when in season, more precisely from May to June, Pacific salmon, which is preferred by the majority, is a little bit cheaper. Though, farmed salmon will never be dependent on the season.
Depending on the type of salmon, The prices will differ. For example, fresh whole specimens will cost $20 to $28 per pound. For instance, you can purchase Copper River Sockeye salmon for around $19 per pound, while for wild-caught Alaskan King salmon, you will have to pay almost $24 per pound. Also, White King salmon is sold for around $25 per pound.
The price of salmon fillets like Alaskan King, Copper River King, and Columbia River King is anywhere between $12 and $28, depending on their type. Often, these fillets are referred to as steaks and they come already prepped and ready to be cooked.
For example, prepped Salmon fillets you can purchase from Costco or other wholesale clubs for anywhere between $11 and $16 per pound. However, you should know that this type of fish is not as fresh as the one purchased from a local fish market.
The price of a 16-ounce box of smoked salmon is anywhere between $21 and $42. For instance, you will have to pay $36 to $40 for the SeaBear Smoked Salmon.
A seven-ounce container of canned salmon is sold for $3 to $5.
In the table below you will find the average costs of different types of salmon.
| Type of Salmon | Cost (per pound) |
| --- | --- |
| Fresh Northwest King Salmon Steaks/Fillets | $17 to $25 |
| Fresh Whole Northwest King Salmon | $10 to $20 |
| Fresh Whole Alaskan King Salmon | $20 to $30 |
| Fresh Alaskan King Salmon Steaks/Fillets | $22 to $35 |
| Fresh Whole Alaskan Sockeye Salmon | $15 to $24 |
| Fresh Copper River King Salmon | $15 to $26 |
Salmon details
There are two major species of wild and farmed salmon, depending on the ocean they come from: the Pacific salmon and the Atlantic salmon.
Pacific salmon – this species of salmon is caught mainly in the wild, but in some regions, it can also be raised on a farm. There are five varieties of Pacific salmon:
Chum or Keta – a variety suitable for smoking, Chum salmon has a pale to pink color.
You might also like our articles about the cost of Ahi Tuna, Yellowfin Tuna, or Tilapia.
King or Chinook – has a bright pink to red flesh, a soft and juicy texture, and is ideal for frying in the pan or in the oven;
Coho or Silver – has an aroma similar to King's salmon, but the color is orange to red and the meat has a firmer texture. Suitable for barbecue or oven.
Pink Salmon – is a variety of salmon sold mainly canned. The flesh has a pink color and a delicate aroma.
Sockeye – the meat has an intense red color, a rich texture, and is delicious in food or on the grill.
Atlantic salmon – in the Atlantic Ocean, salmon is on the verge of extinction, so you will only find aquaculture salmon on the market.
What are the extra costs?
Expect to pay a shipping fee if purchasing from an online fish market because they have to deliver your order within 24 to 48 hours. However, these fees can be waived if you spend a certain amount of money on your order.
Important things to consider
Salmon is considered the best fish for your diet, and rightly so. It contains high amounts of vitamins, minerals, and Omega 3 fatty acids. 100 grams serving of salmon has 155 calories, 21.6 grams of protein, and 6.9 grams of fat. This food is rich in B vitamins, vitamin A, and vitamin D, but also magnesium, potassium, phosphorus, zinc, and selenium.
Salmon is a very versatile fish in the kitchen: it can be fried, grilled, baked, or boiled in dishes and soups, with spices or just salt and pepper.
Smoked salmon is almost always vacuum-packed and must be purchased from reputable stores. If you want to buy it unpackaged, it is good to opt for a fishery where the fish is sliced right there.
Fresh salmon does not keep well in the long run, so it is recommended to cook it on the day it was bought or at the latest the next day. If you are shopping for a festive meal, buy the salmon at the end and put it in the freezer as soon as you get home.
One thing that can tell you if the fish is really fresh is the smell. In the case of salmon, it must have a sweet smell, not a well-known fish smell.
Also, before you buy it, pay attention to its appearance: it should have a shiny, moist tint, a firm texture, and a light color.
Canned salmon can be found much easier. Opt for those fish varieties with the highest amount of fat, if it is written on the can.
How can I save money on the salmon price?
When purchasing salmon it is better to look for quality instead of price. Salmon bought from local fish markets is going to be much more delicious than the salmon fillet sold at a local grocery store. Wild caught salmon is also considered a lot better in terms of taste than farm-raised fish.
https://www.thepricer.org/wp-content/uploads/2021/12/salmon-cost.jpg
380
610
Alec Pow
https://www.thepricer.org/wp-content/uploads/2023/04/thepricerlogobig.png
Alec Pow
2021-12-09 08:17:33
2023-06-12 11:16:36
How Much Does Salmon Cost?