When choosing your clothes for a future outfit, you pay attention first and foremost to the central elements, such as the jacket, pants, or shoes, and how they match. Most of the time, however, it is possible to overlook an important aspect, namely socks.
Socks are clothing worn on the feet, often covering the ankles or part of the calves. We all wear them. We use them to keep our feet warm and dry, but also to complete the design of an outfit.
How Much Do Socks Cost?
When buying socks, you should be prepared to spend anywhere between $10 and $30 for a pack. In general, a pack of socks contains 12 pairs.
For a pack of three pairs of socks designed for flat shoes, you will have to pay anywhere between $6 and $12.
You might also like our articles about the cost of Louis Vuitton belts, fur suits, or mink coats.
Expect to see higher prices on the socks designed for sporting activities. A pack of six pairs of such socks costs anywhere between $25 and $35. For instance, a six-pack of Nike Performance socks costs around $30.
A few pairs of men's dress socks can cost anywhere between $15 and $35.
A pair of higher-end socks like those from Ralph Lauren, for example, cost around $18 or even more.
You can find a basic pack of Hanes crew socks, which is the highest-rated pack of socks and contains 12 pairs, on Amazon for around $16.
Some of the cheapest socks are sold at big retailers like Walmart. Here one pack of three pairs of socks costs around $12.
Just like the adult size, the baby socks come, in general, in packs of 10 pairs. A simple pack may cost anywhere between $8 and $12, or almost $1.25 per pair, depending on the brand and material.
In the table below you will find the average prices of the socks sold by some of the most popular brands.
Wigwam
$8 per pair
Sperry Men's
16 per 3 pack
New Balance
$12 per 2 pack
J Crew
$8 per pair
Hanes
$18 per 12 pack
DC Shoes
$12 per 3 pack
Converse
$10 per 3 pack
AND1
$8 per 6 pack$
Adidas
$18 per 3 pack
Details on Socks

Today, socks are made from a wide variety of materials, including cotton, wool, nylon, acrylic, polyester, polypropylene, or spandex. To achieve a higher level of softness, other materials that could be used during the process can be silk, bamboo, linen, cashmere, or mohair.
In ancient times, socks were made of leather or short animal hair.
There are many different lengths for the socks such as knee-high socks, which come close to the knee cap and ankle cuts, crew socks, which come up past the ankle.
Some of the most popular brands that design socks are Adidas, Nike, Fruit of the Loom, Ralph Lauren, and Hanes.
What are the extra costs?
Expect to pay much more for the socks specially designed for a certain disease or an ailment.
In case you purchase online and you have not met the retailer's minimum order mark you may have to pay shipping fees.
As with any other piece of cloth, socks wear out over time. So, it is recommended to budget for purchasing a new pair of socks every six months at least.
Types of socks
If you want to wear socks properly, you need to be careful about their color, length, or material. Length is an essential element when you buy a pair of socks, which is why when you go shopping you should know that you have a choice between 5 important categories defined by this aspect.
No show socks
These are socks that give you the comfort you need, but they have the great advantage of not being seen. Not everyone likes them, but their benefits in the summer are very clear, being the only ones that give you maximum freedom for your foot and optimal ventilation. Invisible socks can be worn with sneakers, low shoes, moccasins, or slip-ons and are ideal in almost any casual outfit. They are perfect for school, for the office or for going out with friends.
Socks over the calf or leggings
These are long socks that are often worn by athletes. They can be worn without problems in winter, being an extra layer that provides warmth. Most often, they reach the knees.
Ankle socks
These are the most popular in the summer and are worn with sports shoes as high as them. They are great for sports, long walks in the park, or hiking.
Medium length socks
Crew Socks, as they are known, are socks whose length reaches the middle of the calf. They have the great advantage of standing very well and matching any type of pants. These can be both sporty and stylish, coming in a wide variety of materials and colors. When buying this type of socks, it is good to make sure that they are made of breathable material and that they are the right size for your foot. Nothing is more unpleasant than such a pair of socks squeezing your feet.
Socks over the ankle
Also called short crew socks, these are longer than the ankle and are perfect for all types of sports shoes.
Important things to consider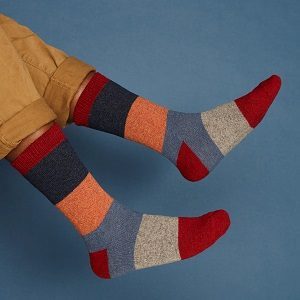 In cold environments, it is recommended to wear long socks made of cotton or wool, as they help to warm the cold foot, thus helping to reduce the risk of frostbite.
Thin socks are most often worn in the summer months or in warm climates to keep your feet cool.
White or light-colored socks are usually worn with sports shoes, while dark-colored socks are recommended for casual, office, or elegant outfits. In addition, dark socks absorb heat, helping to keep the foot warm, while light-colored socks reflect heat, keeping your feet cool.
The lifespan of a pair of socks is about 4 years. You would think that a pair of socks lasts much less, but the average is 4 years, especially if the socks are well cared for – some specialists say.
How can I save money?
Take into consideration purchasing lower-priced brands like Fruits of the Loom or Hanes of Fruit if you want just plain socks.
Also, you can find some really cheap socks at the dollar store. However, these are not of the best quality and will not last for a long period of time.
In case you want to buy a decent pair of dress socks, it is recommended to look on eBay, and TJ Max or Target. Often, these retailers sell a pair of socks for around $2.5.
You will be able to save on socks if you buy more pairs at once.
Big retailers like Kohl's, Target, and Walmart always have promotions and discounts on socks. Make sure you check these deals before purchasing online.  
https://www.thepricer.org/wp-content/uploads/2022/03/the-cost-of-socks.jpg
380
610
Alec Pow
https://www.thepricer.org/wp-content/uploads/2023/04/thepricerlogobig.png
Alec Pow
2022-04-02 06:39:16
2022-03-31 20:13:08
The Cost of Socks