You need to know how to choose the best toilet bowl so that it perfectly combines functionality, aesthetics, and costs. It may seem simple, but choosing a toilet is not a decision to rush with because the implications are great, financially, functionally, and aesthetically.
Studies have shown that in life, each person spends on average 1 year and a half on the toilet. Going further, the study shows that weekly, men spend 25 minutes more time on the toilet than women. Interesting, isn't it? No one would have thought about the time a person actually spends on the toilet and how much it matters to choose the perfect toilet bowl.
Depending on the type of toilet bowl you choose and how skilled you are, you can choose to assemble the toilet bowl and the tank yourself or, if not, you can employ the services of a specialist.
How much does it cost to install a toilet?
The average fee plumbers charge for installing a new toilet will depend on the necessary amount of time to install it and on how sophisticated is it. However, be prepared to pay around $130 for a new installation if there are not any problems.
In case you have to remove the old toilet to install the new one, then the plumber will charge a fee that would be anywhere between $35 and $55. If there any unexpected issues will pop up and the installation will take more time than planned, be prepared to pay anywhere between $80 and $130 for each hour of labor.
How much would it cost to add a new toilet?
If you are thinking about adding a new toilet to your house then you should know that you have to hire a professional so everything is legal. In case you are not the first owner of the house you will have to consult the previous owners and get the original house plans which would usually cost $45 to $210.
Depending on the location, it would take three to seven days to add a new toilet. The cost of the average materials and cold water basin is around $655 and for the labor cost, you will have to pay around $190.
Types of toilet bowls shapes
The toilet bowls are currently in three shapes: rounded, square, and elongated.
Elongated bowl – offers increased comfort for the sitting position, suitable for adults, being preferred by tall people.
You might also like our articles about the cost of a shower from the Onyx collection, bath fitter installation, or toilet flange replacement.
Round bowl – slightly more uncomfortable and narrower by about 2 inches, which is very practical for children and short people. The round shape allows for space-saving.
Rectangular bowl – of the same size as the oval bowl, has the disadvantage of discomfort when being used, due to the large edges. Aesthetically, it is a more sought-after model, for its modern and elegant line.
Types of toilet flush systems
There are many types of toilet flush systems such as:
Flapper-flush valve system – the flapper is opened and closed through a plate hinged at one side. Also, the flapper is connected to a chain that will stop and allow the water to flow in the tank.
Dual flush system – this system uses a water-saving flush for liquids and a standard flush for solid waste.
Tank fill valve system – this system is using a floating ball that is attached to a floating rod in order to fill the tank. The plunger on the floating ball is activated by the rod to either stop or allow water to flow in the tank.
Rear flush system – this system is characterized by the high pressure of the flush.
Vacuum-assisted flush system – this system will push air into the vent before opening it for the waste to pass. Then the air will create a vacuum so the waste is pulled out.
Gravity flush system – this system needs a lot of water and relies on gravity to pull the waste down the pipes.
Pressure-assisted flush system – this system uses pressurized air in order to push water into the bowl, so this is perfect for large bowls.
Double Cyclone flush system – this system is using two nozzles that are maintained by a propulsion system which lets more water circulate in a cyclone motion.
Also, for the washing mechanism you can choose an internal washing tank which is called a hidden tank. A hidden tank can be fixed inside the wall so that it is invisible and the tank can be connected to the toilet.
Top toilet brands
Swiss Madison Ivy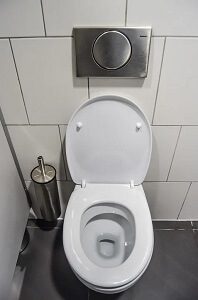 This type of toilet is perfect for small spaces and modern bathrooms due to its elongated design that keeps the flushing design to a minimum. Also, the groove-less design makes them easy to clean and maintain.
Kohler Wellworth K-3998-0
If you are an average owner this is the most affordable toilet for you. This has a dual-flush model that can be found in two versions, with 1.1 gallons per flush or 1.6 gallons per flush. This toilet is good for the guest's bathrooms because it maintains the classic handle.
Saniflo 023 Self-Contained
These toilets are recommended for small apartments or bathrooms. They can be connected to a sink and enough water should be delivered for cleaning through the vertical pumping system.
This toilet brand is pretty affordable and differs from the others through its modern seat height and impressive flushing system of 1.28 gallons per flush.
American Standard
You will use less water with this toilet thanks to the siphon flush system. Also, this is recommended to those on a budget because of the water use efficiency and the easy installation. However, you will have to purchase the seat separately.
Can you install a toilet anywhere in the house?
It may be shocking for most of us, who are used to seeing a toilet in the bathroom or rarely in a bedroom, to find out that we can place a toilet anywhere in the house.
If in the past it was hard to install a toilet in the basement, for example, due to the significant plumbing work, today thanks to the macerating toilets that do not require intensive plumbing work, you can have a toilet anywhere you want in your house.
Because it is cheaper and easier to connect a smaller pipe to a pre-existing one, the wish to install a toilet where you want in the house becomes possible. It is important to know that there are macerator toilet brands the will allow you to install the toilet up to 150 feet from the pipeline.
Get the best plumber to install your toilet
Try to find the best plumber to install your toilet by doing some online research. There are some websites where you can get free quotes.
https://www.thepricer.org/wp-content/uploads/2022/01/toilet-installation-cost.jpg
380
610
Alec Pow
https://www.thepricer.org/wp-content/uploads/2023/04/thepricerlogobig.png
Alec Pow
2022-01-19 08:35:41
2022-01-18 09:10:53
Toilet Installation Cost