Humanity has come a long way to reach the comfort that today's toilet paper offers. We enjoy a varied range of toilet paper, in 1, 2, or more layers, scented, colored, and with various textures. Although it seems a simple, uninteresting, and sometimes even taboo object, toilet paper is one of those indispensable products in everyday life.
How Much Does Toilet Paper Cost?
The cost of toilet paper depends on various factors such as the brand, packaging, the number of rolls, the number of plies, the number of sheets per roll, and the square feet. Expect to pay, on average, only $2 for a package of toilet paper to as much as $45 for a large bulk roll.
According to Living Rich With Coupons, which broke down the costs of toilet paper per square foot, a one-ply thin roll costs around $0.0095 per square foot, while for a two-ply thick roll, you will have to pay around $0.025 per square foot.
You can find 12 rolls of Cottonelle Ultra ComfortCare toilet paper on Amazon at the cost of around $10 and 36 rolls of Cottonelle Ultra ComfortCare toilet paper at the cost of almost $26.
Also, you can buy toilet paper that comes in 30 to 60-count packs from wholesale stores, like Costco, at the price of only $20 for the Kirkland brand.
In the table below you will find the average costs of some of the most popular brands of toilet paper you can find at your local grocery store.
| | | |
| --- | --- | --- |
| Brand | # of Rolls | Average Price |
| Scott | 12 | $10.93 |
| Scott | 20 | $16.1 |
| Scott | 27 | $19.55 |
| Quilted Northern | 9 Mega | $10.35 |
| Quilted Northern | 12 double | $7.48 |
| Quilted Northern | 18 mega | $19.55 |
| Cottonelle | 12 double | $8.05 |
| Cottonelle | 18 mega | $19.55 |
| Cottonelle | 36 double | $19.55 |
| Charmin | 6 mega | $8.05 |
| Charmin | 12 double | $6.9 |
| Charmin | 24 double | $12.65 |
| Angel Soft | 12 jumbo | $6.9 |
| Angel Soft | 18 mega | $17.25 |
| Angel Soft | 36 double | $19.55 |
Toilet paper overview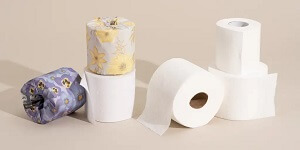 The real toilet paper that we still know today was invented by Americans. In 1857, Joseph Gayetty was selling rolls of toilet paper printed with his face under the slogan "The most necessary product of the century! Gayetty's Medical Paper for the Water Toilet". The product was made from plant ingredients, infused with aloe vera extract, and was sold as a remedy for hemorrhoids.
Layered, super strong, with recycled materials – there are many types of toilet paper categories. There are products on the market with a different number of layers, from 1 to 5 layers. The most common segment is the two-layer segment, followed immediately by the three-layer segment, and four- or five-layer toilet paper rolls are less common.
You might also like our articles on the cost of toilet installation, toilet wax ring replacement, or toilet flange replacement.
The most common type of toilet paper is white, which can be either plain or embossed. There are also decorated, colored, and scented toilet paper rolls, but they represent a smaller share of the market.
In terms of packaging, the most common packaging on the market is the 4-roll packaging. For those with space issues, the market also offers space-saving packaging. And the environmentally conscious consumer can also buy toilet paper rolls without the inner cardboard roll that usually acts as a support.
Americans remain even today the biggest consumers of toilet paper, using 4.4 pounds per capita, annually. They are also the ones who have an issue when the price of paper is constantly increasing and it risks becoming a luxury product. Alternative solutions are still used in some countries and cultures. The Japanese, for example, invented the toilet with included bidet and hot air jet drying effect.
How to choose toilet paper?
The main criteria that can help in choosing toilet paper are the paper type and size.
The paper can be made from virgin or recycled cellulose. Recycled paper is more environmentally friendly because it wasn't made from wood, but waste paper. This does not mean that it is gray because it is treated with bleaches to make it more pleasing to the eye. It could instead be less soft because the recycled fibers are getting shorter.
We do not recommend purchasing colored and/or scented and lotion-impregnated paper: these have added chemicals that can have a negative impact on the environment and, given the very short contact time, have no significant benefits.
When choosing toilet paper, you should consider not only the number of rolls in the package but also their length. This information can be found on the label. As an index of comparison, you can also use the diameter of the toilet paper roll which gives you an idea of how much is actually rolled around the tube.
How can I save money?
Almost always you can find a coupon for toilet paper that is readily available in a local newspaper or online via social media. So, before making your next purchase, take into consideration searching online for a few coupons or visiting popular coupon blogs.
You may be able to save up to 30% by purchasing store-branded toilet paper, which can be as good as the name brand.
Also, you can save up to 30% with Amazon's Subscribe and Save program, if you have more than five products delivered automatically.
You can get the best cost on toilet paper by calculating the cost per square foot per package instead of calculating the cost per roll. See which is the cost and then divide it by the total square feet figure on the label. The result will be the cost of toilet paper per square foot. Make comparisons with other toilet paper items: the lower the cost, the better the deal.
https://www.thepricer.org/wp-content/uploads/2023/01/toilet-paper-cost.jpg
380
610
Alec Pow
https://www.thepricer.org/wp-content/uploads/2023/04/thepricerlogobig.png
Alec Pow
2023-01-26 06:23:13
2023-01-21 09:54:30
Toilet Paper Cost