It is a fact that the Tom Ford fragrance will conquer you with its sensual essences.
We're also sure most people consider Tom Ford one of the most renowned designers of our time. The former creative director of Gucci and newer producer of the movie "A Single Man" has made a successful business from his own brand, meaning that Tom Ford fragrances have definitely conquered the beauty world.
The stunning collection dedicated to beauty and called Tom Ford Beauty was created in partnership with Estee Lauder.
The successful designer Tom Ford has 57 perfumes in his fragrance base. Its early edition was created in 2006 and the latest one is from 2016. Tom Ford collaborated with many perfumers in order to have the best fragrances, like Rodrigo Flores-Roux, David Apel, Olivier Gillotin, Harry Fremont, Shyamala Maisondieu, Clement Gavarry, Firmenich, Calice Becker, Givaudan, Sonia Constant, Antoine Maisondieu, Yves Cassar, and Yann Vasnier.
Tom Ford, the designer, is 55 years old and has launched "Jardin Noir", a perfume bottle of only 250 milliliters costing 495 dollars, and without question a limited edition.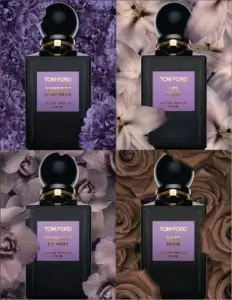 Have You Heard About Niche Perfumes? If Not, Here's An Article For You
The perfume "Jardin Noir" contains flavors of black rose, daffodil, hyacinth, and lily. "Cafè Rose", "Lys Fume", "Jonquille de Nuit" and "Ombre of Hyacinth" are the four variants of the collection "Jardin Noir" signed by Tom Ford. The price of a perfume, 495 dollars or 400 euros, is the equivalent to a prêt-à-porter shirt from the designer's collection.
Tom Ford fragrances are real style statements.
In the sensual world Tom Ford Beauty, the beauty couldn't be but charming and tangible, incorporating sumptuous fragrances; essences gathered in a collection called Fragrances Signatures, dedicated both to women and men. Inspired by the tempting pasts of perfume shops, when the most perfect ingredients were accentuated in immortal fragrance, each Signature Fragrance perfume is a modern classic that has an indubitable power to intrigue and seduce. From the ravishing sensuality to the opulent drama and cold elegance, the Signature's fragrances express Tom Ford's personal philosophy: perfume has the power to suggest an entire story about you.
Tom Ford Black Orchid: You have to feel this dramatic fragrance composed of rich and alluring spice compositions, black orchid, sandalwood, bergamot and blackcurrant! Undoubtedly, Tom Ford Black Orchid is the expression of eternal luxury.
Tom Ford Black Orchid by Tom Ford has a price of – $98 – $135;
Tom Ford Violet Blonde: Here is an opulent scent, made by using the finest traditions of European perfumery: Violet Blonde combines iris blossom in from Tuscany, with a sparkling violet leaf to achieve a charming and exquisitely elegant sensuality.
Tom Ford Violet Blonde by Tom Ford has a price of – $100;
Tom Ford Grey Vetiver: With its woody notes, Grey Vetiver combines the spicy aromas of citrus in an olfactory symphony, representing a mastery interpretation of the cold and intriguing notes of vetiver, a distinctive ingredient associated to refinement and distinction.
Tom Ford Grey Vetiver by Tom Ford has a price of – $95 – $135;
Think These Perfumes Are Expensive? Here's A List Of The Most Expensive Materials In The World
The perfume should be felt, not superficially smelled, you must let it get to you, you have to give yourself the time to invade you, to throw you into his world, let your senses … feel.
Should the average working Joe get a perfume from Tom Ford's collection?
The perfumes created by Tom Ford are somewhat outside the comfort area of most people working on an average wage. That doesn't mean that if you really like his perfumes, you shouldn't get one if by doing so you don't risk your financial safety.
https://www.thepricer.org/wp-content/uploads/2016/01/Tom-Ford-Jardin-Collection.jpg
380
610
Alec Pow
https://www.thepricer.org/wp-content/uploads/2023/04/thepricerlogobig.png
Alec Pow
2016-01-20 00:16:39
2020-08-15 20:31:15
Tom Ford Perfume Cost