The Cost of Transition Lenses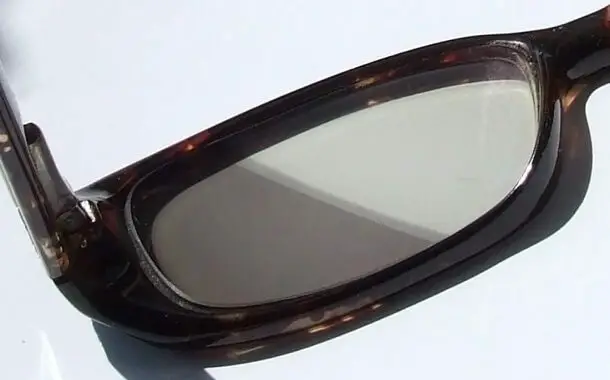 Photochromic lenses are spectacle lenses that are clear (or almost clear) inside and automatically darken when exposed to sunlight. Other terms used for photochromic lenses include "adaptive light lenses" and "variable tone lenses".
The most popular brand of photochromic lenses sold in the United States is Transitions Optical. For this reason, some people – including some eyecare practitioners – refer to photochromic lenses as "transition lenses". But there are other brands of photochromic lenses available as well.
How Much Do Transition Lenses Cost?
The cost of the transition lenses is influenced by many factors including the coating, the type of the lenses, and the material these are made from. In case you don't have insurance be prepared to pay anywhere between $160 and $370 only for the lenses, without including the frames or the prescription. If you add the frames and the prescription to this cost, it would result in a price of anywhere between $260 and $460, without insurance. If you would have a vision insurance policy then you will have to pay only 10% to 50% of this cost.
If you want to get an idea about how much you would have to pay for Transition lenses then you should add another $65 to $130 to a basic pair of prescription glasses cost.
According to the Transitions official website, the final cost depends on some factors such as the precise lens product you are going to buy, the material the lenses are made of, the type of the lenses, if there is any insurance involved, your prescription and the coating.
For example, on the official website of Eye Buy Direct, you can find Transition lenses at prices starting at $79 and going up to $119. These prices are only for the lenses and do not include the cost of the frames.
You might also like our articles about the cost of Hybrid contact lenses, Ocumetics Bionic lenses, or colored contacts.
In case you want to purchase a pair of Transition lenses from Walmart you should budget around $70 or even more. In case you don't have insurance be prepared to pay anywhere between $180 and $290 for the cheapest pair of frames.
Also, if you want to buy a pair of Transition lenses and the frames from LensCrafters you should budget around $360. Though, this price depends on the desired frames and your insurance policy.
Transition lense details
There are some Transition lines you can choose from such as Transitions® Vantage™, Transitions® Signature™, Transitions® Drivewear™, and Transitions® XTRActive™.
Transition lenses can be a disadvantage when driving. Because modern car windshields block the UV light needed for the lens to react, the light-sensitive lenses in the car may remain in their inactive state. However, there is the Drivewear™ line, specially created to solve this problem by adjusting the tint and the color of the lenses when driving.
What are the extra costs?
As you will need a prescription for these lenses, an eye exam will be required. Depending on the insurance you have and the place you choose, expect to pay anywhere between $55 and $110 for an eye exam. For example, in some situations, you may lower the expenses if you buy the frames from the same vision retailer you did the eye exam at.
You should take into consideration the cost of the frames, and the price will depend on their type and the place you buy them from. Expect to pay only around $15 for a basic frame, while a designer frame will cost $260 or even more.
If you want to change your standard eyeglass case which comes with your lenses, be prepared to pay around $35 or more for a premium eyeglass case.
In case you want to add a special coating like an anti-reflective coating then it will cost you another $110.
Important things to consider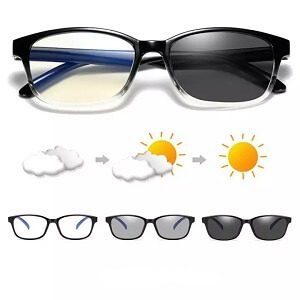 Transition lenses are available in almost all lens materials and models, including high index, bifocal, and progressive lenses. An additional advantage of photochromic lenses is that they protect your eyes from 100% of the sun's UVA and UVB rays.
The reaction rate of the material depends on the ambient temperature and the amount of UV. The important factors are the activation time and the time it takes to return to the clear state, the maximum closing being obtained at 73ºF. Therefore, at higher/lower temperatures of this value, the lens will react slower and more incompletely.
Adding an anti-reflective coating to the photochromic lenses improves their performance even more. AR coating allows more light to pass through photochromic lenses for clearer visibility in low light conditions such as driving at night.
Who are these special lenses recommended for?
These lenses are intended for people who suffer from photophobia or increased sensitivity to light. Eye discomfort felt in the presence of strong light, whether natural (from the sun) or artificial (from various lighting sources – a light bulb, neon, regardless of its type) should be alleviated with a lens that darkens in color in strong illuminated environments.
Are there any contraindications to these lenses?
Dark-colored lenses (photochromic or sunglasses) are not recommended for glaucoma patients. When wearing colored lenses, the pupil dilates and can cause an acute glaucoma attack by closing the irido-corneal angle. If you have glaucoma, ask your doctor for advice if you are bothered by light and want to wear dark glasses. You will be recommended a lower degree of closure (30-40%).
How can I save money?
Make sure you get in contact with your insurance company if you have vision insurance and ask about the locations that accept your insurance.
In case you are already wearing glasses and the frames are still looking good, take into consideration keeping these frames and use them for the new lenses in order to save some money.
This industry is very competitive and the vision retailers are always coming with promotions and discounts for their products and services. Ask for price offers from more sellers, compare the cost and go for the one that is the most advantageous for you.
You may be able to get frames and transition lenses for less money if you purchase them online instead of through your optometrist. The optometrist is bound by the law to give you your prescription when leaving their office, and it is all that you will need in order to buy the glasses from an online retailer.
https://www.thepricer.org/wp-content/uploads/2021/12/Transition-Lenses-cost.jpg
380
610
Alec Pow
https://www.thepricer.org/wp-content/uploads/2023/04/thepricerlogobig.png
Alec Pow
2021-12-21 07:16:28
2021-12-18 23:04:11
The Cost of Transition Lenses