If you are considering going to Las Vegas, the first thing that may be on your mind is how much it would cost you. As with any other travel destination, the final cost of the trip depends on your preferences. Opting for budget options can save you a lot of money, while luxury options will cost you more but give you access to special amenities and treatments that are not available otherwise. This article outlines the costs of a trip to Las Vegas to give you an idea on how to budget your trip.
How much does it cost to travel to Las Vegas?
The cost of traveling to Las Vegas depends on several factors including the airline and how early you book a trip.
If you are traveling from within the United States, you can take advantage of the many budget airlines available, which will cost you between $100 and $200 depending on the airline you choose, your starting airport, and your travel dates. You can reduce your fares by booking well in advance instead of at the last minute.
It is also highly advisable to book your tickets as soon as you find a price and date that suit you. Airline tickets go up as the flight date approaches. Due to customer demand, you may also find that the ticket you want is no longer available if you hold out.
If You Want To Get Married In Las Vegas, Here's How Much It Will Cost You
Some airlines offer last minute tickets at discounted prices, but we wouldn't recommend you the gamble, as these discounts aren't always available and you might end up paying a lot more than the price of a ticket booked in advance.
How much would accommodation cost?
Your hotel bill, like everything else, depends entirely on your preferences.
You can find hotels priced at $25-$30 per night, but they will usually be little more than just a room and a place to take a bath. You will find that some of these hotels will be devoid of the facilities you take for granted, such as Wi-Fi, and many may not even offer in-house meals or room service. Mid-range hotels can go up to $70-$100 per night, offering more facilities even if they do not have in-house spas. Truly luxury hotels cost upwards of $200-$300 per night and include many facilities such as swimming pools, gyms, and spas.
You should also be aware that the price of a hotel room varies according to the room category as well as the time of the year. In low-end hotels, you may find that all rooms are the same price. However, larger hotels tend to have different priced rooms according to the level of facilities extended to the customer. For example, you may have to pay extra for breakfast or Wi-Fi in their cheaper rooms, but all these may be complimentary for their more expensive luxury suites. Room rates are also higher during peak seasons.
You would be better off consulting a travel agent who is generally in a better position to help you get cheaper rates than if you were to do it on your own. They are generally more aware of accommodation options and will help you find the best options while staying within budget.
Ever Thought of Traveling to Dubai? Here's How Much It Costs
How much would food cost?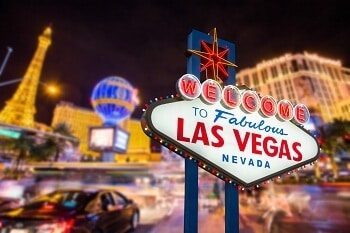 As with any travel destination anywhere in the world, your food bills depend on what you eat and where. Food and drinks are available at a wide range of prices, from $3 per head all the way up to $100 per head. However, if you are staying at a premium hotel, you are strongly advised to reduce your food consumption at the hotel and walk over to the nearby restaurants or cafes if you are trying to save money. Take advantage of the complimentary breakfasts, if any, offered by the hotel to keep costs further under control.
How much would the attractions cost?
In general, Las Vegas is not an expensive travel destination if you do not gamble. However, if you want to see any of the headline concerts of big-name production shows, this can turn out to be very expensive. There are many free lounge shows if you are on a budget, but you will have to look around quite a bit. The Las Vegas Power Pass can turn out to be very economical if you have kids since it will give you access to up to twelve destinations for a very reasonable price.
If you're a bachelor or a fan of night clubs, then you should know that they aren't cheap. Most clubs have an entrance fee of around $30 to $80 for men and $15 to $50 for women. It's also not uncommon to find entrance fees of $100 to $200 to concerts featuring popular artists and bands.
Should the average working Joe visit Las Vegas?
Vegas is one of the cities you should see at least once in a lifetime. You can visit it with your family, as a bachelor for the night life, or even with your fiance to get married. That being said, Las Vegas should be avoided by people addicted to gambling, drugs or alcohol. You should also postpone the trip if you're having financial difficulties.
Check Out Our Travel Category For a Lot of Other Travel Ideas
https://www.thepricer.org/wp-content/uploads/2016/11/las-vegas-destination-cost.jpg
380
610
qSign
http://www.thepricer.org/wp-content/uploads/2016/11/pricerlogonew.png
qSign
2016-11-07 17:50:43
2016-11-06 04:15:12
How Much Does a Trip to Las Vegas Cost?