London is the capital of England and the United Kingdom. It is the United Kingdom's most important political, financial, cultural, and artistic center and one of the most important cities in the world.
There is a huge variety of ethnicities, cultures, and religions, London being of the most cosmopolitan cities in Europe and worldwide. Here live, permanently or temporarily, many of the richest people in the world.
In London are many institutions and corporate headquarters of global importance; many important buildings: palaces, museums, theaters, concert halls, airports, railway stations, many embassies, and consulates.
Westminster Abbey and St. Margaret Church were registered from 1987 on the UNESCO World Heritage list.
Big Ben is London's symbol, the clock tower of the Houses of Parliament, built in the 19th century, in the Gothic style.
The architecture is brilliant, being largely Victorian and Georgian, sometimes with Queen Anne influences, from the Tudor style and neoclassical, but you can clearly notice that the brick is preserved as a building block, even in buildings that obviously were build after the 19th century, perhaps to preserve an architectural uniformity in a proportion as high as possible.
Do You Want To Take Your Pet With You On a Trip? Here's The Cost of Pet Travel By Plane
Originally, London was a settlement founded by the Celts. It was the capital of the Roman province of Britannia, named Londinium and became the capital of England in the late 11th century. In the first half of the XXI century, London, which hosts 12.5% of the UK population continues to be one of the most important world centers on finances, commercial banks, and insurance companies.
The purpose of this article is to give you an idea about how much does a trip to London cost, because many people are interested in traveling to London and because it is said that this city is expensive. However, with careful planning, costs can be brought down to a normal level.
Let's take them one by one:
1. Visiting various objectives.
Here you have two options:
A. If you want to see more objectives you should take a London Pass for 2 or 3 days (i don't think it makes any sense for a 6 days one) with a Travel Card option (it's a pass on all public transport), and for the other days take an Oyster Card, a card on where you can put money and will be charged an amount for every trip you take (see below).
Note 1: 3 day London Pass, including the travel option card, costs £104/pers.
Note 2: If you track the site www.londonpass.com you will see that, sometimes, they have discounts of 10-15%, and it does matter.
Note 3: If you take the London Pass, know that there are many objectives included that you can visit, but do not be greedy, because there's no time, especially since most close around 17 pm. In addition to the Tower of London, Windsor Castle, St.Paul's and Thames River Cruise, you could also see: Westminster Abbey, Tower Bridge, Shakespeare's Globe Theatre, National Theatre Backstage Tour, the Monument (a column where you can go up).
If you don't want to get a 3 day London pass, here's an alternative:
B. You choose a few objectives that you would like to visit, which you pay individually, and for transportation, you take an Oyster Card.
What's worth visiting in London: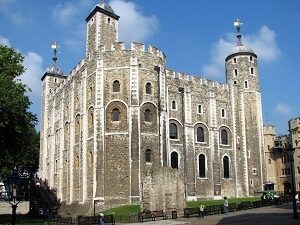 Tower of London: £19.5/person
Windsor Castle: £17/person + transportation from London to Windsor (approx. £ 7/person for transportation)
St. Paul'sCathedral: £15,5/pers
You may also want a Thames trip: £19/person – the ticket is valid all day, and it's a hop on hop off the system, but do not imagine there's a cruise. It is an uncovered boat with show seating, a kind of water bus.
These above are included in the London Pass.
Another objective that you would like to see, but is not included in the London Pass, is Madame Tussauds Wax Museum. It is quite expensive, £22.5 – if you buy a ticket online because otherwise, it costs £30.
Looking For A Sunny Place To Visit? Here's The Price of a Trip To Hawaii
Free objectives to see in London :
British Museum
Natural History Museum
National Gallery
Changing of the Guard at Buckingham Palace (11:30 am) – see on their website because they have no fanfare on some days.
2. Transportation in London :
Given what we said about the London Pass there are 2 alternatives:
A. If you buy a London Pass with Travel Card, pass for all means of transport, then your transportation is assured on the number of days the London Pass is valid. Remember: the Travel Card is valid, but after 9:30 am, which could be an inconvenience for some people.
B. If you don't buy a London Pass, then it's simple. You take an Oyster Card and put money on it. The system is very simple and very practical, but a subway ride or bus does not have a fixed price. The price depends on the hour at which you travel and in the area because London has 6 zones. In any case, the process is simple:
Step 1. You buy the card and you put an amount on it, the minimum is £5.
Step 2. Every time you get on the bus or in the subway and, ATTENTION, when you exit the subway, place the card on the taximeter.
Step 3. Refill if it's needed.
Step 4. In the end you give back the card and the pennies left on the card are returned + its value, £5, that you paid at the beginning.
Now, where you can buy an Oyster card:
If you land at Heathrow, it's easy; to get to London you take the metro. It's the easiest and cheapest option. There is also a train, but it's more expensive because it is faster. You can buy Oyster cards from the subway's entrance (at the airport, follow the arrows to the subway and you'll find the counters).
If you land at Luton, you will have to take a bus to London, and then to enter a subway to buy your Oyster card.
The most famous bus Luton – London is the EasyBus, and it costs between £12 and £20/person/roundtrip.
3. Food
Calculate about £ 10- £ 15/person/meal.
There are cheaper places, but also more expensive.
For example, somewhere near the ticket office for the Tower of London, is a small restaurant where 2 persons can eat at £25 + beverages.
Looking For a More Expensive Place to Visit? This is The Cost of a Trip To Dubai
4. Plane
To get to London, plan to spend from $1,000 up to $2,500, or more for a round-trip from the United States. The flight's cost depends on the season if it's a coach flying, business, or first class, but also on the area. The perfect time to visit London is in the spring.
5. Accommodation
The average price for one night at a hostel, bed in a shared room, is about £19-£40.
The average price for a night at a hotel is about £50-£150.
If you want to rent an apartment expect to pay from £90 to £130, or more.
These being said, for example, if you ask yourself how much does a trip to London cost for 5 days, the amount would probably be somewhere around £1,800 to £3,000 per person.
Should the average working Joe take his family to London?
The capital of England is a great place to go on a trip with your family and is one of the places you should see at least once in a lifetime. That being said, remember that the trip might prove to be pretty expensive, so be sure that taking this trip won't affect your financial freedom.
https://www.thepricer.org/wp-content/uploads/2016/05/The-Price-Of-a-Trip-To-London.jpg
380
610
Alec Pow
https://www.thepricer.org/wp-content/uploads/2023/04/thepricerlogobig.png
Alec Pow
2016-05-28 18:39:46
2023-09-12 13:19:14
Trip to London Cost