The Transportation Worker Identification Credential, or TWIC for short, is a security certificate required by the Maritime Transportation Security Act, that every worker in the maritime industry needs to have. It can be used in secure areas of our nation's ports and vessels.
With this special card, professionals of the Coast Guard, plus other maritime-related workers have easy access to the ports and vessels without having to go through the standard screening, security, and/or customs process.
Before assigning this card, the TSA will conduct a thorough background check in order to determine the eligibility of the person applying for it.
How Much Does a TWIC Card Cost?
As a new applicant, you will have to pay a non-refundable fee of $125.25 for a TWIC card that is available for five years. In case you have a Free and Secure Trade card or a valid driver's license with a hazardous materials endorsement you will be eligible for the reduced rate of $105.25.
Regardless of where you live in the United States, the rates will be the same. We recommend that you check the TSA official website for up-to-date pricing information as these are subject to change.
TWIC card details
Before applying for a TWIC card, you have to fill an online application or you can go directly to a local application center and complete this process in person. According to TSA, after applying you have to schedule an appointment online or call (855) 347-8371 on weekdays, 8 a.m. to 10 p.m. ET. Even though the walk-ins are welcomed, the appointments will have priority. When you visit the TWIC application center you will have to provide the required documentation, take a facial photo, and have your fingerprints taken.
You might also like our articles about the cost of traveling by US train, CostCo passport photos, or an International driver's license.
Your new TWIC card will be valid for five years from the document's issuance date. This card is tamper-resistant and will come with an integrated circuit chip, that contains all of your personal information such as the full name, the facial photo, fingerprints, and the validity of the card. The back of the card is similar to the back of a credit card, having a linear barcode and a magnetic strip.
What are the extra costs?
In case you will lose your original card you will have to pay $60 for a replacement card. Even though you lost your card, the Transportation Security Administration will issue a temporary receipt to use while you wait for the replacement card.
As we already mentioned above the TWIC card is available only for five years and you must follow the same steps in order to receive a new card. Also, the costs will be the same as applying for the first time.
Important things to consider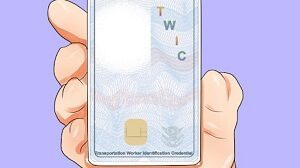 The individuals who are eligible for a TWIC card must be U.S. citizens, lawful permanent residents, nonimmigrant aliens or naturalized citizens, refugees who are in lawful status, or asylees.
An applicant can not be eligible if they have disqualifying criminal offenses, false or incomplete application information, or other factors.
In case you no longer meet the eligibility conditions you will have to report this to TSA as soon as possible and return your TWIC card to TSA by mail at the address written on the back of the card.
Depending on your personal record/history, it may take anywhere between four and eight weeks to receive a TWIC card. So, if you know that you will need this card in the near future it is recommended to apply for it at least twelve weeks in advance.
As the TWIC card is the property of TSA, it can not be taken or confiscated from a person by its employer. However, when the work visa of an alien expires the employer has to retrieve the card and return it to TSA.
All of your personal information will be protected because TSA will encrypt your data, store and transmit it using methods that avoid unauthorized use or retrieval.
In case you find your TWIC card after you declared it as being lost and already ordered a replacement you will not be able to use it. In this situation, you have to destroy the old card or return it directly to TSA at the address written on the back of the card.
https://www.thepricer.org/wp-content/uploads/2022/01/twic-card-cost.png
380
610
Alec Pow
https://www.thepricer.org/wp-content/uploads/2023/04/thepricerlogobig.png
Alec Pow
2022-01-03 08:16:24
2022-01-03 08:16:24
TWIC Card Cost