Last Updated on July 28, 2021 | Written by CPA Alec Pow
First Published on November 18, 2015 | Content Reviewed by

CFA Alexander Popivker
Wear your UGG boots this winter, despite what people say about them. Yes, they are among the most controversial fashion issues, but this shouldn't stop you because fashion is changing all the time and it is very important to wear what you like the most.
When it comes to UGG boots I think I didn't meet a more controversial and despised topic, both in fashion and in all the mainstream culture. From burlesque sites to bloggers and fashion critics no one missed in the last years the opportunity to criticize the Australian boots.
How to wear UGG boots this season:
1. UGG Abree Short – if you want to be comfortable anywhere.
I must admit that most times I saw these boots worn in the wintertime, in the house, but, after all, the Birkenstock sandals were used in the exact same purpose before getting into the stylists and fashion editors' wardrobe. So, wear your pair of Ugg boots anytime you want, in order to be comfortable.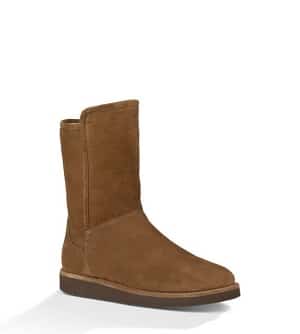 UGG Abree Short-230 euro
2. UGG Lodge – for your getaway in mountains.
Of course, these boots are not suitable for hiking rough ground. But these are more than perfect if you plan to spend your weekend in a pair of jeans, a thick sweater and with friends around a campfire.

UGG Lodge-240 euros
3. UGG Classic Cardy – for a nomadic winter look.
Personally, I always thought that their nomad or boho-chic winter look are more varied than the summer's offer. You can always wear a pair of UGG boots to complete your look with superposed jerseys, fake fur accents, and oversized wool ponchos.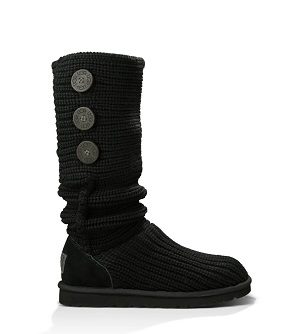 UGG Classic Cardy-150 euros.
Are You a Fan Of Boots? Here's How Much Do The Perfect Fall Boots Cost
Now all the stores and online shops sell Ugg boots … and, ironically, all of them are original (at least that`s what they say)! Find out how you can recognize a pair of original Ugg boots:
The UGG logo
A pair of original Classic Ugg boots have next to the back logo, next to the U G G letters, the sign of a trademark – ®. This doesn't assure you it's a pair of original UGG boots because I saw fake boots with this symbol, but it's a start. But let's go further!
Other specific UGG labels
The original Uggs have no other labels than the one from the heel of the boot.
The UGG heigh
The classic Ugg boots are made by manufacturers in two sizes: "mid-calf" and "tall". Other variations between the two sizes (or over the "tall" size) are not original Ugg boots.
New edition Bonus: Ugg Classic Mini
The UGG skin
Why Uggs have become so loved by everyone? We must recognize that these are not the most beautiful boots you can buy (Ugg = ugly for most people). Well, it's because Uggs are very comfortable, warm in winter and cool in summer. And, you know why? Because of the sheep's skin quality, they are made of. Pay attention to the material's texture and you will immediately realize the difference between artificial and real leather and sheepskin!
The UGG size
Ugg boots sizes are slightly different from the normal ones, they are slightly larger. So, you may need a smaller size compared with the one you usually wear.
The UGG sole
The sole of an original pair of Ugg boots is made of a single, solid, flexible, firm piece and it is decorated with a logo. Its size is around 1,30 cm.
The UGGs are made in…
You'll be surprised when I will tell you that the famous Australian Ugg boots are made in China, and on their label must write the same thing "Made in China". If you find Uggs with the label "Made in Australia" … You should know that they are fakes!
Should the average working Jane buy Uggs?
Although some might call them ugly and you might have a hard time figuring out exactly what to wear Ugg boots with, don't get discouraged! Fashion changes every year, what`s important is to wear comfortable clothes and shoes. We are free to wear exactly the things that make us feel comfortable because, at the end of the day, it's all that matters, doesn't it?
https://www.thepricer.org/wp-content/uploads/2015/11/ugg-boots.jpg
380
610
Alec Pow
https://www.thepricer.org/wp-content/uploads/2023/04/thepricerlogobig.png
Alec Pow
2015-11-18 02:18:38
2021-07-28 11:34:27
Cost of Ugg Boots