Vacuum Cleaner Repair Cost
A vacuum, like any other appliance laying around the house sooner or later, will have a problem. Unlike many smaller appliances where you can just go out and purchase a new one, consider getting your vacuum repaired instead to save some money.
How much does vacuum cleaner repair cost?
The most common vacuum repair jobs will cost you anywhere from $15 to $55 per hour or by the job. The price of your service depends on a variety of things, such as where in the country you live and what type of vacuum cleaner you have, and what issues do you need to have fixed. Refer to our table below for some estimates on different repairs you might need.
You might also like our articles about the cost to repair a PC, an Xbox, or to install a double oven.
Common problems associated with vacuums may include replacing cords, rollers, the interior hose, and/or handles. A cord alone costs $15-$30 while most types of rollers cost anywhere from $20-$55 each, handles for the vacuum will be $5 to $25, and the interior hose will set you back anywhere from $15 up to $35.
In order to maintain your vacuum, you may need to replace the filter or belt at some point. A new bag is about $3-$10 and a replacement belt will cost anywhere from $2-$10 depending on brand/model. A filter for your vacuum will cost you at least $6. Replacement is pretty straightforward so you won't need to pay for help when changing these parts.
| Repair Job | Cost Estimate |
| --- | --- |
| Basic Brush Replacing | $27 to $48 |
| Basic Cleaning | $27 to $48 |
| Basic Belt Changing | $9 to $17 |
| Dyson Vacuum Repair | $110 for a complete rebuild at an official company repair center |
| Electrolux Vacuum Repair | $220 for large repairs such as replacing the circuit board. |
| Hoover Vacuum Repair | $30 to $75 with third-party |
| Kirby Vacuum Repair | $150 for a complete rebuild, according to reports. |
| Oreck Vacuum Repair | Free for the original owner via warranty. Other people will pay $60 to $200, depending on the repair. |
| Rainbow Vacuum Repair | $230 to $480 older models for a complete rebuild. |
| Roomba Repair | $55 to $130 for most repairs with Roomba. Replacing the battery will be more. |
| Weak Suction | $20 to $65 to replace the filter and clean internal components. |
Any extra expenses to consider?
Vacuum repair can be a major pain, but thankfully there are some options to help you out. Whether your vacuum is making an annoying noise or simply isn't performing as well anymore, it's worth the time and money to get it repaired. Most centers offer house visits for $45-$85 depending on how far away they have to drive.
Important things to consider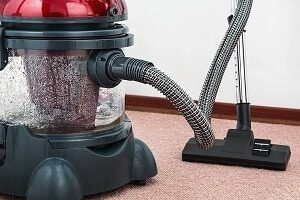 With a professional vacuum repair, your old machine will be back to its original state. You can expect the technician to do anything from diagnosing and fixing problems, replacing parts if necessary, replacing filters or other small pieces that may have issues – all of which should make any older model function as good as new when it is given back to you.
If your vacuum is overheating, be sure to let it cool down for at least 30 minutes before trying to start it again. Most repairs should take less than three days.
It might sound weird, but try plugging the cord into other outlets to see if that is causing any issues. Sometimes it's not an issue with the vacuum cleaner, but rather with the outlet itself. Cleaning the bags and replacing the belts regularly will also help avoid problems in future use.
You should always try to avoid vacuuming solid items from the ground such as pennies. These bigger items can be pretty damaging to the blower.
Before talking to an expert, change both the belts and the bag to see if the suction gets any better. Be sure to replace or clean the filters as well. You should also make sure that the air passages are always free, enabling the air to stream through.
You should also check the brush roller to see if it can roll easily. When you spin it, does it seem as if it's snagging? If it isn't, the roller or bearings will need to be changed. Switch on the vacuum, turn it over and see if the brush is moving when it's on. If it's not, follow the electrical course and examine the circuits, with the help of a multimeter.
How can you save some money?
You should really consider doing the repair work yourself. YouTube has numerous hands-on videos that will show you how to fix small issues.
If the issue is too serious, it might be less expensive to change the vacuum altogether. If the repair work will cost more than $75, it's a better idea to think about getting a new one for $150 to $200. Unless the vacuum was more than $500, ensure the repair work makes good sense.
Most of the centers will be more than happy to offer you a "rough" quote over the phone or in person. Email or call at the very least 3 centers to see what they will charge you.
https://www.thepricer.org/wp-content/uploads/2021/06/vacuum-cleaner-repair-cost.jpg
380
610
Alec Pow
https://www.thepricer.org/wp-content/uploads/2023/04/thepricerlogobig.png
Alec Pow
2021-06-10 08:15:29
2021-06-10 08:15:29
Vacuum Cleaner Repair Cost