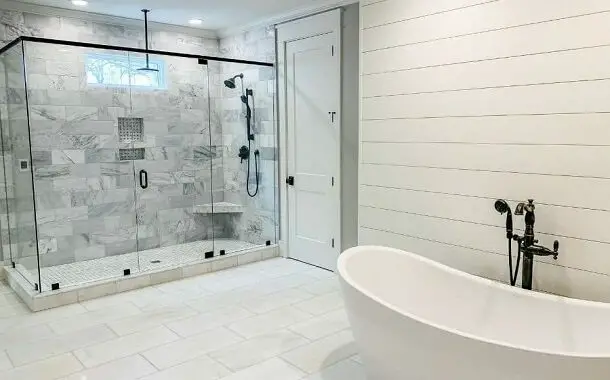 How much does a walk-in shower cost and what will be the price breakdown? This guide will give you all the information you'll need to understand the price you should budget for when trying to get a walk-in shower, from the actual shower price to labor expenses and everything else.
Although you surely agree that a walk-in shower will give a luxurious look to your bathroom, before having one installed in your home you will have to know its cost.
Even with its luxurious vibe, you should know that an average walk-in shower isn't all that pricey. You can fulfill your dream of owning this kind of shower even without a huge budget. All you have to do is plan everything thoroughly and be practical and smart with your approach.
The National Average Cost of a Walk-In Shower
The average nationwide cost of walk-in shower installation will be anywhere between $2,700 and $10,500.
It might seem like a really considerable price range, but there is a reason behind it.
You will have to consider a multitude of factors to get a clear final cost when you are designing a walk-in shower for your home. A good example will be the shower stall, which can really set you back if you want something luxurious or can be a small part of the budget if you get a basic, small one.
The average homeowner won't be required to spend more than about $5,000 for a walk-in shower installed in the master bathroom. Even so, make sure you don't forget to consider these other things when you're putting together the budget for your shower.
Demolition work
Before installing a new shower, you will usually have to tear out the old bathtub or shower, especially if your home isn't a new one. Depending on the amount of work required for this task, you will spend anywhere between $500 and $1,500. Most homeowners forget about this expense and are very surprised when they see money going into demolition. If you are building a new bathroom or even better, designing a new home from scratch, then this is an expense you can ignore.
You can even consider doing this part yourself if you have some experience behind you and the right set of tools. The best part is that, at least at this point, the end result of the demolition doesn't have to be functional or look nice for that matter.
The only thing you should be careful about is not to ruin any plumbing that you would have to spend on to repair in the future. This is a task that will require a lot of hard work and will consume a lot of your time but in the end, you can save a considerable amount of money if you take on this job yourself.
Walk-In Shower Shape and Size
One of the biggest expenses you will have to face in this entire project would surely be the layout of your shower. You will spend considerably more on the installation the bigger the walk-in shower will be.
As you might know, some premium designs will be considerably more expensive than others. Among the additions that will increase the price are curved edges, which usually are more complicated and will take longer to be built.
The usually square shape will usually cost anywhere between $350 and $1,000 depending on the material of your choice. any designs that are more eccentric will be considerably more expensive than this.
Surround Material of Shower
The piece that will surround the shower and contain all of the water is called surround. To better understand it, think of it as the walls of the shower. You can pick between a multitude of materials for this piece, even though most people will go for ceramic tiles, which are among the most affordable options.
You might also like our articles about the cost of a walk-in bathtub, Onyx collection shower, or shower valve replacement.
Among the most common materials are:
Glass tile – $20 to $55 per square foot
Porcelain – $5 to $35 per square foot
Stone – $5 to $110 per square foot
Acrylic – $300 to $1,200 total
Cultured marble – $600 to $2,300 total
Fiberglass – $300 to $650 total
Ceramic tile – $1.30 or more per square foot
You can get creative with the general design and the colors used for your shower regardless of the material you opt for. You can also pick between multiple textures, not only between different colors.
A general tip, when the budget is an issue, is to get a prefab walk-in shower, because it will be considerably cheaper than a custom one. You can get a prefab design that is decent for around $2,000 while a custom design, depending on your personalization, will easily surpass $7,500. Although you will spend considerably less on a prefab design, it will have a very limited set of colors and features.
Shower Accessories
Are you the kind of person that relies on a bench or built-in shelves in the shower? Then you have to spend some more money. And not that, but you will spend additionally for every feature or accessory you choose to add outside of the basics. The material of the accessories, their designs, sizes, and colors will also affect the final cost.
Shower Head
This isn't necessarily the most expensive part of your shower project, but it will surely be among the most important.  This is where money should be the least of your concerns because the shower head you choose can really improve or decrease your overall shower experience.
There are a few things you shouldn't ignore when choosing the showerhead, so make sure you spend enough time to figure out the best option for you.
Walk-in Shower Type
The two most common types of showerheads are the multi-setting and the single-setting.
The single-setting showerhead got its name from the fact that it delivers the water in one consistent stream. You won't be able to change the flow in any way and the water pressure will remain the same.
On the other hand, the multi-setting showerheads will have a few different flow options and some different water pressure options. This means that this type of head will offer you the possibility to push the water in a pulsing stream or as a gentle mist.
A multi-setting showerhead will be priced anywhere between $50 and $120, while a single-setting one shouldn't cost more than $50.
Finish
When talking about its finish, we mostly refer to the material from which the showerhead is made. The most common materials will be:
Bronze – $65 to $650
Nickel – $55 to $520
Chrome – $30 to $410
Stainless Steel – $30 to $60
Plastic – $25 to $35
A little bit of shopping might land you a high-quality showerhead that will be priced pretty low, so don't just go for the first plastic one you find. Even though it will feel like something unimportant when getting it, the showerhead can really change the appearance and general experience in your shower.
The Number of Shower Heads
You don't have to buy just one showerhead. If you want to enjoy multiple, different luxury walk-in shower experiences, then getting multiple showerheads, each with different functions, might be a great idea.
Along with the hand shower, that you use to properly wash yourself, you can also get a few massage showerheads on the wall and a big waterfall shower head on the ceiling.
Although usually, you won't have to spend more than $90 on a showerhead, there are some models that are considerably more expensive. To get a rough estimation, you should consider an average price of $100 and just multiply this by the number of heads you need.
Walk-In Shower Door Style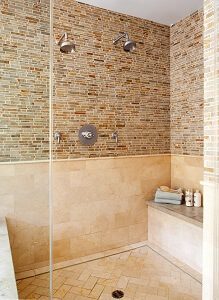 The door you go for and its design will be dependent on the type of shower you want to have. Based on the shower layout, the door type will be pretty limited. You will surely have a hard time fitting a French door on a curved shower, for example.
The three main styles are:
French – $1,200 to $1,600
Sliding – $450 to $1,100
Spray panel – $120 to $330
Sliding doors are some of the most used options. They are a good choice especially for smaller bathrooms because they won't require any additional space to open.
You can even go for a walk-in shower that has no doors if you want to save even more money. This will enable you to put aside some money to be spent on other features. And we're talking about a few hundred dollars at the very least.
Type of Glass for the Shower Door
Installing textured, frosted, or tinted glass can give your shower a more expensive appearance. This will create some additional privacy, becoming an opaque barrier between your shower and the rest of the bathroom.
As you'd expect, though, be prepared to spend less on clear glass than on these types of premium glass. Going for a more expensive type of glass will mean adding a few hundred dollars to the final price of the shower.
Labor Costs
Preparing a clear budget for the labor needed to install a walk-in shower is a pretty complicated thing to do. The rates will be influenced by where you live, who you hire, and the complexity of the job. However, you should be prepared for a price of around $110 to $175 per hour for this type of project.
Depending on the factors above, this price can always be considerably higher or lower. You should never go with the first quote you get. Ask around, talk with multiple companies, to get a better understanding of what people charge in your area.
Safety Net
Regardless of how well you prepare everything, you will most likely come across issues that will make you go over your expected expenses. This is why you should always be prepared and have a few spare hundred dollars to make sure you will be able to finish the project regardless of the problems you have to face.
Putting Together Your Budget for a Walk-in Shower
You should prepare and put in writing a budget for your walk-in shower even before you go out shopping. This is how you'll make sure you will afford to finish the project and it will also be a way in which you will keep yourself from overspending on your walk-in shower.
Will Seniors Get Any Discounts for Walk-In Shower Projects?
Some insurance plans for seniors will cover the expenses of a walk-in shower if the insured are suffering from certain medical conditions that make this expense medically necessary. However, most insurance plans won't cover these types of expenses. Most of the time, seniors will pay exactly the same as other people to have a walk-in shower installed, and on top of that, depending on their age and general health, they won't be able to take on any of the tasks as DIY projects.
How Much Do Luxury Walk-In Showers Cost?
You should expect a luxury shower to be well above the average price, just like small showers are considerably less. It shouldn't come as a surprise that some people have spent over $10,000 just on the shower to make it stand out.
https://www.thepricer.org/wp-content/uploads/2022/03/Walk-In-Shower-cost.jpg
380
610
Alec Pow
https://www.thepricer.org/wp-content/uploads/2023/04/thepricerlogobig.png
Alec Pow
2022-03-17 08:27:57
2022-12-22 16:39:36
Walk-In Shower Cost