Walmart Fried Chicken Prices – Walmart Deli Costs
Last Updated on October 29, 2023 | Written by CPA Alec Pow
First Published on July 22, 2020 | Content Reviewed by

CFA Alexander Popivker
Walmart fried chicken is a part of the Walmart Deli and Bakery and can be found in all Walmart locations. But how much does Walmart fried chicken cost? And what are other prices at Walmart Fried Deli and Bakery?
Walmart Fried Chicken Prices
The cost of Walmart deli fried chicken is between $7 for an eight-piece dish and $55 for a 100-piece pack of deep fried chicken, although the prices will vary depending on the amount you get and the ongoing promotions you take advantage of.
Keep in mind that it's not unusual for these rates to change over time and differ depending on the shop you're going to. If you want to eat something else, then you can also find deep-fried chicken alternatives on the official Walmart website.
A Walmart Deli sales brochure, for example, shows the Walmart Deli fried chicken prices for the different packages:
50-piece Chicken Only (serves 20-25) – $27.74
50-piece Party Load with Sides (serves 20-25) – $39.48
100-piece Chicken Only (serves 45-50) – $54.98
Walmart Event Catering has the following prices for the chicken trio tray, which is a build-your-own tray choice that includes as many as three chicken faves: crispy popcorn chicken, chicken tenders, as well as normal or boneless Buffalo wings.
Hen Trio Tray for $28 for the medium size (16″)
$44 for the large tray (18″).
Alternative Walmart fried chicken dishes
Walmart Deli fried chicken is offered in an 8-piece bundle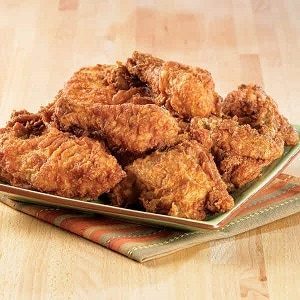 You can get Rotisserie chicken party packs if you need bigger amounts, which are available in both 50-piece and 100-piece alternatives.
You can get the 50-piece Chicken Event Pack in one of the two alternatives: with sides and chicken only.
The Chicken Only serves 20 to 25 and consists of 12 chicken breasts, 12 upper legs, 13 legs, as well as 13 wings.
The 50-piece Chicken Pack with Sides serves 20 to 25 people and consists of 2 dozen rolls and two salads: potato, mustard potato, macaroni, or coleslaw (4 extra pounds each).
The 100-piece Chicken Only celebration pack serves 45 to 50 and also includes 25 items of the following: chicken breast, upper legs, legs, and wings.
To buy in bulk, either call your local store or utilize the downloadable form found on the official Walmart website.
Other Walmart Deli Prices
Shrimps
5 Ct. Jumbo Breaded Shrimp
$3.48
Popcorn Shrimp
$6.98
Healthy Choice Salads
Amish Mac Salad
$3.47
Chicken Salad with Fruit and Nuts
$6.78
Chicken Salad with Vegetables
$6.98
Seafood and Shrimp Salad Bowl
$4.96
Deviled Egg Potato Salad
$3.48
Potato
Amish Potato
$2.39
Loaded Baked Potato
$4.94
Redblis Potato
$2.78
Mashed Potato
$3.98
Potato Wedges
$3.98
Wings & Tenders
Carolina BBQ Wings
$6.58
Hot Wings
$6.58
Ranch Wings
$6.58
Wing Dings
$6.58
Wing Zings
$6.58
Pilgrims Pride Chicken Tender
$6.58
Appetizers and Others
Breaded Okra
$4
Cheddar Stuffed Jalapenos
$6
Cheese Sticks
$4.98
Cheese Nuggets
$4.98
Chicken Strips
$6
Cheesy Mac
$4.98
Corn Dogs
$1
Save Green Beans
$2
Savory Brown Gravy
$2.98
Tilapia Fit
$5.48
Additional Walmart costs to consider
When you want to add sides to your dish, this can cost anywhere from $2 to $6, depending on the side dishes. This, of course, is optional. Popular side dishes consist of mashed potatoes, macaroni, okra, environment-friendly beans, cheese sticks, wings, corn shrimp, and corn dogs.
Did you know that you can get tire installation services at Walmart?
Important things about the Walmart Deli Chicken
When buying Walmart fried chicken in big amounts, it is recommended that the pieces of leftover poultry be refrigerated to maintain their quality for the next meal.
When placing orders through Walmart Wedding Catering, it is best to contact Walmart.com a minimum of 24 hours in advance, particularly if you are getting them for a large event.
Any way of cutting down on the Walmart deli prices?
Think about buying discounted gift cards at Raise.com before going to your local Walmart or even purchasing online. This is one of the easiest ways of cutting down the final bill by a few dollars.
Walmart deli fried chicken prices are determined by the number of pieces you will buy. The bigger the quantity of Walmart fried hen acquired, the lower the price will be for each item. Ask your family and friends about teaming up to buy a 50 or 100-piece event pack to save on the price.
Also, check out the price of a Walmart fishing license and Walmart eye exam.
Also, keep an eye out for occasional deli specials on deep-fried chicken prices.
When making use of Walmart Catering solutions, customers have the choice to ask for a Rain Check when a promoted thing runs out of supply at the Walmart store near them. This option enables a shopper to buy the thing at the sticker price when it becomes available or buy a similar item at the marketed price or a comparable cost discount.
Frequently Asked Questions
How Much Does Walmart Charge For a Rotisserie Chicken?
When it comes to wallet-friendly while still delicious rotisserie chicken, you can compare Walmart to Costco.
The traditional chicken of 29 oz is only $4.97 at Walmart this year, making it better in terms of prices than Costco.
What is The Price of a Walmart Pick 3 Bucket?
The delicious chicken bucket from Walmart costs $12.88 and includes 2 appetizers entrees and one side. It can be shared between two or three friends.
How much does a 6ft Sub From The Walmart Deli Menu Cost?
The price of a 6ft sub from Walmart is around $30. This should be long enough for about 18 to 30 people, so don't buy it for yourself. The price is amazing for the amount of food you get to eat.
https://www.thepricer.org/wp-content/uploads/2020/07/walmart-chicken.png
380
610
Alec Pow
https://www.thepricer.org/wp-content/uploads/2023/04/thepricerlogobig.png
Alec Pow
2020-07-22 08:08:49
2023-10-29 14:04:01
Walmart Fried Chicken Prices – Walmart Deli Costs