Last Updated on August 15, 2020 | Written by CPA Alec Pow
First Published on February 28, 2015 | Content Reviewed by

CFA Alexander Popivker
A bride's shoes can vary widely from comfy ballet slippers to traditional white pumps, both in price and style. While some brides prefer crystal-adorned heels or Italian leather pumps, some brides go for jeweled flip-flops or barefoot.
Buying the perfect pair of shoes for your wedding day should not turn into a problem. There are a few rules that need to be taken into account from the very beginning and in this way you can be sure you made the right choice.
Find a comfy pair of shoes. No matter how good they look, if you do not feel quite comfy in them, you will not be able to bear them with pleasure, and if you don't wear them with pleasure, you've spent the money for nothing.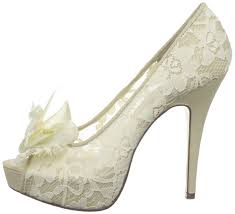 Typical Costs:
A low priced pair of wedding shoes can cost about $25-$75.       
The average cost for a pair of wedding shoes goes from $100 to $250.   
The high cost for a pair of wedding shoes goes from $300 to $900 and more, depending on how much you are willing to pay for.
In order to feel good in the shoes you wish to wear, the most important condition is to try them on before you buy them. If you decide to buy them online, make sure they are the size you need. Check the measures on the site and do not forget to consult the conversion of numbers related to each country.
Choose a pair of shoes with an adequate heel. Do not forget that you have to wear them long enough! And even if it looks like you made the right choice at the store, keep in mind that on the wedding day things can change. Surely you will want to have fun with your husband and friends without your shoes giving you headaches.
You should take into account the material the shoes are made of. There are plenty of possibilities: leather, velvet, satin, silk, or lace. Not only that they should reflect your personality, but they should match very well with the place where the event will happen. Silk shoes can easily get dirty if the wedding will take place in a garden, for example, and you will have to walk on grass, while the leather is not recommended on hot summer days.
Do not forget the dress! Make sure you do not buy a pair of shoes, no matter how much you like them, without knowing how your dress will look like. The material the dress will be made of, and small accessories like pearls should be considered when choosing the perfect pair of wedding shoes.
Additional costs:
If you buy your wedding shoes online you should know that many online retailers may have an additional cost for shipping, about $5 to $9. Some may charge this fee per pair and some for the entire order.
There are plenty of options for wedding shoes – for every season, for every dress, but particularly to reflect each person individually. Considering all these aspects when you start shopping, you will find the perfect pair of wedding shoes for the most beautiful day of your life.
Should the average working Jane the perfect pair of shoes for the wedding?
Depends on what you feel like the perfect pair should be. It is true that most women will only get married once and that you really want to look good for the big day, but be careful not to overspend, especially if you are looking for a well-known brand.
In the end this will be your day, so try to get as close to perfect as you can, and you'll have a great set of memories.
https://www.thepricer.org/wp-content/uploads/2015/02/wedding_shoes_cost.jpg
380
506
Alec Pow
https://www.thepricer.org/wp-content/uploads/2023/04/thepricerlogobig.png
Alec Pow
2015-02-28 13:33:24
2020-08-15 15:04:57
Wedding Shoes Cost