The Weimaraner breed of dog was originally bred by the German aristocracy for hunting. They made an excellent choice because they are agile and sleek, with a very elegant look to match their royal heritage. The males can stand 27 inches tall while females top out at 25 inches on average; it's not uncommon for them to be heavier than we might expect from such graceful animals but this is the result of having thicker fur that protects against harsh climates as opposed to carrying excess weight as many other breeds do.
Just How much does a Weimaraner dog cost?
The money you spend on a Weimaraner can be anywhere from $650 to as high as $1,200. Most AKC registered breeders would list their puppies for around the same price of between $850 and $1,100 while Blue River Weimaraners prices theirs at an even higher cost of around $1,200 that does not change depending on color or gender but with different features such as registering them with both AKC and NAVHDA ($250) in addition to microchipping ($50).
If you're into hunting dogs, then check out our other articles about the cost of Dogo Argentino, Viszla dog, or Greyhound Dog.
We found a breeder in Idaho who sells Weimaraners, called Owyheestar Weimaraners. Most of their puppies are around $1,150 but the longhair pups could cost up to an additional $250.
What should be included in the adoption price?
A reputable breeder does what they can to ensure that the puppies are as healthy and happy when being given away. These breeders also include limited registration papers, a health checkup from a licensed veterinarian, up-to-date vaccinations, etc., depending on their policies. They often make sure you have enough food at home with samples of different foods in your starter pack so you can see which one is best for your puppy's needs before buying more expensive cans or bags later down the road; Some breeders will make sure that these dogs be neutered/spayed shortly after birth and that the tail will be docked. You will usually be allowed to take your puppy home only after six to eight weeks of age.
Any extra costs to consider?
Did you know that shipping your dog through an airline can start at $150? This will depend on the size of the dog and where it's going to be shipped. One listing we found said they would ship for around $350.
A healthy canine can cost anywhere from $900 per year if you factor in expenses like accessories, shelter, toys, and food. The price can be a lot higher if the dog would come down with an illness.
When you adopt a dog, it is important to consider the time and money that will be needed after acquiring your new best friend. PuppyFind.com recommends starting with behavioral training because these dogs have been known to suffer from aggressive behavior if not trained or separation anxiety if left alone for long periods of time – both are dangerous behaviors in any pet owner's home! The costs can range anywhere from $75-$500 depending on how far along the animal is when adopted; obedience classes start at about six months old.
A common practice among breeders is to include a limited AKC registration, which won't allow you to register any puppies from that dog with the AKC in the future. For some people, this might not be an issue and they can save some money; for others, this could make them more hesitant about buying from that breeder (especially if you're looking at full AKC registration). You should keep in mind that full registration will usually cost between $200 and $400.
Any tips you should know about?
Many people dream of having a furry four-legged friend, but before you can adopt one from an animal shelter or breeder it's important that all of the requirements are met. A reputable breeder will first have you fill out applications and may even visit your home to see where they would live. If everything is acceptable, then there might be puppies available at their next litter. You will also be required to put in a deposit that will be non-refundable. Something between $100 and $300 is considered an acceptable deposit.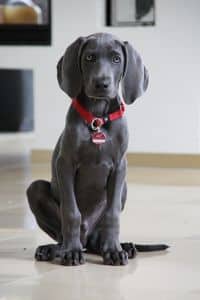 Some people are hesitant to adopt this breed due to its high energy level, but it has been noted that the dog is known for getting along with other household pets and younger children. Be wary of adopting a pet if you have young kids in your home because they might not be able to handle the strong personality of such an energetic pup.
The Weimaraner is the epitome of loyalty, friendliness, intelligence, and energy. Referred to as "the dog with a human brain", this breed can solve complex problems that other breeds are unable to complete successfully. However, they may be needy at times if not trained properly in their youth; it's for these reasons why many consider them one of the most trustworthy companions you'll find. Their gray coat ranges from a light brown coloration to a flesh tone.
The Weimaraner is a large breed of dog that weighs anywhere from 40 to 90 pounds. The hunting instincts make it need daily exercise, so it's best for owners to have an ample yard where they can roam and job freely. Those who've owned the Weimeraner often refer to their unending energy which means if you're not prepared with enough time or space, then another type of dog may be more suitable as this one's needs will require much attention.
The breed has very few grooming needs and will just need a rubber brushing once weekly to keep a clean look.
It's extremely recommended you go for a trustworthy breeder who is acknowledged by the AKC.
The breed is prone to dangerous diseases such as bloat, joint and bone issues, bleeding disorders, cancer, and some eye illnesses.
Is there any way to save some money?
One way in which you can save some money is by adopting a pet. Considering that there are generally no charges included when you adopt, it is a sure way of saving a lot of money; nevertheless, do bear in mind that finding this particular breed can be challenging, but it does not hurt to look seeing that you might find one that looks very much similar to the breed. For instance, the breed is frequently confused with the Blue Heeler, Chocolate Lab, Husky, Pitbull, German Shorthair, Doberman, and the Viszla. You might be able to stumble upon a Weimaraner rescue group that only deals with these types of dogs.
If you don't want to read this article, maybe listen to it instead?
https://www.thepricer.org/wp-content/uploads/2021/04/weimaraner-dog-cost.jpg
380
610
Alec Pow
https://www.thepricer.org/wp-content/uploads/2023/04/thepricerlogobig.png
Alec Pow
2021-04-20 06:01:47
2022-12-23 14:47:40
Weimaraner Dog Cost