Wood or Timber Retaining Wall Cost
Last Updated on September 13, 2023 | Written by CPA Alec Pow
First Published on November 23, 2020 | Content Reviewed by

CFA Alexander Popivker
Summary of Retaining Walls Made of TImber or Wood
A wood or lumber retaining wall is an efficient way of managing a sloped space in your backyard to use the area while offering some character to the landscape. Wood retaining walls are generally developed with pressure-treated wood, and they'll last 40 years or more when managed and maintained correctly.
This article offers you an in-depth wood retaining wall price quote for products and labor. Do It Yourself setup expenses are covered also.
Product and Materials Price Information
Wood/Timber Retaining Wall Cost Elements
Just how much your retaining wall will cost depends upon the scope of the task. The length and height of the wall have the biggest impact due to the quantity of the needed retaining wall timbers. General expenses are listed below.
Keep in mind: When we describe a "square foot" of wall, we're writing about the vertical face of the exposed and buried wall. For instance, if you had a retaining wall 10 feet long and 3 feet high, that would be 30 square feet of vertical wall.
Square Feet of Wall Face – The majority of walls are developed with lumbers around 6″ high (they are 5.5″ square) and 8′ long, so each timber is 4 square feet of wall face. As an example, a wall 60′ long and 4′ high will be 240 square feet of wall face. That number divided by 4 will mean you'll require 60 timbers plus a couple more to replace the broken or deformed material.
The kind Of Timbers Utilized – Many timber retaining walls are developed with either pressure treated 6 ″ x 6 ″ or used railway ties. While the rail ties are treated differently for longer use, brand-new pressure-treated timbers look much better and tend to offer a more consistent look.
Issues with Setup – If your retaining wall is on a tough-to-access slope, or the slope requires to have a great deal of dirt eliminated to accommodate, it's going to cost noticeably more.
Any Steps or Corners – Essentially, if your wall requires a set of stairs or has complex corners, it's going to cost a bit more than a basic retaining wall due to the additional time to finish these parts.
Use of an Expensive Finish Board – Depending upon your desired design or wall area you may wish to include a 12″ x2″ cap on the wall to be used as a bench, rack for potted plants or just to provide the wall a finished appearance.
Drain Products – Walls retaining substantially sloped locations will have big amounts of water run on them. Comparable to a french drain system, putting stone underneath the very first timber and a drain at the base of the slope-side of the wall will help with draining of water that may otherwise trigger faster wear and tear of the wood – even pressure-treated wood, or complete failure of the wall itself when the water freezes and expands.
Stain or Finish – Pressure-treated timber can be stained once it has actually dried in 3-6 months, depending upon your local climate.
The Cost of Any Other Materials
Now let's go into real wood retaining wall expenses that will permit you to produce a price quote for your project.
$8-$20 – Stakes or rebar and string to mark the course the wall will run and the height of its top.
$40-$65 – 6′ level for inspecting that the ground is level and the wall is going straight up.
$24-$28 each – Pressure-treated timbers 8′ long and 6″ square are the specialist's options for developing wood retaining walls.
$22-$28 each – 2″ x 12″ pressure-treated 12′ boards for usage as a cap, bench or rack (optional).
$2.75-$3.50 each – Pieces of 1/2″ rebar 4′ long are driven into the ground through drilled pilot holes to anchor each base lumber close to both ends.
70-90 cents each- Galvanized 60d 12″ spikes are driven through pilot holes every 8″ to hold every layer of wood to the layer below it, so that's 12 spikes per 8′ wood.
$20-$27 per 5lb box – Decks screws every 8″ are utilized to protect a cap to the first row of wood (optional).
$20-$24 per cubic yard – A 2″ layer of 3/4″ stone or a similar product is set up and compressed below the very first layer of wood and then set up at the exterior foot of the wall to assist in draining – you'll require about one cubic foot of drain stone for every 3 linear feet of wall.
$55-$70 each – 50′ roll of 4″ perforated drain tile that lays on the stone at the exterior base of the wall.
$40-$50 each – 100′ roll of professional-grade landscape material is utilized over the drain tile to keep sediment from obstructing it, and enough crushed stone is put on top of it to hold it fixed.
$33-$45 per gallon – Outside wood stain (optional).
$6-$15 each – Brush for putting on the stain (optional).
Keep in mind: If you work with a landscape business to install your wood retaining wall it's possible that they will have a wholesale account at a regional lumber or home improvement shop, so they may get better rates on products than you.
Licenses, Examination, and Setup Expenses
Here are some expenses you may come across, along with the wood retaining wall setup cost.
Authorizations and Examination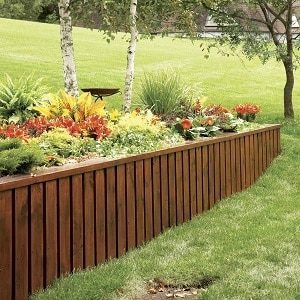 Some structure departments require authorization for any retaining wall while others will only require one for a wall 4′ high and above. A call will give you information on whether you require one to adhere to your regional building regulations or not.
HOAs: If you belong to a property owner's association, be sure your fence adheres to the HOA laws or risk needing to customize or remove it.
$0-$75 – Underground utility lines should be located and marked to prevent damaging them while digging. Call 811 to have this done. In a lot of geographical areas, this is a totally free service offered by the energy company itself. They do not want to deal with the expense or liability of needing to fix broken lines.
$35-$200 – The authorization for the retaining wall if needed for your task.
$200-$350 – For retaining walls higher than 3 feet it's highly advised (and might be needed due to regional codes) to employ an engineer to make the design of the wall.
Setup Price and Time
Constructing a wood retaining wall is a time-intensive job compared, for instance, to developing a wood fence. Here is the labor expense of setting up a wood retaining wall.
$4-$12 per square foot for installation labor alone.
These are the most important elements that will impact the general price of labor.
Ease of access to Area – If your house is in a remote location, travel time for the team will be longer and more fuel will be needed, so costs will increase.
Length of the fence – The base of the wall should be trenched, so for instance, a wall 100′ long and 2′ high will cost more to set up than a wall 50′ long and 4′ high, though both have 200 square feet of facing.
Blockages – Needing to get rid of trees, roots, shrubs, or big quantities of dirt in the path of the wall will raise expenses.
Soil Type – Very hard or rocky soil takes more time to trench, so this leads to an increase in costs.
The Season – When landscape businesses aren't too busy their price quotes are more competitive. Having a retaining wall constructed in the spring or summer season will cost more than the ones built in the fall or winter season, in most places around the country.
Keep in mind: In any season, the very best way of getting the most affordable price quotes is to demand quotes from a lot of contractors and to let them know they are competing for the retaining wall job.
Setup Time
Here's the length of time it will take to install your retaining wall:
1-2 days – Basic setup of a wall, less than 100 square feet.
2-3 days – Basic setup of approximately 200 square feet or harder setup of less than 100 square feet of retaining wall.
4-6 days – Larger, harder setups.
Day 1 is used to dig the trench for the base layer of timbers, set up stone, lay the timbers, and anchor them into the soil.
Day 2-4 are will be used to set up the remaining courses of timber and an optional cap.
Day 5+ might be needed on big walls, specifically high retaining walls that need extra support.
In any project, the size of the team will impact how fast the work goes. This time quote is for a team of 2 or 3.
https://www.thepricer.org/wp-content/uploads/2020/11/retaining-wall-wood-cost.jpg
380
610
Alec Pow
https://www.thepricer.org/wp-content/uploads/2023/04/thepricerlogobig.png
Alec Pow
2020-11-23 09:11:11
2023-09-13 12:20:17
Wood or Timber Retaining Wall Cost