PSA Grading Cost – Card Grading Fees Per Level
Last Updated on October 8, 2023 | Written by CPA Alec Pow
First Published on January 6, 2022 | Content Reviewed by

CFA Alexander Popivker
The Professional Sports Authenticator or PSA for short is an organization that specializes in grading sports cards. They are considered by many collectors and dealers to be the most trusted name when it comes to buying or selling your favorite game cards.
PSA's 10-point grading scale is used by the entire collecting community to determine the true value of cards. The most popular and widely accepted way of measuring card condition, PSA has been around since 1991.
PSA is a division of Collectors Universe, that has offices in Paris, New Jersey, California, Tokyo, Shanghai, and Hong Kong. This article will go over the PSA Grading cost and how the fees differ depending on how rare your card is.
How Much Does PSA Card Grading Cost?
The cost of PSA authenticating and grading services would start at $19 per card and go up to $10,000 per card, depending on the value of the card, according to the official website of the PSA Card Grading. The cost to have your cards graded by the PSA is influenced by many factors such as the type and value of sports cards, their rarity, the shipping options, and any extra options, plus the number of cards that are sent in.
In the table below you will find the average cost of authenticating and grading different types of cards.
| Grading Level | Cost | Collector Club Required? | Max Declared Value | Est Turnaround Time |
| --- | --- | --- | --- | --- |
| Value Bulk | $19 | Yes | $199 | 65 Days |
| Value | $25 | No | $499 | 65 Days |
| Value Plus | $40 | No | $499 | 20 Days |
| Regular | $75 | No | $1499 | 10 Days |
| Express | $150 | No | $2499 | 5 Days |
| Super Express | $300 | No | $4999 | 3 Days |
| Walk Through | $600 | No | $9999 | 3 Days |
Note: These prices are subject to change and it is recommended to refer to the SMR online in order to find the declared value of your card and to know how much to budget.
Not long ago, PSA made an announcement that they were considering instituting a $19 Bulk Card grading, although this will only be available for the members of the PSA Collector's Club, which costs $99 per year.
These PSA bulk submissions enable you to send at least 20 cards at once with a maximum declared value of $199. You will get an expected turnaround time lower than the usual 120 days, to just about 65 days.
In general, the cost increases as the value of the card increases and the turnaround is faster. Autographed baseball cards, for example, will cost more than cards without the autograph of the player.
Tip: The 'declared value' can be explained as the estimate you give to your card in terms of what it will be worth after being graded by PSA. This is far from an exact science and will likely be used for insurance purposes alone. PSA doesn't upcharge you if your value estimations are just barely off, as long as you don't abuse their system, as this happens quite a lot, especially for inexperienced collectors.
Is PSA's $19 Bulk Grading Service Fee Worth It?
As grading card prices were usually above $30 for a few years already, the $19 grading fee seemed like a bargain for some of the newer collectors. But keep in mind that not too long ago, just before the pandemic hit, PSA already had a bulk grading fee and it was just $8. This price is likely to never come back.
It's probably not worth all of this hassle to pay a $19 grading fee if you only have a card you estimate is worth less than $199 unless you want to get it done for your own personal preference. It really won't be worth it in terms of price when you account for the fee and the back-and-forth shipping expenses.
And of course, the 65-day turnaround estimate by the PSA for the service is rarely respected, since they are also inundated with bulk grading requests. There are actually collectors that although have made orders with the PSA a year ago, are still waiting for their results.
Other PSA Grading Service Levels Aside From Bulk Grading
If you're a PSA Collectors Club Member and you're considering a non-bulk grading submission, then you can use the 'Value Service' level to submit individual cards for $30 per card. This is a grading level that can be used for a card with a declared value of up to $499. The 'Value' service level should be returned in around 90 to 120 days according to the PSA.
If you're a collector who tries to get a somewhat quicker turnaround time, then you should probably consider the 'Value Plus' grading level, which costs $40. Although the declared value will also be $499 according to the PSA, the turnaround time will decrease to 20 days.
If you have a card with a declared value of up to $1,499, then you can opt for the PSA 'Regular' grading level that costs $75 and offers a turnaround that is way quicker only around 10 days.
For more experienced collectors who have collectible cards with values that go over $1,500, PSA offers Walk Through, Super Express, and Express services.
Also, according to Dean's Cards, you will have to pay anywhere between $20 and $25 per card, including insurance and shipping, in order to have your card graded. Though, expect to pay $50 to $320 per card if its value is higher.
You might also like our articles about the cost of framing a jersey T-shirt, a stamp collection, or a coin collection.
The grading process can be very time-consuming and may not always give an accurate reading. The website recommends avoiding it unless you have a card that's over 20 years old and in nearly perfect condition.
Extra costs and additional fees for card grading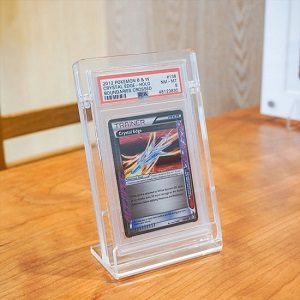 The costs of authenticating and grading the supersized card, pins, and coins are almost the same as the ones mentioned above. However, these have to be treated as a separate order, resulting in an extra cost.
Important things about the PSA pricing
Depending on the type of service you are going to choose, the estimated turnaround time can range anywhere from one day for a card worth $25,000 or even more, to almost 120 business days or more for a card worth less than $499.
The fees we mentioned above will be applied to any trading cards, except sports cards, including Yu-Gi-Oh, Pokemon, and Magic.
Saving money on the PSA grading cost
For those who plan on grading multiple vintage cards throughout the year, a membership may be worth it. For only around $99 per year, you get fast turnaround times and exclusive deals with your card services. They say that as long you take advantage of the free gradings each year, then your investment will be worth it.
PSA has earned a reputation for being an industry leader in the field, but before you decide that this is the sports card grading service to use make sure it aligns with your needs. Check out other services like those provided by Beckett or SGC so you can choose what will work best for you based on price range and desired results.
It is recommended to get a card graded only if it will speed the sale or increase its value. If none of these two things are going to happen it would be better to just store the card in a safe place.
Like with any other service or product, the more you consume the more you can save. There may be bulk discounts applied if you submit more than ten cards for grading at once.
PSA Grading FAQs
What Are The Best Card Grading Companies?
Although this is always up for discussion, the results are pretty clear, as PSA still is by far the leading grader for cards. Even so, companies like CSG, Beckett, or SGC still offer comparable grading services.
But what sets PSA graded cards apart is the fact that they are continually being sold for higher prices than cards graded by competitors. This is why it doesn't make a lot of sense to get your cards graded somewhere else as long as PSA can keep its pricing model competitive with other brands of graders.
Does PSA Charge Before Grading?
No, PSA only charges your credit card after they have received them and they finished processing them.
How Can You Get Your Card Graded?

The process of getting a card graded using PSA services is pretty simple. Go through the PSA's services website, in the online submission center, by entering the cards you need to have graded.
You will have to give them your payment information and as soon as you go past this step, you will get an address where you can ship the cards. You then have to wait for the PSA to receive them and as soon as they do so, they will add it to their online database so you can check any updates along the way, before eventually sending the card back to you in the graded card holder.
What's The Cheapest Card Grading Service?
If you only factor in the pricing, PSA still has the lowest cost tier for card grading. Still, PSA's Collector's Club service, with a yearly price of $99, enables you to have 25 or more cards graded for a bulk card grading price of $18, it will only allow cards with a declared value of up to $199. SGC on the other hand, has the lowest tier priced at $20 for bulk submissions, but their declared card value can reach $1,500.
Should I Bother Grading My Cards?
This isn't an easy decision and a lot of factors will have to be taken into account, but ultimately what the increase in value will be after grading the card should matter the most. This is why you should try to do your own research and estimate the grade of your card before sending it to PSA so that you have an approximated value of the card both in ungraded and graded condition.
Does PSA Offer Sub Grades?
The short answer is No, as PSA only grades on a scale of 1 through 10. Currently, Beckett Grading Services, or BGS, is the only company to offer subgrades to collectors. If you have a CSG card that gets a Perfect 10, it will receive sub-grades for free, by default.
Is There A PSA Grading Location Where I Can Get Cards Graded In Person?
You can drop off cards that have to be graded at the PSA office situated in Woodbridge NJ, although this can only be done by appointment and on a limited, case-by-case basis. To do this, you should have either high-value items or high-volume submissions.
https://www.thepricer.org/wp-content/uploads/2022/01/psa-card-grading.jpg
380
610
Alec Pow
https://www.thepricer.org/wp-content/uploads/2023/04/thepricerlogobig.png
Alec Pow
2022-01-06 07:39:54
2023-10-08 12:25:22
PSA Grading Cost – Card Grading Fees Per Level