Last Updated on April 6, 2022 | Written by CPA Alec Pow
First Published on April 5, 2022 | Content Reviewed by

CFA Alexander Popivker
The busy schedule and the whole day of work in the office will get you some real back pain problems. Not everyone has the time and possibility to go directly to the gym after work.
Aero Trainer has appeared as a solution to this problem that many of us are struggling with. This is a device that can help you heal your back pain, offers some more strength for the next day, improves your body flexibility, and removes any stress. Aero Trainer is good for any age category as it can hold up to 500 pounds. To get a better idea about what this is, it is an all-rounder training kit that looks like a bean bag but has better advantages.
How much does it cost an Aero Trainer?
Aero Trainer is a revolutionary product of GOLO company which costs around $100. Though, you may use any discount they have to offer and pay only $80 for this product. If your aim is to lose weight as well and not only to heal the back pain, GOLO also has fat-reducing supplements which cost anywhere between $50 and $100.
Aero Trainer overview
When talking about relaxing at home, one thing that comes into our mind is the bean bag. Most people just love to lie down on their bean bags and relax after a long hard day. However, this type of chair will also let you do some exercises and heal the back pain.
You might also like our articles about the cost of Balance of Nature, FitStar, or Aaptiv.
So, you should plan on spending some more dollars and get an Aero Trainer to do some regular exercise sessions at home. This is a two-sided contoured exercise platform that increases flexibility and mobility in your body and reduces stress.
Whenever you want to do some exercises, you can inflate them. The inflation and deflation process will not take you more than 30 seconds. Some of the main features offered by this trainer include:
It can handle a weight of up to 500 pounds.
Two-sided contoured, inflatable platform.
It has two handles for easier handling during exercise.
It also has a spherical base.
For the rocking mechanism, there is a balance point.
The body construction is made of BPA-free PVC.
It has a soft-grip surface.
Concave seat.
How to use an Aero Trainer?
You may wonder how to properly use the Aero Trainer after paying $100 for it. Well, this is an inflatable training platform that is very easy to inflate and deflate.
Here are some things you need to respect in order to properly use the trainer.
Before the session inflate the trainer. It will not take you more than 30 seconds.
After each exercise session deflate the trainer.
Stretch your body lying on it.
Decide what type of training you need.
For planks, you can also use the trainer and the wall.
Setup that side of the trainer according to your needs.
The concave sitting side is ideal for relaxation.
Use the smoother side for the planking exercise.
One of the main advantages of the trainer being inflatable is that you don't need a lot of space to store it. Moreover, inflation and deflation do not take more than 30 seconds each.
How much weight does an Aero Trainer hold?
As we already mentioned above, an Aero Trainer can hold up to 500 pounds of weight, which make it a perfect training kit for individuals of all weights. According to the producer, this is an ideal choice for a 14 years old person and above.
In general, overweight people are looking for fat-reducing assistance when exercising and this inflatable training kit seems to be perfect for them.
Does Aero Trainer worth the price?
The majority of the users will have a positive answer when asked about whether will Aero Trainer be worth buying. However, there are some negative reviews as well, but they have their own reasons and everyone's experience is different.
There are many reasons why people choose to buy an Aero Trainer to improve their health and these include:
The easy inflation and deflation process.
It enables you to do four different types of plank exercises.
This is a handy way for those who want to improve their body balance.
Your legs' strength can be improved as well with this bean bag-like training kit.
The soft concave seat helps you to reduce back pain a lot.
Taking into consideration all of these benefits, $100 is not too much for an Aero Trainer.
Some people consider that Aero Trainer is not worth the price
As everyone's experience and expectations are different, Aero Trainer got some negative reviews and people said that this kit is not worth $100. The reasons which stood behind this answer are:
For relaxation, a bean bag is better.
It can't help you reduce fat.
Back pain can be reduced through swimming and cycling as well.
You don't need any extra supporting kit for planks.
However, all of these reasons are not enough to prove that this training kit is not worth the cost. Actually, $100 is not too much to keep yourself healthy and to perfectly do your regular exercises.
The benefits of using Aero Trainer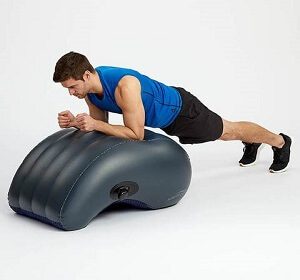 You can easily lie on a bean bag when you need to relax, but this will not allow you to do some planks or reduce your back pain. Aero Trainer offers all types of fat reducing and body stretching exercises.
This is an ideal choice whenever you need some body relaxation and exercise. The benefits of using this inflatable platform include:
Convenient to store and set up.
It helps to strengthen and tighten your abs and core muscles.
It is pretty easy to be used at home.
It is a good way to strengthen your back muscles.
It helps to improve your body balancing.
Helps you to reduce back pain.
The blood circulation is improved.
In conclusion, an Aero Trainer is the ideal choice for those who can not go to the gym very often. With this two-sided trainer platform, you will be able to do many different body exercises from the comfort of your home.
https://www.thepricer.org/wp-content/uploads/2022/04/aero-trainer-cost.jpg
380
610
Alec Pow
https://www.thepricer.org/wp-content/uploads/2023/04/thepricerlogobig.png
Alec Pow
2022-04-05 08:40:34
2022-04-06 09:26:25
Aero Trainer Cost