Last Updated on September 14, 2023 | Written by CPA Alec Pow
First Published on December 3, 2021 | Content Reviewed by

CFA Alexander Popivker
Aaptiv is the leading audio fitness workout app with thousands of exercises and programs created by world-class trainers that can be streamed or downloaded on your device for offline use. This app was known before November 2016 as Skylift.
Aaptiv has something to offer to everyone, regardless of whether you need only a bedtime meditation or a morning run and after-work gym class.
How much does an Aaptiv subscription cost?
According to the Aaptiv official website, there are three premium options you can choose from. There is the monthly option that costs around $15 per month and renews automatically the three-month option, which is more advantageous as it costs only $10 per month, and the annual membership, which costs $100, renews each year automatically and helps you save up to 50% if you opt for it. Also, all the members choosing this option will receive a 30 days trial free of charge and during this time they can cancel this membership and receive all of their money back.
However, the prices mentioned above may vary if you are able to use a promo/coupon code, any discount, or you sign up when the company offers some promotions. New members can also receive a discount gift from the existing members.
In the table below you will find the cost of all three options.
1 month
billed every month at $14.99
no free trial is included
3 months
billed every 3 months at $29.99 (9.99/mo)
30-day free trial included
12 months
billed annually at $99.99 ($8.33/mo)
30-day free trial included
What's included in the premium version?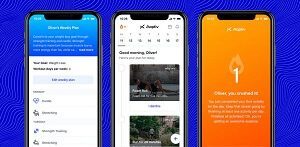 According to the Men's Health website, with Aaptiv you have unlimited access to more than 2,500 workout guides from 12 categories. Plus, periodically there are new workouts added and up to 40 new classes pop up every week.
You can choose from 20 certified trainers, who have different skills, personalities, and backgrounds, so there should be one for your needs.
No matter your sports background, there are many programs designated on levels, starting from beginner and going up to expert level.
Each program can be structured and designated in order to achieve your workout objectives.
There is a supportive community group as well, to which the access is private.
While working out you can listen to some of the well-known songs.
How does Aaptiv work?
According to the company, there are three easy steps you have to follow in order to enjoy the perfect workout.
In the beginning, you will have to add your fitness goals into the app in order to find the right programs and workouts for you while also losing weight.
After that, you will have to choose a workout according to your preferences, trainer, duration, or music.
You might also like our articles about the cost of Fitstar, O2 Fitness membership, or California Family Fitness membership.
Finally, when you find the program that fits you all you have to do is to plug in your headphones and follow the steps the trainer will present as to achieve the goals set in the beginning.
Classes available
There is a wide variety of classes you can enjoy, including:
Yoga;
7 minutes quick hits;
Weight loss;
5k training;
Walking;
10k training;
Treadmill;
Ab workouts;
Stretching;
Elliptical;
Strength training;
Half marathon training;
Full marathon training;
Stair climber;
Indoor cycling;
Rowing;
Meditation;
Partner challenge;
Outdoor running.
It must be said that these are some of the classes available at the time this article was written and there may appear changes too. We presented some in order for you to have an image of what to expect from this app.
Aaptiv reviews
Aaptiv is ranked with 4.8/5 stars in the official iTunes store by more than 32,000 members, making it the #21st most popular app in the health and fitness category. The majority of the reviews are positive and people talk about how motivating and professional trainers are. Also, it would be a unique experience working out with this app due to the lack of visual workouts.
On the other hand, on Google Play this app received only 3.5 stars from 5 from more than 7,000 members. Most of them liked the wide variety of workouts and its general dynamic, but there were some that complained about the costs.
According to a post that Brett Williams made on Men's Health website, the app has the ability to make you get out of your comfort zone, but after some time it is just a supplement to your workout routine. Though, he said it is worth trying it if you want to imagine yourself enjoying a group training session at a low cost.
https://www.thepricer.org/wp-content/uploads/2021/12/aaptiv-logo.jpg
380
610
Alec Pow
https://www.thepricer.org/wp-content/uploads/2023/04/thepricerlogobig.png
Alec Pow
2021-12-03 08:54:33
2023-09-14 11:41:25
The Cost of Aaptiv