Most people do not have a proper, varied and complete diet and cannot provide the body with all the micronutrients it needs. There are also times in people's lives when they need stronger nutritional support, like in the case of infants, pregnant women, people who do high-performance sports, those with weak immune systems, the sick, or the elderly.
The role of nutritional supplements (vitamins, minerals, and plant products) is to help the body get through vulnerable periods caused by nutritional deficiencies or periods when it is weakened by disease or an increase in nutritional requirements.
Natural food supplements are available in many forms, such as tablets, capsules, powders, or liquids, all of which contain ingredients that are beneficial to the body, such as vitamins, including A, C, E, K and minerals such as calcium, iron, magnesium and other active substances beneficial to the body.
Balance of Nature company has three different products to offer, so you can get the best in the best health condition with the help of natural food supplements.
How much does Balance of Nature cost?
Before finding out the costs of the supplements offered by Balance of Nature you need to know that there are two types of customers: retail customers and preferred customers.
As a retail customer, you will purchase the supplements only when you will need them. You can purchase this product for a month, and not prolong the subscription. You will have to pay for de delivery fees and the cost will be a little bit higher.
As a preferred customer, you will have to sign a contract with the seller for a fixed amount of time in order to get these supplements automatically every month. This way you will not have to pay for the delivery fees. Also, in order to improve your health, you will get an assistant coach.
You will get the supplement packages every 28 to 30 days without being charged for the shipment. Moreover, you will get a lower price for these supplements as a preferred customer.
In order to get a better idea about how much you would have to pay for these supplements as a retail customer or as a preferred customer, take a look at the table below.
Types
Individual costs
Whole package costs
Fiber and spice (retail customers)

$75

$150

Fruits and veggies (retail customers)

$95

Fiber and spice (preferred customers)

$55

$110

Fruits and veggies (preferred customers)

$75
As you can see you will be able to save around $20 for each package if you choose to be a preferred customer. Also, you could save around $60 for the whole package. So, it is recommended to become a preferred customer if you will need these supplements for a longer period of time.
Balance of nature details
Nutritional supplements offered by Balance of Nature include vegetable capsules, fruit capsules, and fiber & spice capsules. These have effective results for both teenagers and adults. You can mix these supplements with some food or simply swallow them.
The most purchased product is the fruits and veggies pack and in the second place is the fiber & spice pack. You can choose to buy only the fruits & veggies supplements for monthly payment or you can get the entire supplement package.
The whole food ingredients from these supplements are a great source of antioxidants.
What ingredients does Balance of Nature contain?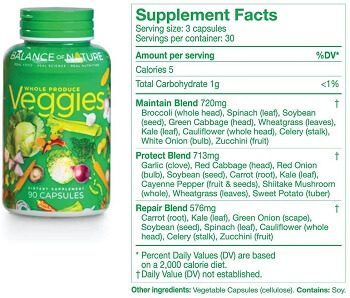 Balance of Nature packages can be divided into two categories:
fiber & spices;
fruits & veggies.
Both of these packages contain natural food ingredients, that will provide the right nutrition to the consumer.
The one-month supply of a balance of nature fruits vial contains 90 small capsules and every capsule contains a mix of 16 natural fruits.
The available fruits from this mix are papaya, oranges, strawberries, Aloe Vera, tomatoes, mango, grapefruit, lemons, blueberries, grapes, apples, raspberries, cherries, pineapple, cranberries, and bananas.
The same as with the fruits, the balance of nature veggies vial contains 90 small capsules necessary for one month and each of them contains a mix of 15 vegetables.
The vegetables will include garlic, zucchini, carrots, cauliflower, broccoli, shitake mushrooms, spinach, wheatgrass, cayenne peppers, cabbage, yams, onions, kale, celery, and soybean.
The fiber & spices supplement comes in the form of a fiber drink which is made from flaxseed, an entire psyllium husk, and an entire apple. Moreover, it contains a mix of 12 other spices such as allspice, cloves, turmeric, coriander seeds, cinnamon, cardamom, fennel seeds, fenugreek, cumin, ginger, nutmeg, and mustard seeds.
How to consume the Balance of Nature capsules?
There are two ways you can take the balance of nature fruits & veggies capsules. You can swallow them with some water or you can simply take them as normal pills. Though, you can opt to open the capsule and mix the ingredients inside of it with any type of drink or food.
In order to get the desired result, you will have to take three capsules from each of these supplements regularly.
You might also like our articles about the cost of Vitamin B12 Drops, Advocare, or Prenatal Vitamins.
Compared to the fruits & veggies capsules, the fiber & spices supplements can't be swallowed as a pill, but mixed with a glass of water and transformed into a juice. Also, you can mix this with yogurt or other similar foods.
Fatigue, inability to concentrate, low immunity, circulation problems, or digestive problems are among the most common conditions for which we use food supplements.
Advantages and disadvantages of Balance of Nature supplements
Advantages
Some benefits of these supplements include:
The digestive function is improved.
The energy level of the consumer is boosted.
Regardless of age, it is safe to consume these supplements.
It helps to recover from most injuries in a rapid time.
The immune system is stronger with the help of these supplements.
Disadvantages
The costs are pretty high for most consumers.
The fiber & spice supplement can not be mixed with water in a proper way.
Preferred customers are disturbed by the periodic calls that offer an assistant coach.
The exact number of ingredients from each capsule is not known.
Important things to consider
Nutritional supplements need a longer time of administration because they act more slowly and in the depths of the body's systems. Nutritional supplements should be given in cures of at least a few weeks.
Many perceive food supplements as harmless, but this is not always the case. If, for example, you are already on treatment with prescription drugs, the substances in the supplements may interfere with them, with dangerous effects on health. It is safest to seek the advice of your doctor before taking any dietary supplement.
FAQs
How fast would the Balance of Nature supplements expire?
The availability term of these products is up to one year from production, according to the manufacturer. It is recommended to take these supplements before they expire.
Where are the Balance of Nature capsules produced?
The products offered by this company are made in southern Utah, USA.
Is It safe for children to ingest Balance of Nature supplements?
As the producer uses natural food ingredients it would be safe to give this type of capsules to your kid.
Which is the main advantage of being a preferred customer?
As a preferred customer, you will be able to save $25 for each supplement and $60 for the entire package.
https://www.thepricer.org/wp-content/uploads/2022/01/balance-of-nature-costs.jpg
380
610
Alec Pow
https://www.thepricer.org/wp-content/uploads/2022/01/thePricer.png
Alec Pow
2022-01-13 06:54:41
2022-01-13 06:54:41
Balance of nature cost