Many celebrities claim to have lost weight with online weight loss programs, but what are these programs, how do they work and how much do they cost? An online weight loss program offers support in the fight against extra pounds. It works on the basis of food journals and graphs that track progress but also calculates the body mass index (BMI) and offers advice through a chat. Online weight loss programs focus on both diet and sports.
In general, these programs are created and coordinated by specialists in the field such as general practitioners, nutritionists, fitness trainers, and psychologists. The duration of weight loss programs differs but generally starts at 12 weeks and can last up to 12-24 months.
SOTA is a weight loss program with amazing results all around the internet. Sota Weight Loss works in a way that enables you to stay fit and healthy without eating too much. This program includes a diet plan and a 30 minutes exercise every day.
How Much Does SOTA Weight Loss Cost a Month?
If you are thinking about joining the SOTA weight loss program, you should expect to spend some money.
The SOTA weight loss program cost is not that high when you initially enroll. You will have to sign up for the SOTA-at-home app, add your card and pay $20 to $30. The expensive part comes after you enroll, as the average cost of the shakes, meals, bars, and exercise needed for the program may be anywhere between $260 and $420 per month. To be more specific, you will need to spend around $100 per week, depending on your priorities and demands. It may be a little pricey compared to other programs, but it is worth it as there are people who lost 100 to 110 pounds in almost 20 weeks, going from being overweight to a somewhat more average weight.
You might also like our articles about the cost of iFIT, Balance of Nature, or Aaptiv.
SOTA weight loss program overview
The SOTA plan is the perfect program for you if you want to lose your body fat in a short period of time. They claim that you will lose your body fat very fast and in a healthy way.
SOTA weight loss program meal plan
The SOTA meal chart is made can be customized according to your needs and preferences. For example, there are people who deal with problems and allergies to different foods and SOTA's dietary plan is very flexible in this regard.
According to some online client reviews, SOTA nutritionists don't offer three meals per day, but a shake for both breakfast and lunch. This will help these professionals keep a better record of their customer's calorie intake. The price of these two shakes will be included in the SOTA program cost.
You will have to buy your own food for dinner. Though, SOTA may recommend you some protein bars at an extra cost.
Overall, the SOTA diet plan is a low-carb diet associated with many workouts, which will help you lose weight very fast.
Fitness And Exercise Plan Of SOTA
SOTA's regular exercise and fitness plan includes 30 minutes of walking every day. They require this because people of all ages can walk. Also, walking is beneficial for any person who has muscle or joint problems.
Though, if you are young and have no problems with heavy workouts, you can do these as well.
SOTA program benefits
Reduces the entire body fat
You will be able to lose some extra pounds with the SOTA weight loss method. According to a few online reviews, SOTA will help its users lose more than 10 to 12 pounds just in one week.
Flat stomach
Most of the people who want to lose weight have problems with their oversized stomach area. The good news is that you can get rid of that unesthetic and stubborn belly fat if you follow SOTA meals and exercise regularly as it is designed to help get rid of all types of fat.
Facial slimming
You should definitely join the SOTA program also if you don't like your double chin or chubby cheeks. As their diet plan is designed to lose fat, you will lose your facial fat as well.
SOTA side effects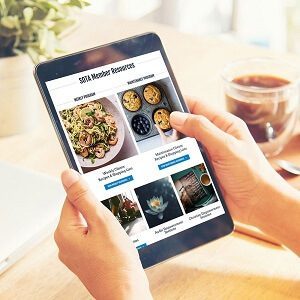 No side effects have been reported for the SOTA weight loss program. Moreover, the customers are very satisfied with this method of getting in shape and reaching their weight loss goals.
However, as with any weight loss program like SOTA, it may cause some mild side effects such as dehydration, muscle loss, menstrual irregularities, headaches, tiredness, dizziness, or constipation.
In case you go through some of these effects after following the SOTA diet for one week, you should stop this program immediately.
What are your risks when you sign up for an online weight loss program?
There are certain risks you may face when choosing to lose body weight with an online program. Here's what it's all about:
You risk losing weight quickly and then dealing with weight gain immediately after you finish the program.
You are exposed to complications of the chronic diseases you suffer from., so this program is not suitable for everyone.
You consume too few calories and there is a risk of fainting, malaise, or nutritional deficiency.
Healthier weight loss alternatives
If you want to lose weight healthily and with lasting results and also stay healthy, the best way is to go by changing your overall habit and behavior traits. To get the best guidelines for diet and exercise programs, you can ask a nutritionist and/or a fitness trainer for help with your weight loss journey.
Conclusion
SOTA is a cost-effective online weight loss program for those who want to get rid of that unhealthy and unesthetic fat in a quick time. The program is worth every penny as people had good results in just a week or two after following the SOTA diet, without feeling like they were pushed beyond a manageable limit.
https://www.thepricer.org/wp-content/uploads/2022/06/SOTA-weight-loss.jpg
380
610
Alec Pow
https://www.thepricer.org/wp-content/uploads/2023/04/thepricerlogobig.png
Alec Pow
2022-06-06 08:00:58
2023-03-23 13:42:23
SOTA Weight Loss Cost